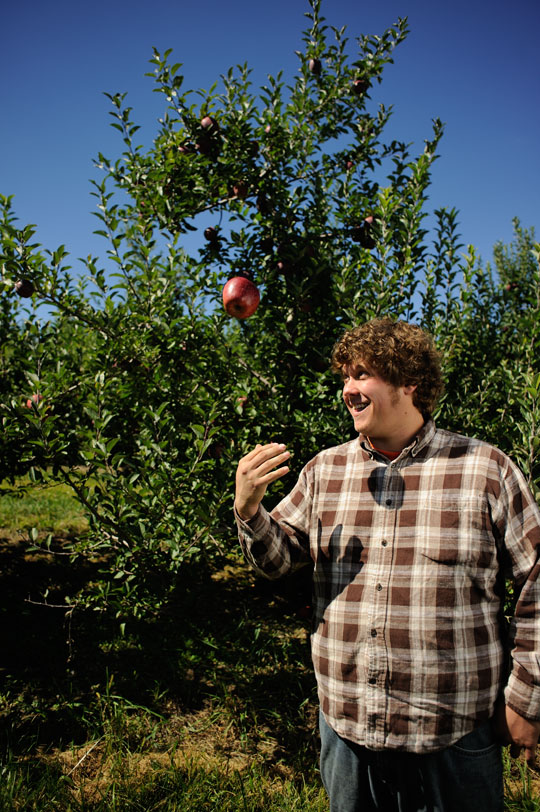 Ben Wenk, the youngest generation of Wenk family fruit farmers.Fruit farmer Ben Wenk has the unusual distinction of living on a street named after his family. Three Springs Fruit Farm on Bendersville Wenksville Road in Aspers, Pennsylvania, has been in operation since 1818 and there, with his father and uncle, Wenk grows apples, cherries, peaches and pears.
Seven generations of Wenks have called Adams County home, and it was Ben's great-great-grandfather, Ferd Wenk, who first planted four of the family's acres in apples. Ben's grandfather, Donald Wenk, built on that legacy when a group of apple growers in the area formed a cooperative and bought Musselman's, a nearby apple processing company.
Ben recognizes his grandfather's entrepreneurial vision. "He saw an opportunity, [so he] took out a bank loan to buy enough trees to plant the balance in orchards," he says. Donald took a risk by filling the rest of the property with fruit trees, and he worked double shifts in order to pay back the loan while getting the orchard established.
Donald farmed during the day and worked the night shift at a cardboard factory for more than a decade when Ben's father, Dave Wenk, was a kid. "What we have now is built on that sacrifice," Ben says, referring to the fruit farm.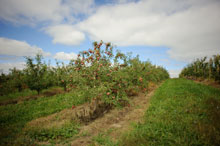 The Wenk family now owns 257 acres, and through a complex array of leases with their neighbors, they farm a total of about 485 acres in apples, peaches, pears and cherries. Ben also grows vegetables to diversify the farm's selection at the eight farmers markets they attend weekly during the growing season.
Whereas vegetables are annual crops that will grow, produce and wither in the course of a single season, an apple tree is a 25-year investment. Though young trees begin yielding fruit after just three or four years, they take longer than that to come into full production. Ben says his father is, only now, planting trees a second time on land that he planted when he was Ben's age. The 25- year life-cycle of an orchard outpaces that of a person. "You only get a couple shots at it," Ben says.
Added to this is the complication that the apple harvest occurs during one breakneck month, and that means, "All your income is based on that one month," Ben adds. By also growing and selling vegetables such as kale, tomatoes and peppers, the farm is less vulnerable.
Another safety net for their business is that they're members of an apple-growing community and they have the option of selling some of their fruit to nearby processors. Another company, Rice Foods, supplies East Coast fruit to large supermarket chains.
The presence of these companies means that Three Springs almost always has a buyer for their products. They make less on the factory option than they would had they been able to sell the fruit through another outlet, but having the processors means that they seldom have a crop that results in a total loss.
While having these outlets as options might provide some sense of security, they can also dull creativity.
"You can sustain a business growing entirely for the factory, [but] you cannot grow a business that way," Ben says, adding that it's nice to have a safety net. "What you get from the factory is completely tied up in variables that you have no control over."
Ben's goal for Three Springs is to take as much control over the sale and marketing of its products as possible. "It's more time, more effort and more capital," he says. "But I'd rather risk our business on our own success or failure than leave that on a variable I can't control."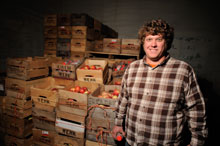 As a musician who very nearly went to Penn State to study trumpet performance, Ben changed his major to the School of Agriculture following a brief conversation with his father, who said, "We never really talked about this, but the farm's always gonna be here for you if you have an interest in it." After he graduated in 2006, he returned to the family farm. Slowly, he picked up more responsibility, taking on such projects as expanding Three Springs' access to the urban markets in Philadelphia and in the Washington, D.C., area.
"I was still trying to establish myself as a worthwhile investment to the business," Ben says, about entering into Three Springs as a partner with his father and his uncle, John. Even if he once made novice mistakes, his projects have proven to be profitable for the farm. Pound for pound, direct sale to consumers is their most lucrative outlet, followed by wholesale to businesses, such as Kimberton Whole Foods and Greensgrow. Ben has been able to strengthen these relationships through his friendly presence at markets such as Headhouse, and by using Twitter and Instagram.
Although running the markets calls for a significant time investment, he loves the lifestyle that farming offers him, and recognizes that it would be far more difficult without the expertise of his father and uncle. Having them to lean on means that he can focus on innovation and his own projects.
And farmers markets end up being good for him as well. He's a gregarious guy who relishes the social stimulation they provide. "It is so good for me professionally to go to the city to hear about what people are cooking, to pick up on the latest trends. … I learn a lot from [my customers]."
Story by Emily Teel. Photos by Albert Yee.