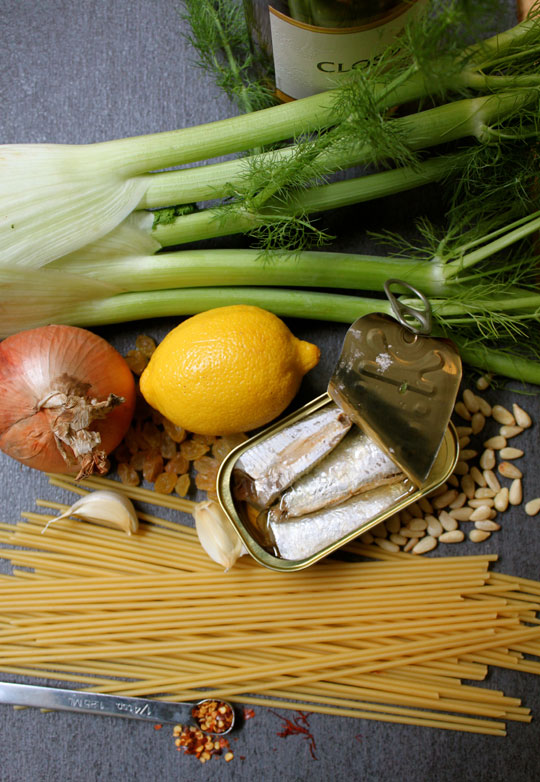 A few years ago, I moved to Italy to study gastronomy, and it was there that I confronted my food-hoarding habit. I lived in a charming Parma flat with a former advertising executive from Australia by way of Singapore, and, on weekends, her Columbian fiancée. Collectively, we had a problem. We were powerless as consumers when faced with such novel delights as savory Sicilian sun-dried tomatoes, olive oil-packed sardines, and gem-colored jars of jam and honey.
As our time there dwindled, it became clear we needed to stop saving and start eating. We called our endeavor the "Parma Pantry Project." The results were meals that were creative and ambitious. Even now, when winter drags on, I challenge myself to use my precious ingredients.
Each of these recipes features pantry staples with a few fresh ingredients. The crostata makes use of jam, almonds and flour; canned tomato and olive oil soften stale bread into the Tuscan pappa al pomodoro; and the Sicilian bucatini con le Sarde pulls punch from canned sardines, breadcrumbs, saffron, raisins and pine nuts.
Bucatini con le Sarde
1 tin Pacific sardines, packed in olive oil
2 anchovy fillet
¼ teaspoon chili flakes
2 cloves garlic, minced
1 large onion
1 medium fennel bulb, including fronds
¼ cup dry white wine
1 medium lemon, zest and juice
¼ cup raisins
½ pound bucatini
¼ cup pine nuts
¼ cup breadcrumbs
pinch saffron
olive oil
salt
Bring a large pot of water to a boil and salt it heavily.
Plump the raisins by pouring hot water over them and allowing them to soak while you prepare the sauce.
Using a mandolin slicer, carefully slice the onion and the fennel very thinly.
Warm a wide, deep skillet over medium heat. Open the tin of sardines and drain the oil from it into the skillet. Add more olive oil if necessary to make up about a tablespoon.
Add anchovy fillets, garlic and chili flakes and sauté gently until anchovies have melted into the oil.
Add onion and fennel, and increase heat to medium-high. Cook until everything has softened and has begun to caramelize, about 5 to 8 minutes. Add sardines, breaking up slightly, and lemon juice.
Add white wine and saffron. Drain the raisins and add them as well. Lower the heat to medium-low and allow the whole mixture to simmer together and reduce. Taste and add salt if necessary.
Meanwhile, add bucatini to boiling water and cook 9 to 12 minutes, or according to package instructions.
In a separate small skillet over medium heat, toast pine nuts and bread crumbs with lemon zest, stirring often until fragrant and lightly browned.
When pasta is al dente, reserve a cup of the cooking water. Drain pasta and add it to the skillet, tossing gently to combine. Splash in the cup of cooking water as needed to maintain a loose, silky texture.
Serve pasta and top with breadcrumb mixture and a drizzle of olive oil.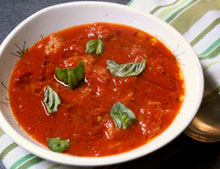 3
cloves garlic, crushed
¼
teaspoon crushed red pepper
2
28-oz cans New Jersey canned tomatoes
4-6 slices stale white bread or baguette, crusts removed
extra virgin olive oil
fresh basil (about 20 leaves, torn)
salt
In a medium-sized pot over medium-high, heat three tablespoons of olive oil and add onion, red pepper, garlic, and a pinch of salt. Cook, stirring occasionally, until onion is softened and just beginning to caramelize.
Add both cans of tomato and water or stock, and bring the mixture to a simmer, crushing the especially large chunks of tomato against the side of the pot.
Add bread and stir to incorporate. Return the mixture to a simmer and cook until bread begins to disintegrate.
Serve topped with torn basil leaves, a grind of fresh black pepper, and a drizzle of extra virgin olive oil.
Jam Crostata
2
cups flour
1½
sticks (12 tablespoons, 6 oz.) butter, chilled
1
teaspoon orange or lemon zest
2
cups (2 half pint jars, 16 fl. oz.)
high-quality jam
Preheat oven to 375 degrees. Rub citrus zest into sugar until color and citrus oils are distributed.
In a food processor or stand mixer, pulse sugar, flour and salt until combined. Add butter and continue pulsing until mixture forms a coarse meal. Add eggs and mix until just combined. Your dough should look like a mass of pebbles.
Empty mixture into a 12-inch tart pan with a removable bottom. Press crumbs into an even layer.
Spread jam evenly over the dough, and sprinkle almonds over top.
Bake 30 to 45 minutes, or until crust is golden brown and the jam is bubbling. Jam will still appear quite liquid.
Remove from oven and allow to cool at least 30 minutes before slicing.
Story and photos by Emily Teel.