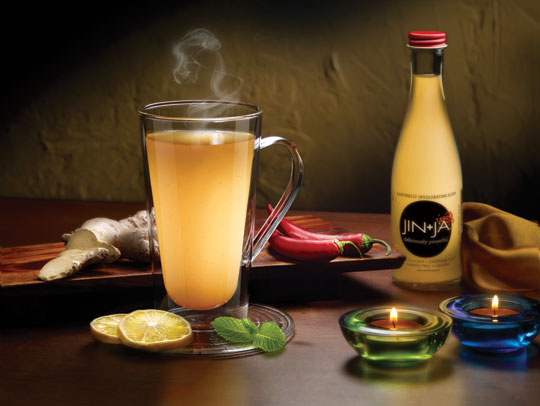 As cold and flu season drags on, it's prudent to shore up one's immune system. Some swear by zinc, some opt for Echinacea, and others grab Jin+Ja.
Invented in 2009 by former patent lawyer Reuben Canada in his Philadelphia kitchen, Jin+Ja is a six-ingredient non-alcoholic beverage that touts the immune-boosting goodness of green tea, along with cayenne pepper and fresh ginger in a lemony, minty tonic. Though some drink Jin+Ja because they believe it has health benefits, Canada originally mixed up the refresher as a cocktail mixer. Jin+Ja started out as a ginger syrup, but eager for something distinctive, Canada kept adding to the flavor profile until he reached a balance of bitter, sweet, sour, cool and spicy.
It quickly caught on in Philadelphia after one of his friends, an employee of Food & Friends, a neighborhood market, passed on some to her boss, owner Jay Choi. He offered to start selling it, and 20 bottles moved in a matter of days. Canada quit his day job and began focusing on Jin+Ja full-time. With the help of the Rutgers University Food Innovation Center, Canada was able to scale up production in 2011. The beverage has gained so much popularity—in 2013, it won Specialty Food Association accolades as Outstanding Cold Beverage—that it's now sold nationally. It's also bottled close to Philadelphia, in Northern New Jersey.
Jin+Ja is citrusy and aromatic, and while some like it hot, it's equally good chilled or paired with a liquor. Canada recommends trying the Sweet Jin+Ja Brown, which is two parts Jin+Ja to one part bourbon, shaken with ice and garnished with lemon.
True, mixing booze with Jin+Ja might defeat the purpose of drinking it to improve one's immune health, but we've heard that the placebo effect is powerful too, right?
Available at Green Aisle Grocery (1618 East Passyunk Avenue) and Whole Foods Market. 23.5 oz for $9.99.
For more information, visit drinkjinja.com.
Story by Emily Teel.