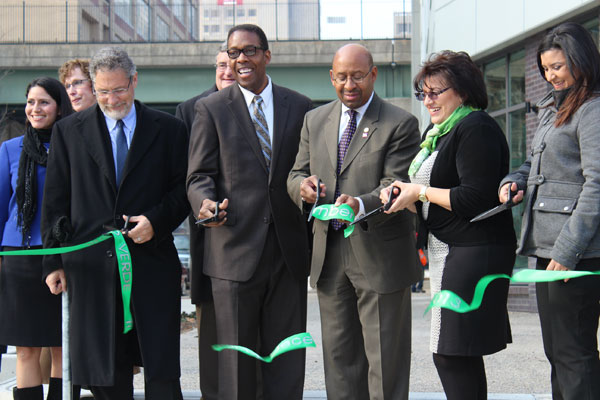 Shown here at the Paseo Verde ribbon cutting are (l to r) developer Jonathan Rose, Council President Darrell Clarke, Mayor Michael Nutter, Nilda Ruiz of APM, and Paseo Verde resident Joann RiveraPhiladelphia added another feather to its neighborhood development cap on Tuesday, Dec. 3 at a ribbon cutting ceremony marking the official completion of the Paseo Verde mixed-use property at the intersection of 9th and Berks Streets. Among speakers addressing a small crowd of neighbors and supporters at the event were Asociación Puertorriqueños en Marcha (APM) President Nilda Ruiz, City Council President Darrell Clarke, Mayor Michael Nutter, and Joann Rivera, a new resident of Paseo Verde, which is located just steps from the campus of Temple University.
Most of the project partners who spoke gave paramount credit for Paseo Verde's success to Ruiz, APM and Jonathan F.P. Rose, president of Jonathan Rose Companies, the development group responsible for the mixed-use transit-oriented facility. (John Zeiler, CEO of Hudson Housing Capital, even mentioned that in the next U.S. Presidential administration, Ruiz and Rose would be good picks to lead the Department of Housing and Urban Development.) Under their leadership, the 48 billion dollar project became the nation's first building that is LEED Platinum Certified for Neighborhood Development—only the second in the world—on top of a LEED Platinum for Homes certification, as well.
The groundbreaking took place in early 2012 on the 206,000 square-foot facility, which consists of 120 mixed-income residential units, 30,000 square feet of commercial space, and a host of high-efficiency and low-impact architectural and design features. "It began winning design awards before it was actually built," said Rose. Construction was completed in September 2013.
Paseo Verde's vibrant color-block façade greets those arriving and departing at the neighboring Temple University Regional Rail station, the fourth largest station serving 7,000 riders with 13 rail lines. This location makes commuting throughout all of SEPTA's service area simple for Paseo Verde residents. "Paseo Verde makes auto-independent living a possibility with excellent transit and job access," said Joe Casey, General Manager at SEPTA, speaking to one of the major components of the project's LEED ND certification. "This TOD [Transit-Oriented Development] concept is about crafting high density living with a transit station right at its doorstep."
Hailing the project as bringing Philadelphia "another step closer to being America's greenest city," Mayor Michael Nutter closed the conference lauding the design and sustainability feats, as well as the jobs created in its construction, as demonstrating the positive impact Paseo Verde is already having on the Eastern North Philadelphia neighborhood.
Story and photo by Danielle Wayda.