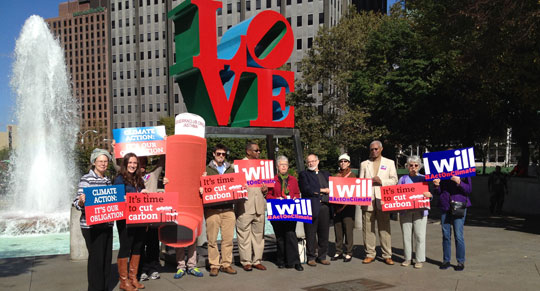 Moms and dads show up in force for a climate rally at Love ParkKeeping families healthy, safe and strong is a big part of being a parent. Moms Clean Air Force (MCAF), a nonprofit with local chapters in eight states, is a powerful parental ally, harnessing the energy of parental love and directing it toward fighting corporate polluters, politicians trying to dismantle the Clean Air Act and the many types of toxins that affect the air we breathe.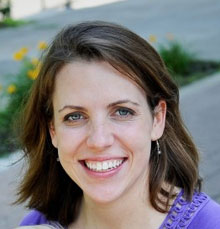 Gretchen Alfonso: Air Defender"Parents can decide to feed their kids organic food or buy safer cosmetics to bathe them with, but there are other issues where you have no choice," says Gretchen Alfonso, a Philadelphia resident and MCAF's National Field Director. "You have no choice that there's unregulated mercury spewing into the air, or that cars are causing climate change, or that there are cancer-causing chemicals released every time you put your child into their car seat. We want to give parents the tools to be loud in the fight for toxic chemical reform."
Led by co-founder Dominique Browning, MCAF's bloggers and grassroots field team aim to arm parents with what they need to be environmental advocates in their communities. Their website hosts a wealth of information meant to engage supporters in time-efficient ways. They call this "nap-time activism," a nod to the fact that modern parents are extremely busy, and the dozens of ready-to-tweet facts, free downloadable e-Books, links to online petitions and other resources help make the most of even the few minutes that parents may be able to set aside for this cause.
For Philadelphians, the subject of air quality hits home: according to the Philadelphia Allies Against Asthma, an estimated 22 percent of children in Philadelphia under the age of 18 have been diagnosed with asthma — nearly twice the national average. The Pennsylvania chapter of MCAF has over 6,500 members, many active in the Philadelphia area. They host community events, educational forums and documentary screenings, and support existing endeavors, such as Children's Hospital of Philadelphia's Community Asthma Prevention Program. These endeavors give people a chance to connect in real life, in addition to the robust online community MCAF has established.
So, while the culprits contributing to poor air quality can seem like daunting foes, when it comes to fighting for their kids, MCAF knows that moms and dads never give up.<
Join the fight at momscleanairforce.org.
Story by Emily Kovach.