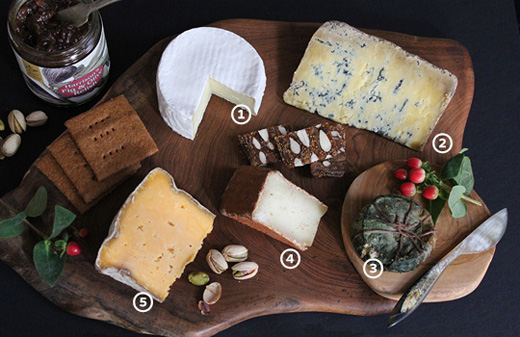 The gift that goes with everything, and some great things that go with it
Forget the sock monkeys and the finger puppets. You can find more creative gifts for stocking stuffers and holiday bashes if you just raid your local purveyor of quality food. Pair a local cheese with artisan crackers, jam, chocolates or spirits, and you'll be the person whose name everyone wants to draw for next year's white elephant party. Here are five local hunks that can round out a gorgeous board or be given separately with divinely edible schwag.
1. Sheep Camembert
Camembert can swing sweet or savory – great with homemade berry preserves or a jar of Harrison's Fig & Olive Relish. Whole-grain graham crackers are an excellent add-on. Then all you need is some bubbly, a Belgian triple, or some piping hot cider. Sheep Camembert also pairs well with sautéed mushrooms. Add a local baguette, and you'll be the new golden child. (Roundtop Farm)
2. Blue Suede Moo
Zesty and sweet with hints of chocolate and licorice, this raw Stilton-style blue from Newburg makes a glorious dessert cheese when paired with nuts, dried fruit and snifters of tawny port. Add a hunk of Blue Suede Moo to a box of John & Kira's chocolate-dipped figs for a Pennsylvania-inspired package. For beer lovers, tuck it into a six-pack of dark beer, like Stoudt's Red Dog (Imperial Oatmeal) or Lancaster Milk Stout. (
Keswick Creamery
)
3. Gooseynight
Fig leaves soaked in local Dad's Hat Rye Whiskey make this little stocking stuffer extra special – peel back the leaves (or eat them!) and you'll find a gooey round of goat cheese dosed with fierceness. Gift this guy with a flask of moonshine and a pocket knife. On a cheese board, pair it with rye whiskey, oat crackers and candied orange peel. (
Cranberry Creek Farm
)
4. Red Goat
This firm, dry wedge rubbed in paprika is an interesting take on Spanish Pimentino. Its nutty sweetness calls for fruit paste, like fig cake studded with almonds, or a jar of light-colored honey. Pair Red Goat with sherry, homemade chai or even a bottle of locally made Subarashii Asian pear dessert wine for an extra special evening around the fire. This is an excellent dessert cheese, especially when served with candied nuts or pistachios. (
Valley Shepherd Creamery
)
5. Perlitta
This golden two-year raw-milk Gouda from Long Valley, New Jersey has more spice than sweetness, making it an excellent match for hoppy beer, like Victory Brewing's Dirtwolf Double IPA. You might add a stick of peppery Valley Shepherd Saucisson Sec. It also pairs well with apples, smoked almonds and raw honeycomb. (
Valley Shepherd Creamery
)
Find more cheese wisdom at MadameFromageBlog.com.
Story by Tenaya Darlington.
This story is from page 34 of our Countdown to the Holidays feature in our December 2013 issue.