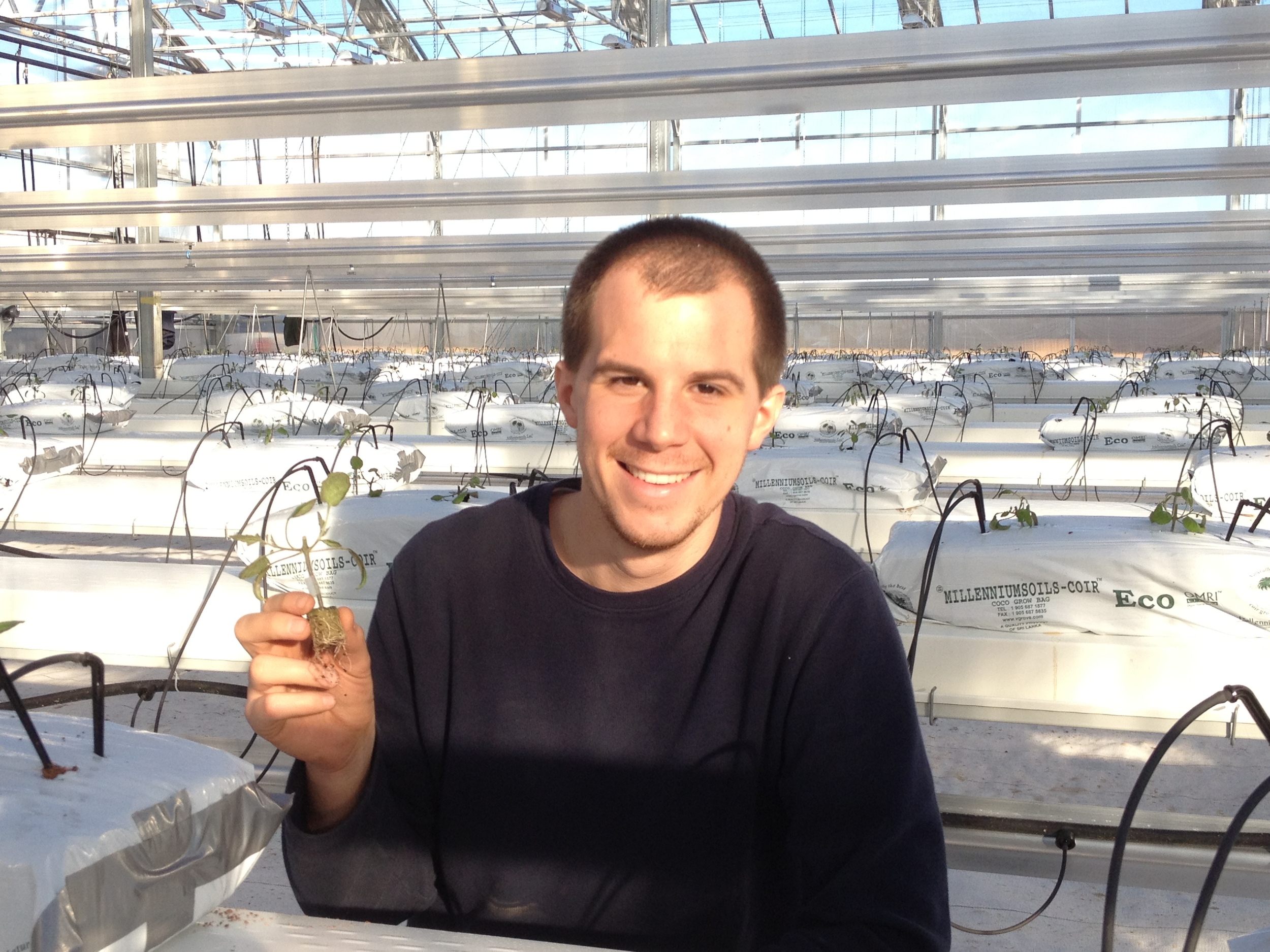 Chris Williams, head grower at BrightFarms' Yardley greenhouse, shows off a tomato start from the farm's first planting. | Image via BrightFarmsAnyone who has bought a bag of spring mix only to discover half the leaves wilted and slimy, knows first-hand the problems grocers face when trying to provide fresh produce to customers during the dead of winter.
Mark Eckhouse, vice president of the local supermarket chain McCaffrey's Market, describes the seemingly convoluted process of purchasing lettuce—chasing growing seasons from region to region, often thousands of miles away, so that the produce can be shipped cross country—with a hint of frustration.
"Often, it has to be trucked for a day or two, if not more, across the country, and lettuce is very fragile," says Eckhouse. "If they don't get it to us fast enough, you find it starts to break down fairly quickly."
But recently, McCaffrey's found a solution that will do more than guarantee fresher lettuce. The process will also reduce the vegetable's carbon footprint while utilizing an underused space and creating local jobs.
What is this silver bullet for salad woes?
The answer is in a new agreement with BrightFarms, a company that recently constructed a 53,000-square foot greenhouse less than a mile from McCaffrey's Bucks County location in Yardley. Using $1.26 million from the Reinvestment Fund, BrightFarms constructed the acre-plus greenhouse complex on empty farmland along Stony Hill Road. Starting this spring, the greenhouse will provide the local grocer with various types of lettuce for their four stores.
While BrightFarms has been involved with similar projects in places ranging from Brooklyn to Oklahoma, they were drawn to Bucks County by the opportunity to work with McCaffrey's and other local food providers. Initially, McCaffrey's wanted to build a greenhouse on top of one of their buildings, but none of the locations worked for retrofitting. Luckily, BrightFarms was able to find space about a mile from McCaffrey's flagship Yardley location. This proximity means not having to chase distant growing regions and gamble with shipping delicate lettuce thousands of miles. "We can basically order it day to day," says Eckhouse. Another bonus to buying local: a reduction in pollution and expenses associated with shipping lettuce from Mexico to the East Coast.
In addition to the lettuce mixes, McCaffrey's expects to get some tomatoes during warmer months. "There are some types of California tomatoes we haven't been able to merchandize just because they don't travel that well," says Eckhouse, and stressed that this new agreement shouldn't impact other local farmers who already provide produce such as peaches and tomatoes in season.
Growers recently planted the first tomato starts ­and expect to harvest in about three months. The lettuces should be planted in the next few weeks. Using the greenhouse, hydroponics and integrated pest management, BrightFarms expects to produce as much as 500,000 pounds of fresh lettuces, tomatoes and herbs each year at the Bucks County farm. In addition to the agreement with McCaffrey's, they'll also be providing produce for John Vena, Inc., a specialty produce business located in the Philadelphia Wholesale Produce Market.
For BrightFarms, partnerships with markets like McCaffrey's will allow them to provide fresher products and support the local economy at the same time, says Kate Siskel, a spokeswoman for BrightFarms. "[McCaffrey's shares] our passion for local produce and they're excited about shaking up the produce supply chain," she says. "We'll be providing produce that is of higher quality, and it comes with a number of benefits for the community."
McCaffrey's Market has four locations in the Philadelphia area: Yardley, PA; Newtown, PA; Princeton, NJ; and West Windsor, NJ. For more information, visit mccaffreys.com
BRIAN RADEMAEKERS is a writer, homebrewer and gardener living in the Philadelphia area.