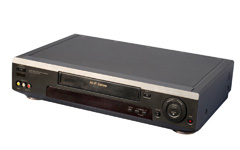 story by Samantha WittchenFACT: The International Association of Electronics Recyclers estimates that on average 400 million consumer electronic products are thrown out each year.
PROBLEM: As more people switch to DVD players and online video services, VCRs are being kicked to the curb. But when VCRs go to a landfill, they also bring heavy metals such as mercury, cadmium and lead, which can leach into the ground and contaminate water sources. VCRs are considered e-waste; their disposal contributes to the more than three million tons of e-waste sent to the landfill each year in the U.S. You can't recycle VCRs in your blue bin, but it's worth taking the time to find a place that will accept them.
SOLUTION: There are several options for Philadelphians to recycle VCRs. eForce Recycling has recently opened their doors to consumers, and unwanted electronics can be dropped off during the week for free (3114 Grays Ferry Ave., 8 a.m.–4 p.m., Mon.–Fri.). This fall, eForce will also be hosting residential collection events throughout the region (visit eforcecompliance.com for dates and locations). The City accepts VCRs and other electronics at their Household Hazardous Waste events (the next one is July 26 at 8401 State Rd.; visit philadelphiastreets.com/hazardous-waste-events.aspx for more dates) and at their Sanitation Convenience Centers (3033 S. 63rd St., 300 block of Domino Lane, or State Rd. and Ashburner St., 8 a.m.–6 p.m., Mon.–Sat.). Best Buy also accepts VCRs for recycling at any of their stores.