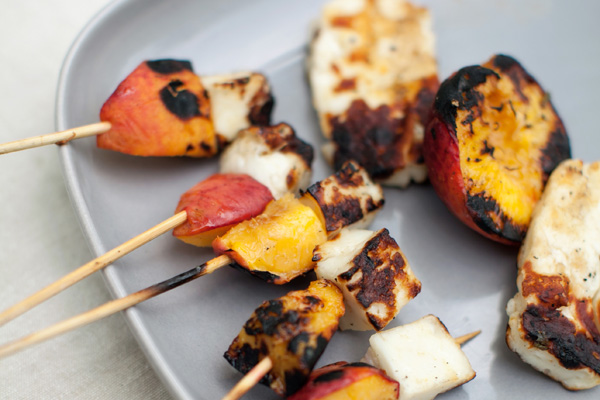 story by Anna Herman | photo by Emily WrenNow that summer is in full swing, it's time to get out of the kitchen and retreat to backyards and beaches to cook dinner (and even breakfast!).
Think slow-smoked brisket, wood-fired pizza, rotisserie chicken, sausages, kebobs, fish tacos, skillet potatoes, grilled vegetables. Even eggs and toast, grilled fruit and chocolate banana paninis can easily be cooked outside over hot coals. There is no need for a fancy grill, but I do use hardwood charcoal or wood rather than gas. Wood burns hotter, and the wood smoke adds key flavors.
Inspired by many a campfire cookout, I "built" a simple backyard fire pit during an afternoon a few years back. This modest hole in the grass, with neat stacks of bricks along three sides and a scavenged grate, still cooks many a fine meal. Over the seasons, I have added two adjustable grates and a rotisserie. I often have several grates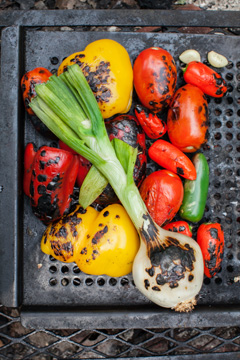 propped above the flames at different heights to sear, slow cook or smoke various appetizers, side dishes and desserts.
When visiting the beach, I can always find a spot to dig a big hole in the sand. I'll make a bonfire and carefully place foil packets—filled with farm fresh vegetables and herbs (or fresh caught fish), lots of garlic and olive oil—on a rock stuck right into the hot coals.
Here are three ways to take advantage of the summer grilling season. Use these as suggestions—be creative, rely on what's in season and enjoy the fact that watching the sun set over a cook fire can make mid-week meals feel like a mini-vacation.
Anna Herman consults, cooks, gardens, writes, and raises children, chickens and bees in the Mt. Airy neighborhood of Philadelphia. Read more about her work at annasedibleadventures.com
Grilling Tip
Start the coals early enough so the grilling surface has time to pre-heat. Hardwood charcoal burns hot, but fast. If you are grilling several batches, plan to add hunks of charcoal throughout the grilling session. Grilling is always most successful over a hot fire.
A clean grill is also essential. Use a wire grill brush regularly. Rusty grills can be re-seasoned. Try my brother Dave's trick: Cut a lemon in half, stick a fork in the skin side and dip the cut side of the lemon into a small dish of oil. Rub the oiled lemon along the hot grill as needed.
Grilled Haloumi with Summer Stone Fruit
Haloumi cheese is salty and firm, and can be grilled or pan-fried without melting. It has a unique soft and chewy texture, which complements fruit well. Grilled Haloumi is also excellent served alongside cold melon or grilled figs. Serves 4
1 package haloumi cheese (about pound)
4 peaches, apricots or plums (or an assortment)
juice of lemon
olive oil
tsp fresh thyme leaves, picked from stem
1 tsp fresh mint leaves, removed from stem and finely minced
salt and pepper
optional: salad greens
Slice the cheese into half-inch pieces. Slice the fruit, remove pits and gently toss with lemon juice to prevent browning.
Grill the cheese and fruit over hot coals until well browned on both sides. If using greens, place on platter. Transfer the grilled cheese and fruit to serving platter, drizzle well with olive oil and sprinkle with chopped herbs. Lightly salt the fruit, and grate fresh pepper over the fruit and cheese. Serve immediately.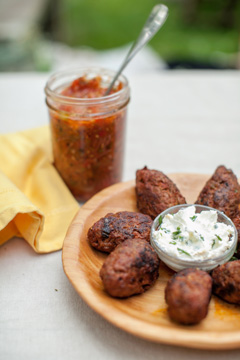 Spicy Lamb Sausage Kibbie Patties
This mixture can be shaped like meatballs, burgers or sausages depending on how you will serve them. They make a great appetizer and are also good in a pita or alongside rice pilaf. Serves 4
3 Tbsp fine bulgur wheat
1 pound ground lamb
2 Tbsp minced raisins or dried cherries
1 Tbsp toasted pine nuts finely minced (optional)
3 cloves of garlic, finely minced
2–3 Tbsp sweet paprika
1 Tbsp ground fennel seeds
2 Tbsp ground cumin
1/2 tsp ground cinnamon
1/2–1 tsp ground Aleppo pepper or cayenne
3 Tbsp fresh parsley, minced
1 Tbsp sea salt
1/2 tsp freshly ground black pepper
Place the bulgur in a small pan and cover with boiling water. Put lid on pan and leave wheat to soak for two to 12 hours.
Drain bulgur and mix with remaining ingredients. Form into meatballs, patties or sausage-shaped logs.
Grill over hot coals until well browned and cooked through. Serve with grilled onions and peppers, grilled vegetable salsa and thick yogurt with cucumbers.
Grilled Pepper Salsa
This sauce can also be made successfully under the broiler. Makes approximately 2 cups
1 large onion, peeled and cut in quarters
6 cloves of garlic, peeled and left whole
3 red peppers, halved, seeded and cored
4 plum tomatoes, cored and halved
1 jalapeno or other chili pepper, with tops cut off (seeds can be left)
1 bunch cilantro, washed, trimmed and coarsely chopped
1/4 cup olive oil
salt and pepper
Grill all vegetables until very well browned, almost black. Place vegetables in the bowl of a food processor (do not peel off the blackened bits) with remaining ingredients. Pulse until well pureed. Scrape down the sides and season well with salt and pepper. Serve warm or at room temperature.