Fair Lady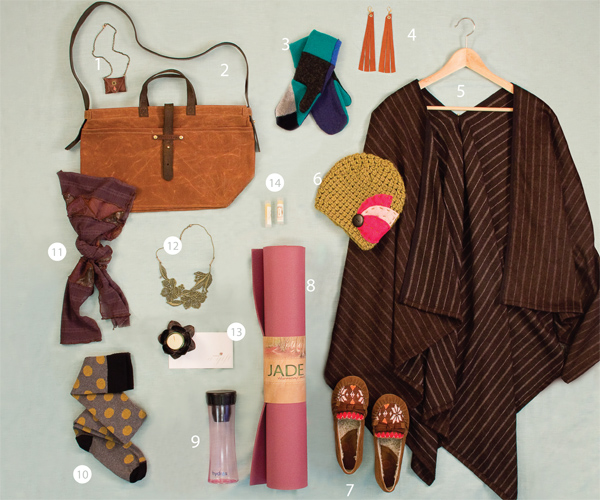 written & curated by katie winkler | photos by lucas hardison & melissa mcfeetersQuality never goes out of style, and nothing says quality like handcrafted garments from your local neighborhood artisans. Do yourself a favor and visit Philly's charming boutiques instead of clawing your way through the big department store crowds. And the best part? You'll find better gifts! You know she deserves it.
#1: Book Jewelry Handmade necklace with a tiny leather-bound book. By Minna Aaparyti, owner of The Craft Foundry in Kensington. Craft classes also available. $58 at The Craft Foundry
#2: Peg and Awl Tote Sturdy and stylish, this tote, made with antique leather, vintage fabrics and waxed canvas, was originally designed for sailors at sea. $160-$190 at Art In The Age or Peg and Awl on Etsy
#3: Preloved Mittens Cozy mittens made from sweater remnants and felted for maximum warmth. $26 at Arcadia Boutique
#4: Leather Wingspan Shoulder Dusters Handmade in Philly from recycled leather by Canoe Crafts. $44 at Arcadia Boutiqe or Canoe Crafts on Etsy
#5: Moon & Arrow Poncho Handmade using high quality vintage dead-stock wools sourced locally by Chelsea Pearce, owner of Moon & Arrow. $78 at Moon & Arrow.
#6: Knit Hat Hand-knit hat by Elissa Kara owner of Nice Things Handmade. $20 at Nice Things Handmade
#7: Big Buddha Moccasins Moccasins with faux-fur lining. Big Buddha products are made with eco-friendly materials and practices in mind. $42 at Adorn Boutique
#8: Jade Yoga Mat The first "green" yoga mat. Made in Conshohocken with no PVCs and from natural rubber. $57.99-$69.99 at Essene Market, Fountain of Yoga Studio & Wellness Center and Studio 34
#9: Hydros Bottle Gives easy access to filtered water even on the go. A dollar from every bottle goes to building clean water infrastructure in villages around the world. $22.99 at Save Some Green
#10: In2Green Socks Made from sustainable recycled cotton in the USA and Central America, sweatshop-free. A portion of proceeds support environmental organizations like Leave No Trace. $17.99 at The Big Green Earth Store.
#11: Ann Forseman Scarf Delicate hand-dyed and painted scarves by Philadelphian Anne Foresman. $55 at The Craft Foundry
#12: Tree & Kimball Lace Necklace Hand-dyed vintage lace jewelry — antique charm with a modern edge. $30 VIX Emporium or Tree & Kimball on Etsy
#13: Eviama Life Spa Gift Certificate Eviama takes a "whole picture" approach to the spa experience, providing a range of body and mind services in their sustainably designed and energy-efficient spa. Gift Certificates available at Eviama
#14: U-Bee-Well Lip Balms Bliss for your lips! Made by Philadelphian Barbara Gettes, these balms are olive oil infused with lavender and calendula from her garden, and local beeswax and raw honey. $5.50 at Milk & Honey Market