story by felicia d'ambrosioYou'll never see fresh-cut flowers in a nail salon," says Justin Mitchell, who co-owns Center City's Tierra Mia Organic Nail Spa with his fiancée Karina Restrepo. "Flowers die in just a few hours, because the fumes in the air are so bad. It sounds like a tall tale, but it's shocking, really."
The nitrocellulose-based nail polish used by most salons is a highly toxic brew. Made from film-forming agents, adhesive polymers (tosylamide-formaldehyde resin), plasticizers (camphor), coloring agents and solvents (toluene, formaldehyde), it's considered a hazardous waste by many regulatory bodies (see sidebar).
"The new research on increased rates of breast cancer, severe respiratory and brain damage, and short-term memory loss for nail technicians is staggering," says Mitchell. An architect by trade, Mitchell founded his blog, The Nail Industry Exposed (tierramianailindustryexposed.wordpress.com), when researching the effect working as a nail technician was having on Restrepo's health.
Together, the pair built Tierra Mia just over two years ago, as a safe sanctuary for both nail professionals and clients; here they're developing and patenting their own completely organic, zero-fume base coat, top coat, remover and nail conditioner, all used in conjunction with water-based, nontoxic polishes. Tierra Mia is the first—and currently the only—100 percent organic, zero-fume nail salon in the country.
"The nail industry is completely unregulated, which leads to the worst kind of greenwashing," says Mitchell. "Polishes marketed as free of the 'toxic trio' [toluene, dibutyl phthalates and the known carcinogen formaldehyde] are in no way nontoxic. We absorb through our nails just like our skin—nails are an incredibly porous surface—and this stuff is staying on your nailbeds and seeping directly into the bloodstream, and causing a longer-term effect."
For Tierra Mia clients, the gritty reality of poisonous nail salons is replaced by sensual delights. Freshly grated lime zests and coconut waft through the air, and each treatment ends with a manicure that lasts at least two weeks, chip-free. Natural beauty never looked so good.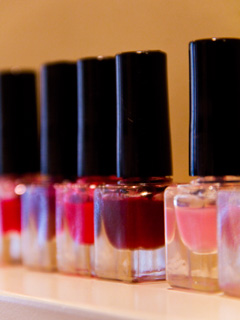 Losing the Lacquer
"The [EPA] classifies nail polish and remover as household hazardous waste," writes Grist columnist Umbra Fisk. Just like paint, thinners, antifreeze, drain openers and rat poison, some cosmetics—and all nail polish and remover—require safe and approved methods of disposal.
Fisk suggests the National Recycling Hotline at 1-800-CLEANUP (253-2687) and its online database, earth911.com, to find locations accepting household hazardous waste. Here you'll find info for the Regional Southeastern Pennsylvania Household Hazardous Waste (HHW) Drop-off Program, the Franklin Township Recycling Center and Philadelphia HHW Drop-off Events. You can also contact the Philadelphia Streets Department (215-686-5560, phila.gov/streets/HHW.html) for dates and times of upcoming HHW Drop-off Events by calling.
Upcoming events are scheduled for Sept. 24 at 22nd and York sts. and Oct. 22 at 3033 S. 63rd St.; all drop-offs are held from 9 a.m. to 3 p.m.
Tierra Mia Organic Nail Spa, 328 S. 17th St., 215-735-7980, tierramiaorganicnailspa.com