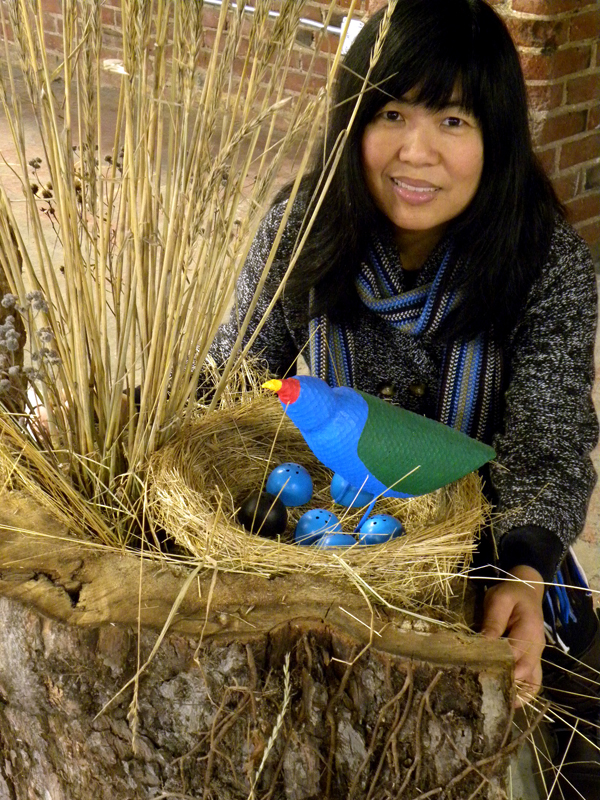 Photo Credit: Meei-Ling Ng
A thick row of lush golden wheat, grass, and straw, standing roughly six feet high, divides the weathered brick interior of the Mt. Airy Art Garage (MAAG). A gap in the middle serves as the entrance to the gallery's first installation, "Recapturing Memories", by art director Meei- Ling Ng. The words "Explore, Laugh, Enjoy" hang on a small easel next to the shrubbery, inviting visitors into Ng's three-dimensional world where she elegantly blurs the line between organic and manmade.
Wine box chickens with claws of reclaimed electrical wire from construction waste nestle near long blades of grass found on the side of the road. Tiny bugs made of mismatched buttons crawl atop branches salvaged from trees chopped down in Elkins Park. Remnants of recycled materials, such as a Nike swoosh on a cardboard chicken, work to alter viewers' perception of what constitutes art.
"I want to show people that a post-consumer product can also be a piece of beautiful art," says Ng.
Her vision is all about reworking visitors' view of nature. By placing organic elements out of their natural context, she hopes to provoke viewers to relate to nature as they once did as children.
"When we are little, we are all connected to nature," says Ng. "The exhibit is for children, but also the child within us."
Growing up in Singapore surrounded by animals, Ng quickly developed a fascination with and reverence for nature. Upon moving to Philadelphia 14 years ago to complete her studies in art, Ng remained connected to the outdoors through her organic garden. However, the inspiration for "Recapturing Memories" didn't strike Ng until she visited what she calls "the jewel of the city," the John Heinz National Wildlife Refuge.
"I've never seen such beautiful birds," says Ng who began avidly bird-watching six years ago.
Her love of birds is visible throughout her installation which includes vibrant acrylic paintings of robins, blackbirds and eastern phoebes. Ng has recreated the thrill of bird-watching in her work, which requires a careful eye to spot all the recycled birds perched within thickets of wheat or on top of the gallery's wooden beam ceiling.
It turns out that the most observant visitors to the installation have been the groups of children that MAAG has been bringing in from various Northwest schools. As Ng had hoped, the students responded enthusiastically and were inspired to create their own sketches of her work.
"The beauty of this exhibit is that it has the capacity to speak to all ages," says Linda Slodki, MAAG founder. "I call it community art."
Community art is what fuels the now retrofitted garage that houses MAAG, a nonprofit organization dedicated to "the labor of creativity and collective spirit." Philadelphia artists of all disciplines, from sculpture to performance art, may submit work to be featured in their gallery.
"It's a dream factory," says Slodki.
The garage is dreaming up big plans for its future, including multiple artist studios, a classroom space, an art library and renovations to the gallery. A backyard garden, a greenroof and solar panels are also planned modifications to the space.
While Ng's exhibit closed November 18, she is already working on another project to further integrate all members of the community with their natural surroundings. She plans on creating a series of illustrative maps of local parks which will feature paintings of every creature that inhabits the area to show the vital interdependence within local ecosystems. Ng says her intent is "to tell a story and to educate people to think 'Maybe we should preserve it'."
From its inspiration to execution, a spirit of environmentalism permeates all of Ng's art, which she often donates to charities such as City Kitties and Animal Lifeline Thrift Shop in Warrington, Pa. She plans on recycling all the manmade materials used in "Recapturing Memories" and composting the organic elements.
"I want people to connect back to nature," says Ng of the purpose of her art. " [To] be inspired by nature and be educated by nature".
– Missy Steinberg