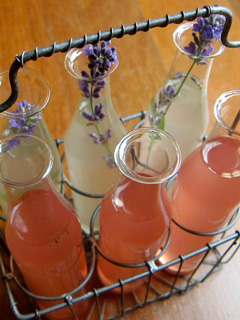 story by Alexis SiemonsFor locavores, the morning moments spent at Philadelphia farmers markets can be defined as delicious bliss. When the temperatures hit their harshest levels this summer, chill out by turning the local bounty found at the market into refreshing summer sips that don't rely on tea or citrus shipped from miles and continents away.
With an open mind and an empty basket, let the market inspire an aromatic blend of juicy fruit and vibrant herbs. All it takes is a wooden spoon, a handful of herbs, and a pitcher of sliced fruit and water to craft a signature, seasonal infusion.
Start with 4 cups of ruby red watermelon, 2 cups of fresh mint and 1 cup of savory basil. If you're seeking a more sophisticated drink, combine 1 cup of woodsy rosemary, 1 cup lavender blossoms and 4 delicate peaches. Simply add the herbs to a large pitcher (66 oz.) and muddle with a wooden spoon; add your sliced fruit and fill with water. Shake well and store in the refrigerator for at least eight hours to infuse. To serve, strain out fruit and herbs, pour over ice and garnish with herb sprigs.
For a sweeter effect, add lavender or mint simple syrup to taste (Learn the method on p. 30). Pair the simple syrups with the farmers market infusions and savor your signature sips all season long.