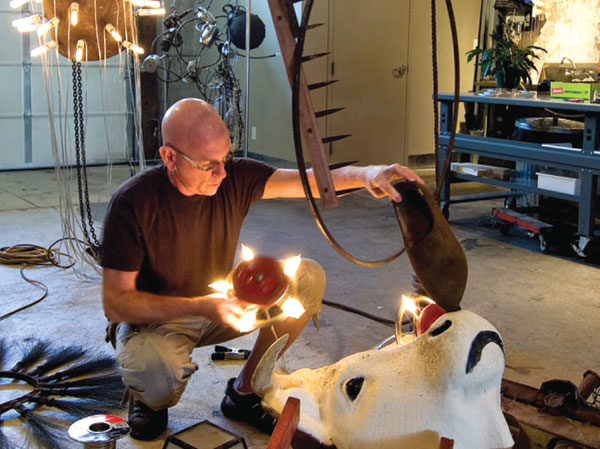 Warren Muller turns the detritus of everyday life into something illuminating.
A few years ago
, two friends started filling up their homes with what most of us would consider trash. At the time, neither one of them even had a reason for spending most of their spare time rummaging through various job sites and dumpsters for wood, much of it significantly damaged by water or termites. But among the debris, there were also gems—beautiful pieces of lumber, left to rot. Christopher Stromberg and David Quadrini, former co-workers at an architecture firm, couldn't stomach that potential treasure going to waste, so they hauled the wood to their respective basements. Eventually the two men realized they shared this passion for salvage.
That's how Bench Dog Design was born, and those piles of wood became finely crafted tables, benches and more. "We went out, bought the tools and went to work," says Quadrini. "People can only show you so much, you have to just pick up the tools and experiment."
"I have always been fascinated with well-crafted furniture and obsessed with well-crafted artwork," says Stromberg. The pieces at Bench Dog Design are just that—skillfully executed, refined and, best of all, created sustainably from random beams and planks found about town. "There is so much material in the world," explains Stromberg. "We just feel there is no need to be harvesting new material."
Quadrini adds: "There is a certain kind of excitement—unforeseen quirks in the wood. The pieces have their own kind of spirit. It's not something you can buy from a lumber site."
These days, Bench Dog Design has expanded beyond furniture. They work on wall paneling, resurfacing spaces, flooring and other interiors—all with materials culled from their dumpster diving adventures.
John Duffy III has a similar story. This one-time telecom executive left the hectic corporate world behind in pursuit of his true passion, furniture making. Duffy gathers wood from Revolution Recovery (p. 21) and a Tacony trash transfer station, among other places. He talks about his finds with great respect and admiration, even love.
"Nothing is really free," says Duffy of his wood findings. "Most of the pieces I get are rough." He points to a pile of beams spoiled with nails and wires, likely yanked in a hurry from their previous home. Duffy actually seems to prefer his wood this way—knowing how far it's come gives him visible satisfaction. Like Stromberg and Quadrini, Duffy greatly appreciates the imperfections in the wood, accepting and incorporating the parts most furniture makers would discard.
Under the name Stable Tables, Duffy creates rustic, functional furniture that showcases its complex history, instead of sanding it away. At Stable Tables, a Lancaster barn door turns into a dining table with antique porch posts as legs. "I could sand it down and make it really smooth, almost unidentifiable, but I tend to leave on more than an average furniture maker," explains Duffy. Stable Table clients seem to respond to the rustic look Duffy cherishes, and his business has been steadily expanding.
Purchasing from Stable Tables or Bench Dog Design not only means embracing the sustainability efforts of these two local businesses, but also welcoming a beautiful, unique piece of furniture into your home.
A retrospective of Muller's career as a "luminary" can be found in the photo-packed book Wink: Warren Muller published by E.C. Graham and Kevin Hanek (Bahdeebahdu, Philadelphia, 2008).