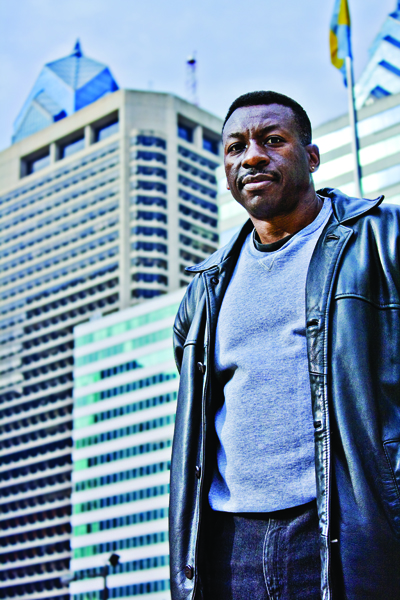 The Audubon Society's Keith Russell tracks migrating birds felled by windows
by Bernard Brown
Keith Russell shows me two white-throated sparrows and an ovenbird, all dead, at 5:30 a.m., when I meet him at 19th and Market. Russell, the Pennsylvania Audubon Society's Fairmount Park Outreach Coordinator, had found the three migrants just on his walk over from the bus stop. "It's a good night for birds to migrate," he observes with a sigh. "Clear and chilly."
The first time I met Russell, two years ago, he was wielding binoculars at an environmental festival in North Philly, connecting residents with the wildlife of Fairmount Park East. Since then, he's been juggling a range of conservation projects; Sunday morning, when we meet, he's working on an Audubon/Philadelphia Zoo/Academy of Natural Sciences partnership studying the problem of migrating birds flying into buildings. By surveying the same route before and just after sunrise, the study attempts to quantify how many birds die by day, by attempting to fly through glass, versus by night, either hitting objects they don't see or drawn in by lights.
At 5:45 a.m., Russell picks up a palm warbler, a delicate gray and yellow bird. We find a hermit thrush and another ovenbird before sunrise, both still supple and warm. "The city birds have learned," Russell remarks. "These other birds have never encountered glass."
It's no fun for a man who loves birds to collect their corpses. Russell happily rattles off a list of other species Center City residents can observe alive, from robins and swifts to raptors, including peregrine falcons. The Germantown resident and committed urbanite (he doesn't drive) has been a bird fanatic since his grade school days in Mt. Airy.
If you say "birder," I think of well-off, suburban white people running around exotic locales with expensive telephoto lenses. I mention this to Russell, who is African-American and devoted to birding in a racially diverse city with a high poverty rate. "That's why Audubon is in Philadelphia. We're interested in reaching an audience we haven't reached in the past." Russell proudly points out that Philadelphians can find over 100 species of birds without leaving the city. "You give people a chance to open their minds. You show them a red-bellied woodpecker, and they say, 'I didn't even know that was here.' That's the kind of eureka moment we're going for."
The sun is up as we walk the route one more time and conclude the survey. It is almost 8 a.m. when we set off for the Academy of Natural Sciences to deposit the dead birds for later study. Russell points out the beautiful white-throated sparrow chirping and zipping around us in a pocket park off Market Street.