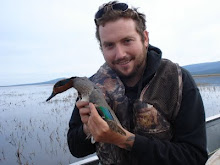 Tony CroasdaleTony Croasdale is an environmental educator, field biologist and most importantly, avid birder. This year, the Philadelphia resident is blogging for Grid about his mission to observe as many species of bird as possible—what birders call a "Big Year." The catch? Croasdale is doing all his birding via sustainable transportation.
When attempting a big year, birders often drive long distances alone or even fly and then, drive to see one species. Huge amounts of fuel are consumed. In general, birding as a hobby tends to be highly fossil fuel consumptive. I want to show a more environmentally responsible way to bird. By carpooling, combining trips, using public transportation and human power, I believe one can still observe large numbers of species in a year. And what better place to do this than Philadelphia? We have ample public transportation and our region combines diverse habitats in a relatively small area strategically located on the Atlantic Flyway. We have one of the best birding locations in the country.
As I attempt to reach my big year goal, I'll be blogging about my progress, both in observing birds and utilizing green transportation. I do have experience birding the "green" way. I'm part of a bicycle team that competes in the World Series of Birding and in 2009 my tram took first in the Carbon Footprint Cup category. But before I began, I made three rules to ensure I was keeping to the principles of a Green Big Year.
I will only count birds seen from foot, bike, sailboat, human powered watercraft, or public transportation.
I will not count birds if I flew, drove, or was driven to a location specifically for birding. For example, if I flew to Arizona for birding, I cannot count birds on a hike up Madera Canyon.
I can accept a short ride to a birding location if traveled most of the way by an alternate means. For instance, accepting a ride to Militia Hill Hawk Watch after taking the train to Fort Washington. If a vehicle is traveling for another purpose, for business for instance, I can use that trip for birding; a conventional car must have at least three passengers and an alternatively fueled car must have at least two passengers.