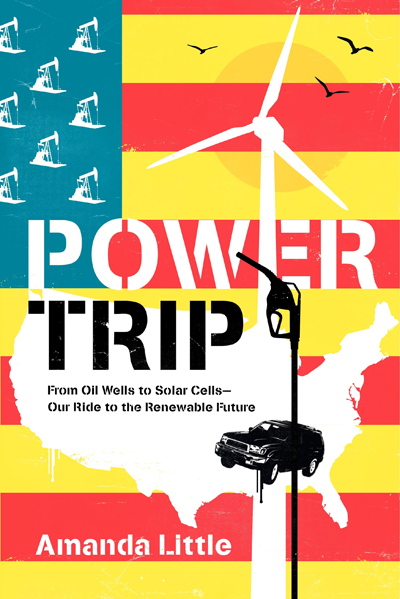 Power Trip: From Oil Wells to Solar Cells–Our Ride to the Renewable Future
by Amanda Little
Harper, $25.99
Cycling into work on the Brooklyn Bridge on September 11, 2001, Amanda Little witnessed the horrific attack on the World Trade Center. Two years later, on August 14, 2003, Little was in her Manhattan office when the Northeast Blackout left the city without power. Despite her career as an environmental journalist who focused on the "American energy landscape," Little realized that she understood very little about how it worked.
Power Trip explores the relationship America has with fossil fuels, where everything from cosmetic surgery to the operation of the digital age depends on oil. Little does not stop with a critique. She makes a progressive case for the long-awaited era of sustainable development, exploring the successful pioneering clean-energy solutions across America; from touring Zero Energy Homes in Lenoir City, TN to riding open-air construction to the top of the nation's greenest skyscraper in Manhattan. With next-generation optimism, Little builds a case that the same ingenuity that got us into this mess will get us out of it, and into a brighter, sustainable future.

Whether it's green for a brighter future on Earth or for double the green in your pocket, this book offers no excuses for waiting to embrace a cleaner future of renewable, natural energy right now.
Really—even Walmart's doing it. —Grace Antonini