The 2019 PES oil refinery explosion in South Philadelphia opened the door for a brighter future after more than a century of fossil fuel pollution. But four years later, many questions remain unanswered by new owner Hilco Redevelopment Partners.
In September 2019 I plopped into a kayak and pushed off the eastern banks of the Schuylkill River in Center City, ready to see Philadelphia in a brand new way. Part of an annual excursion that launches paddlers from the Schuylkill Banks on Walnut Street, sends them down around the Navy Yard and then back up the Delaware to the Seaport Museum, the trip promised a duck's eye view of the entire rim of the city's lower half.
What an eye-opener it turned out to be.
Lively, scenic views of joggers and picnickers set against the city's skyline quickly gave way to something else as we floated toward South Philadelphia. The green visages of Bartram's Garden turned into the beige cement and cold steel of heavy industry. The river browned and bubbled with some kind of gas seepage from unseen origins. The passageway became stuffy, stifling, odiferous.
Three months earlier a massive explosion at the adjacent Philadelphia Energy Solutions (PES) oil refinery had hurled a 38,000-pound piece of metal all the way across the river, somewhere in the vicinity. I tried to picture that and failed: force of that kind is hard to imagine possible.
But these days, imagination is exactly what's called for in South Philadelphia.
Approaching four years since the explosion and fires shuttered what was then the largest and oldest petroleum refinery on the East Coast, the dust has yet to settle on what will become of the prominent vestige of the city's dirty industrial past. Following bankruptcy filings, the roughly 1,300-acre PES site was scooped up by Hilco Redevelopment Partners, a subsidiary of Hilco Global, for $225 million in 2020. It quickly became evident that the new owner's primary intentions were to convert the site into a logistics hub (picture cavernous, Amazon-style warehouses) and a Life Sciences campus (think medical and pharmaceutical companies doing R&D).
But in the absence of any public plan for a full buildout of the parcel, which represents nearly 2% of the city's land area, community organizations, academics, city planners and neighboring residents were able to dream about what else could be. Perhaps the popular Schuylkill River Trail could be extended all the way to the Navy Yard. Maybe natural wetlands could be restored, beautifying the river and guarding against the encroaching floodwaters of climate change. And on a long enough timeline, perhaps something resembling a vibrant cityscape could emerge: recreational parks, mixed-use development, maybe even residences.
These are dreams of a greener, cleaner future for South and Southwest Philly that still remain alive. But along the river's edge, seeds of doubt have also taken root.
The planners
Harris Steinberg, executive director of the Lindy Institute for Urban Innovation at Drexel University, is among a class of urban planners who see the former PES site as the most critical parcel to come up for grabs in the city's recent history.
It's an extremely important and strategic site in Philadelphia, probably the most important site right now."

— Harris Steinberg,

executive director of the Lindy Institute for Urban Innovation at Drexel University
"This is not just a question of how the City, how the developer and how the community thinks about redevelopment for the next 10 or 15 years. This is a 100- to a 150-year play," Steinberg said during a February interview. "It's an extremely important and strategic site in Philadelphia, probably the most important site right now."
Funded by the William Penn Foundation, the Lindy Institute paired with the Philadelphia environmental nonprofit Clean Air Council in 2020 to release a report "revisioning" what the site could look like. Building on input gathered through a number of public meetings and workshops, the report called for specifics like extending the Schuylkill River Trail and turning a portion of the Schuylkill Expressway into a more pedestrian-friendly "surface boulevard" at the site. But its greater vision was more holistic: re-integrating the closed-off site into the city through street gridding, access to public transportation, and beautification measures.
In this way, the report said, the redevelopment could run parallel to the Navy Yard and the Delaware River waterfront around Penn's Landing, a plan for which emerged after a decade-and-a-half of collaboration and public engagement.
"That could provide a template for how the city can create a framework for long-term growth on privately held land, which advances both public benefit and development potential," the report concluded.
While the City could not directly tell Hilco what to do with the land, the report found, it could influence development with a toolkit of both carrots, such as tax breaks and purchasing agreements, as well as sticks, such as strict road planning approvals.
Three years later, it's unclear how fully Hilco or the City has taken the suggestions into consideration. The Lindy Institute remains cordial with Hilco; in March, Steinberg and Hilco Senior Vice President of Corporate Affairs Jasmine Sessoms participated in a public conversation on urban planning over Zoom. Even still, in his interview with Grid, Steinberg betrayed some dissatisfaction that he had yet to see a long-term master plan for the site.
"I know they've done at least one, but I don't think they've made it public," Steinberg said. "I think they are mindful, I think they definitely have been listening … , [but] not much has been made public."
City Hall has also laid out its vision for the future of area, and is now similarly waiting to see how closely Hilco will adhere. Over the past decade, the Philadelphia City Planning Commission produced a series of planning documents for the area as part of its 2035 master plan. Matt Wysong, a senior planner with the commission, said so far Hilco's proposals largely square with what the plans envision: the attraction of modern industries to keep that section of the city an economic and employment powerhouse.
And while Steinberg, nonprofits like the Clean Air Council and community groups have expressed to varying degrees a perceived lack of leadership from the City, Wysong said the Planning Commission does in fact share many of the same goals. To wit, he said the commission also wants to see public open space along the riverfront, quality pedestrian and bicycle infrastructure and public access to the waterfront.
"We want … ample connections to the site from adjacent neighborhoods in South Philly," Wysong said. "Not only to get to jobs, but also to connect to the river and get some concept of public open space."
Beautification and protection from flooding also remain priorities, Wysong said, with the site holding key aesthetic real estate as city residents and visitors alike pass by on their way to and from the airport and Navy Yard.
Wysong said the City has also taken action. Last year, City Council overhauled parts of its tree and landscaping regulations to require developers, including Hilco, to plant more trees. Even more directly, he said, City Council, the Streets Department, the Planning Commission and other agencies earlier this year reviewed a proposal from Hilco to lay out key new roadways across the site.
In its submission, Hilco proposed running a roadway along the waterfront that could restrict extension of the river trail. The commission asked for it to be set back from the river's edge to keep open the possibility, Wysong said. He added that the commission and Streets Department also requested changes to the roadways to make them more pedestrian and bicycle friendly, a stipulation that the Streets Department could actually require during later planning processes.
"I think we're all in agreement of the concept of introducing public streets on the site," Wysong said.
The neighbors
How does one repair trust with a community after a century or more of mistreatment? It's a tough question, and one that also remains open.
Pollution has long been a public concern at the sprawling former PES site, where oil refinement started as early as 1866, more than a century before environmental regulators such as the United States Environmental Protection Agency and Pennsylvania Department of Environmental Protection arrived on the scene. With that kind of history comes a dark mass of potential hazards to humans and nonhuman animals alike, as toxic substances like benzene, lead and PFAS chemicals haunt the air, land and water.
I've lost friends from various illnesses and cancers."

— Mark Clincy,

West Passyunk resident and activist with Philly Thrive
Mark Clincy, a West Passyunk resident whose apartment building is less than a quarter-mile from the refinery, has been cognizant of risks from the site for decades. A former West Philadelphia resident, he recalled explosions and other issues from the plant as early as the 1970s and '80s.
In 2019, the final explosion rattled his windows and triggered a shelter-in-place phone call from the fire department, although he later wished he had been evacuated.
"You're talking about benzene gas, and that's not a joke," Clincy said. "I've lost friends from various illnesses and cancers."
After the explosion, Clincy became active in Philly Thrive, an environmental organization that for nearly a decade has bird-dogged the refinery over the risks it presents to predominantly Black fenceline communities. The group held protests before and after the 2019 explosion, calling for an end to the refinery and fossil fuel pollution. More recently Philly Thrive has spoken out against Hilco's cessation of air monitoring at the site, even after 2022 testing still showed stubbornly high benzene levels.
The current state of wider community opinion is unclear. Philly Thrive had been part of the United South/Southwest – Coalition for Healthy Communities, a collection of about 20 community groups that organized in 2021 around the refinery's closure and redevelopment. A shared sentiment was anger and fear. Like Clincy, various members of the groups relayed heart-wrenching stories of brushes with asthma, cancer and death to both local media and global publications like The New York Times.
The coalition's primary request of Hilco was the development of a community benefits agreement (CBA), an oft-practiced but not legally required process to secure commitments from a developer to invest in and respect the wishes of the surrounding community.
After few signs of progress with Hilco in 2021 and 2022, the company revealed last fall its intentions to begin negotiations on a CBA this year. Some community groups told reporters they viewed this as progress; the coalition's website has lain dormant since last summer.
But Philly Thrive has since left the coalition to pursue "direct action." In October, seven of its members were arrested as they protested an oil tank farm on the river's west banks that Hilco is still operating.
Philly Thrive continues to speak out against the amount of truck traffic the warehouses will create and subsequent air pollution in surrounding neighborhoods.
We need better flood protection plans and the carbon-free development we were promised."

— R. Merriman-Goldring, communications coordinator for Philly Thrive
"The scale of warehousing Hilco plans is a threat to our health. Twelve-million square feet of warehouses would bring hundreds of diesel trucks through our neighborhoods daily, polluting our air with cancer-causing exhaust," said R. Merriman-Goldring, communications coordinator for Philly Thrive. "And warehousing requires paving and hardening the surfaces, which will result in more flooding in South and Southwest neighborhoods. … We need better flood protection plans and the carbon-free development we were promised."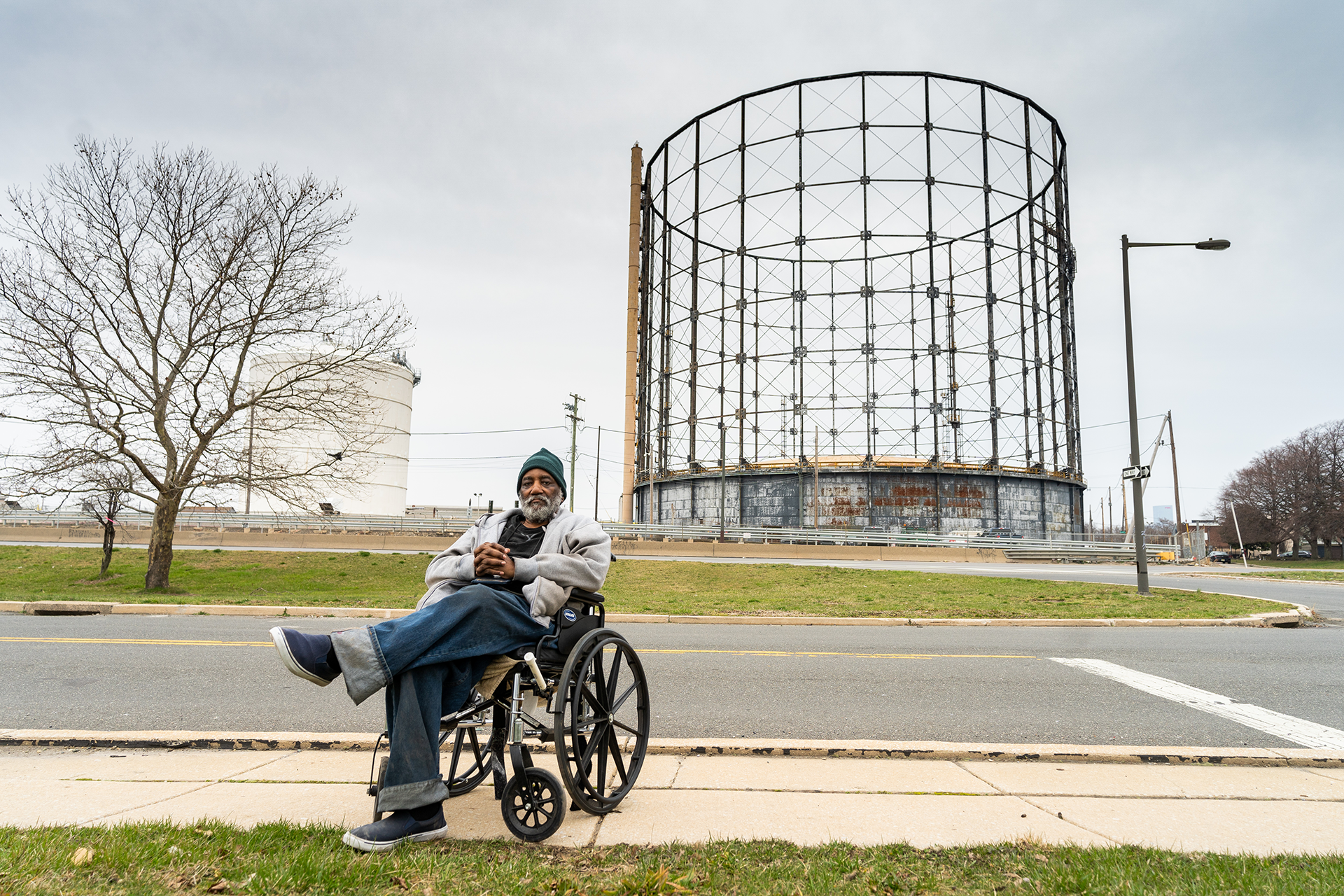 The developer
After a history of 150 years of environmental pollution, continuing fossil fuel operations and a future of profit-focused development, it would be easy to conclude that Hilco is another in a line of bogeymen.
What's harder is ascertaining to what extent that's warranted.
When the refinery went bust in 2019, it took an estimated $2.1 billion in economic benefits for the city with it, including about 1,100 direct jobs each averaging more than $100,000 in salaries, along with another estimated 5,000 indirect jobs, a City-commissioned analysis found.
It also left behind a tangled maze of physical wreckage. To convert the site into anything other than a massive oil refinery, more than 100 buildings, 3,000 tanks and vessels and 950 miles of pipeline would have to be dismantled, asbestos coating much of it.
And it wasn't clear from the beginning that petroleum operations would even cease. When the refinery previously nearly went belly up in 2012 under former owner Sunoco, it was saved by a massive injection of private equity, facilitating another seven years of large-scale petroleum refinement and all the carbon emissions and air pollution that come with it. There was nothing precluding that from happening again in 2019.
Other possibilities lurked. When industrial heavyweights like U.S. Steel began pulling out of thousands of acres of land along the Delaware River in Lower Bucks County a generation ago, the waste industry swooped in to create what is now the largest landfilling and trash incineration hub in the state. Prevailing winds carry odors of methane and other gasses into New Jersey. Here they would likely first blow across South Philadelphia and Center City.
Hilco is doing its best to promise it has Philadelphia's best interests at heart and a brighter future in mind. Deeming its redevelopment the "Bellwether District," Hilco said in a statement to Grid that it will offer a "historic transformation of the former PES Refinery into a 1,300-acre state-of-the-art campus that will serve as Philadelphia's new home for e-commerce, life sciences and logistics leaders."
As of early March, Hilco had demolished more than 88% of the facility's former tanks and more than 91% of its pipes, the company said, and removed more than 99% of its petroleum products. It calculated that secession of the bulk of operations dropped the city's total carbon emissions by 16%.
Hilco also claims redevelopment will generate an estimated 19,000 direct jobs and generate millions in tax revenue, all while supporting local workforce development programs. With community relations, the company says it's progressing and confirmed to Grid that it agreed during a fall 2022 "Community Advisory Panel" to "voluntarily commit" to a community benefits agreement.
"We look forward to working alongside our neighbors in building a future with less pollution, more jobs and greater opportunity for Philadelphians," Amelia Chassé Alcivar, executive vice president of corporate affairs at Hilco, said in a statement.
The problem one runs into, over and over, is transparency. Hilco has produced a library of slick renderings, videos and other materials showing a green and gridded future site. They look inarguably better than the industrial wasteland that was left after the 2019 explosion. But those are just pictures, not proof.
In reality, truth will first be born out in the paperwork: what plans for laying out streets, planting trees and allowing public access will Hilco put forth? Perhaps most importantly, how will it make the site safe? Hilco and Evergreen, a Sunoco subsidiary still on the hook for most of the cleanup at the site, are already in the middle of a massive environmental investigation and remediation process. A full assessment of potential human health hazards from legacy pollution and how it will be dealt with has yet to be completed. That will, in turn, determine what kinds of land uses are safe for the site.
Idling in the background is the incoming threat of air pollution from truck traffic. The City's Wysong says at present it appears trucks will be entering and leaving the warehouse facilities via South Philadelphia neighborhoods; while some have floated the idea of a new direct interconnection with I-76, no such proposals currently exist, he said.
Grid sent Hilco questions on each of these topics and more, such as whether it performed in-depth modeling of future flooding conditions under climate change. Hilco left many inquiries unanswered or spoke only in generalities.
Examining the whole picture, there's enough there, or more accurately not there, to make one wonder. If Hilco intends to meet one of the most ubiquitous requests — extend the Schuylkill River Trail — why did it submit an initial road plan without a necessary setback from the waterfront? Why, three years in, are the Planning Commission and Streets Department only beginning to tango with Hilco on the accessibility of the roads that will go in? Why is there no detailed master plan publicly available? What will become of the tank farm? Why does Hilco evade questions on how the company will account for truck pollution?
On one hand, Matt Walker, community outreach director for the Clean Air Council, understands that Hilco may just be trying to maintain flexibility as it's still navigating a tricky landscape in which multiple stakeholders and forces are pulling it in different directions. On the other hand, that still leaves everything feeling like it's up for grabs.
"What we need right now is a bold, comprehensive plan, with full public input, for the long-term future of this site. … Becoming resilient to the worst impacts of climate change, while also ensuring healthy, just, safe and thriving communities," Walker said. "We do not yet have this vision."