Melvin Powell spends most of his days at a vibrant greenspace and community center in North Philadelphia, a backyard garden surrounded by tall walls filled with graffiti art. Community members gather at the outdoor venue for neighborhood events like concerts and art-inspired showcases.
"It was a converted gas station that was basically just an empty lot," Powell said. "And essentially we were brought in to figure out how we can make this into a community space."
The site's developers hired Powell in 2018 to transform the lot to suit community members' needs. He did this while creating an organization called Sunflower Hill, named after the sloping hills that formed after the underground gas tanks were removed and now define the space with dense plantings of sunflowers and other flowers. When the organization transformed into a nonprofit called Sunflower Philly, Powell became its executive director.
This successful site conversion is just the beginning for Powell. He has now begun a venture of revamping other empty lots in North Philadelphia to be hubs for art, gardens and community events.
Powell's idea began when he and other team members were having one of their trash cleanups and noticed many other empty lots in the neighborhood that were collecting trash even though developers were purchasing these properties during the pandemic.
"There was just so much more development that was happening around the neighborhood that there was just too much to clean. There was a lot of construction waste and things like that [being dumped]."
Areas like North Philadelphia are not shy to development and sometimes, the wait for actual development to begin leaves buildings vacant and lots empty for months or even years. These properties eventually collect trash and become eyesores for people living in the neighborhood.
Our idea was to not only invest in their space but also try to help set the infrastructure for people to support it."

— Melvin Powell, e

xecutive director of Sunflower Philly
In response, Sunflower Philly announced a Greenspace Advocacy Program in hopes of beautifying these spaces.
"We can start getting eyes on other projects as well," Powell said. "So people in the neighborhood would be like, 'Hey, I have multiple spots that I can go to and get connected to.'"
Powell wants to help neighbors revamp land for better public space needs, as he did for Sunflower Philly and a community garden on Uber Street in North Philadelphia.
"Our idea was to not only invest in their space but also try to help set the infrastructure for people to support it," Powell said.
The Uber Street garden has been operated by sisters Agnes Domocase and Willamae McCullough for over 20 years. The two women financially supported the garden and its events for two decades. They provided all gardening equipment, paid for youth events, and purchased soil and snacks for neighborhood children.
But after the sisters reached retirement and were slammed with medical bills, they couldn't afford to support the garden financially. That's when Powell and Michael Frank, the executive director for Philly City Repair, stepped in. They helped the sisters apply for and successfully receive a grant to fund their work. Powell and Sunflower Philly volunteers occasionally work at the garden to add support.
"They got great small grants to help us," Domocase says. "We are so grateful for Michael and Melvin. They come in with the kids and get a lot of work done in two days."
Domocase and McCullough are now prepared to apply for their own grants after working with Powell. With this success, the Uber Street garden is now just one example of what Powell wants to see with empty lots in Philadelphia — but first, he has to actually get the land for the community to use.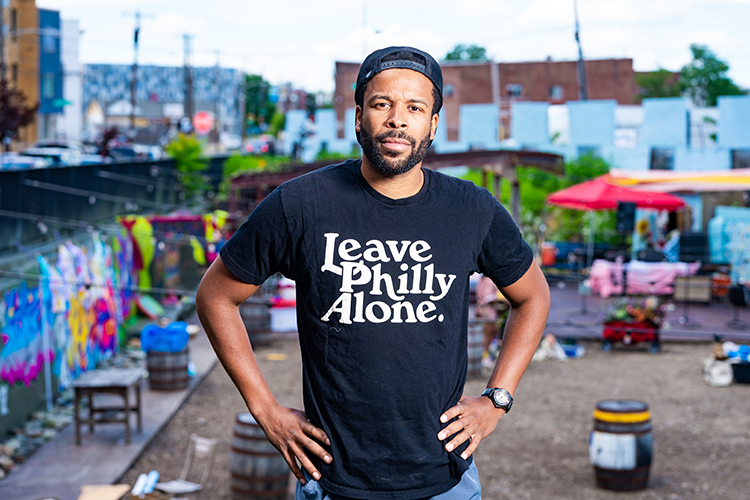 Getting the Land
Because the Sunflower Philly project was successful, Powell looked into how likely other developers would be to allow community members to use their property temporarily. Unfortunately, that idea didn't pan out when he realized the odds were low. Powell said that most privately-owned land in Philadelphia is either tax-delinquent or moving forward with development, and both scenarios pose major challenges for community groups to acquire these properties.
But Powell had another idea. He thought about looking into public land in the city, especially properties owned by the City that have been sitting vacant for a long time. Powell envisioned helping community members acquire public land in their neighborhoods to operate as community gardens or community spaces.
This led him to research public land in North Philadelphia. Through his research, he found the Department of Public Property. This department manages buildings and structures where City employees work buying, selling, leasing, designing, constructing, renovating and maintaining City properties.
This was the land Powell was looking for.
Powell plans to approach City Council and the mayor's office with the request to use land listed under the Department of Public Property. He envisions the City leasing empty lots for a maximum of five years, but in the future he hopes to evolve from temporary land use into ownership.
"We need to find City-owned lots because at the core, and how is it written in the code of Philadelphia, that is the land that citizens are entitled to use for public space and urban agriculture."