One of the things that drew me to Germantown was the amount of space to plant things in the ground. I've had my share of container gardens in concrete backyards that left me wanting to grow more plants. What I really wanted was enough space to grow my own food.
In a time when supply chains are causing so many food disruptions that parents can't get formula, having a basic understanding of how food is grown is valuable. It takes an extraordinary amount of time to learn a new skill like gardening — not only to prepare the space, plant the seeds and tend the ground, but also to have the patience to make mistakes. The energy I pour in feels like an investment in knowledge and strength, and what it yields can be shared.
There is this dreamy version of my life where I get a plot of land in the mountains to have animals, grow my food, harvest, can and live off the land. How idyllic!
The beautiful truth is, sometimes our dreams can manifest in ways we didn't see coming — right here in the present.
Nearly every inch of my small front and back yards has a function: the dirt is for plants, the porch is for people. The grass patch that was in my small front yard is now a home for corn, squash, green beans and sunflowers. There is also a partially shaded area that is perfect for growing strawberries and greens. I've also planted flowers that can be used for tea.
My backyard is big enough for a variety of vegetables and flowers. I have a small herb garden outside of my kitchen window where I grow enough herbs to last me through the year.
Over the past six years, I have figured out what food I can grow easily that my family will eat. With internet gardeners as my instructors, I've learned a lot of things the hard way. Just like any new skill, it takes determination and passion to get past the first few steps and really get into the swing of it. By the time the first little seedlings are safe in their summer beds, hope and excitement start to grow as well.
It's been a learning process and has taken a lot of trial and error. I've learned how to keep the weeds at bay, and how to cook and preserve the food that I grow.
After six solid growing seasons at this home, I am forming and integrating gardening and harvesting roots into my day-to-day life. I like to think I'm finally getting the hang of it.
I've had a hard time watching the weeds poke up. At times the commitment to the maintenance feels like a burden. When I'm late cleaning up the yard I feel like I could be doing more, or that all of my hard work could go to waste. Letting go of stigmas of perfectly manicured lawns feels appropriate for the times. Erasing beauty standards of what our lawns "should" look like will help us enjoy them as they are — with some room to grow. I'm proud of how I tend my little garden. Weeds and all.
For me, all of the maintenance stress is hype. As soon as I make the time to place the trowel in the soil, I come back to life and the dread of work vanishes. The labor itself feels as good as the tomatoes taste.
There are root systems that have been in my yard for years and years before I moved in. I respect that. I also love to watch how the newer perennials I've introduced have made a home for themselves. The waiting for the flower, then the fruit, then the ripening — it's all worth the time it takes to develop.
My commitment to my outdoor space has been a sign of personal growth as well. The more I am patient with myself and enjoy the labor of my passions, the more beautiful the bloom.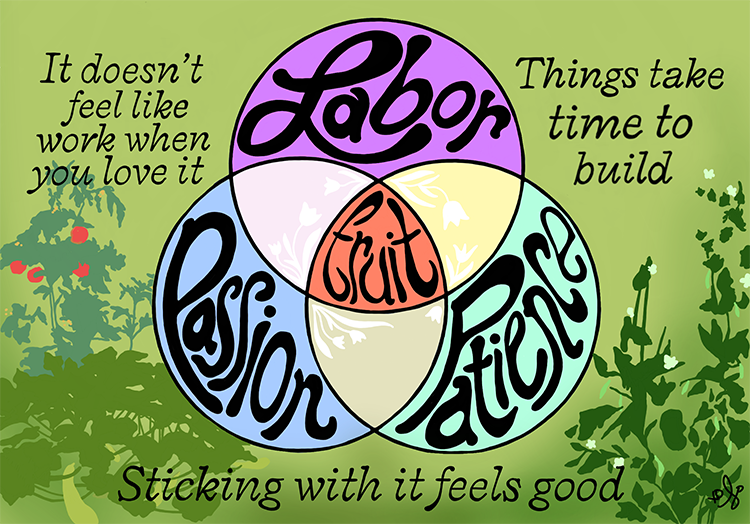 Lois Volta is a home life consultant, artist and founder of The Volta Way. Send questions to info@thevoltaway.com.