I'm bidding for a piece of my childhood. That feeling is something that … can be traumatizing. People are losing a part of themselves."

— Michael Gonzalo Moran,

Iglesias Gardens board member
When a notice went up in 2015 announcing that a lot his mother had tended as a vegetable garden since the 1990s would soon be sold at sheriff's sale, Michael Gonzalo Moran pulled together the bulk of his savings and outbid a developer. "I was using my life's savings for one lot, while this individual was in the process of purchasing his fifth lot that day," Moran explained. "I'm bidding for a piece of my childhood. That feeling is something that … can be traumatizing. People are losing a part of themselves."
Suffice to say that the issues around land transfer and sovereignty strike close to home for Moran. Although his mother had made multiple attempts to legally secure the land with assistance from the Philadelphia Land Bank, she was repeatedly told she'd have to pay off a massive lien on the property.
This experience inspired Moran to not only fight for his mother's lot, but also become a board member and gardener at the Cesar Andreú Iglesias Community Garden (aka Iglesias Gardens) at the corner of Arlington and North Lawrence streets in Kensington about five years ago. The gardens comprise an extensive network of green space and food-producing gardens, punctuated by bright, whimsical sculpture by local artist Cesar Viveros; a stage; a snack garden for horses from the Fletcher Street Urban Riding Club; and even a temazcal, a type of pre-Hispanic indigenous sweat lodge.
"So much of this is intertwined with my own personal life," Moran said, "this struggle that the Iglesias Gardens [is] experiencing as a collective is happening to individuals."
For Moran, getting involved with Iglesias Gardens has provided another way to contribute to a community he's been part of for over 30 years. "I remember this when it was a landfill," Moran says, describing how the lots used to be full of scrap from abandoned houses. "It's a beautiful sight for someone like me to see it for what it was, and what it has become."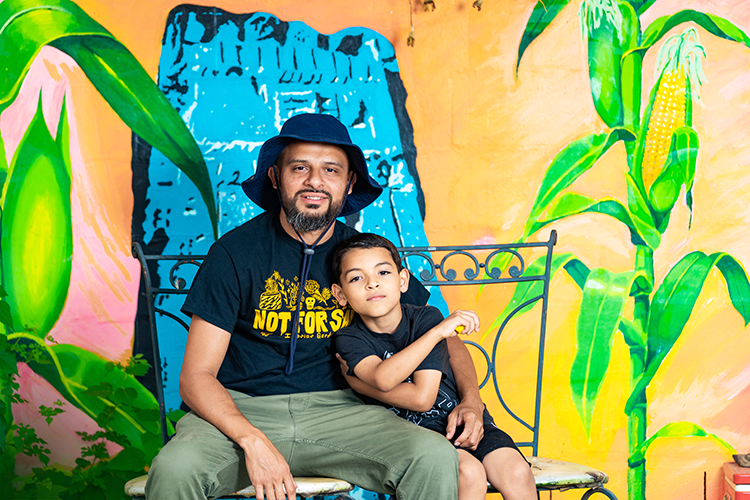 In 2018, Iglesias Gardens Co. was registered as a nonprofit. Some of the dozens of parcels comprising the garden have been secured as gardens and side lots; the rest are owned by the Philadelphia Housing Authority, the Land Bank and private developers, and two are impacted by U.S. Bank liens. The group has been savvy at raising awareness of the gardens and their significance to the community through the press and connecting with other garden organizers.
After years of working with the Land Bank to secure ownership, Iglesias Gardens seems to be on track to secure the parcels that make up the core of the garden. But it's been no small feat, and the amount of coordination required to stay in communication with City Councilmembers and regularly follow up with the Land Bank isn't always possible for smaller organizations with limited capacity.
The Philadelphia Land Bank passed unanimously as Bill No. 130156-A in 2013. It is one of the most significant pieces of land legislation ever passed in Philadelphia and emerged from input and support from an array of advocacy groups. Its mission is clear: to streamline the process of getting vacant and underutilized land into the hands of people who would put it to better use —  be they gardeners and market farmers, neighbors tending side lots or housing developers — all with the goal of benefiting communities and improving neighborhoods while growing the City's tax base.
But executing that mission over the past nine years has proven to be anything but simple.
"[The Land Bank] started as a hopeful enterprise and a process in consensus building, at least from the advocacy standpoint," says Amy Laura Cahn, who was a staff attorney with the Public Interest Law Center and served as director of the Garden Justice Legal Initiative from 2013 to 2017, when the Land Bank came into being. "I wouldn't say that anyone thought the Land Bank was a silver bullet," Cahn says, "but there was clarity about the problems it was intended to solve. It has not solved them."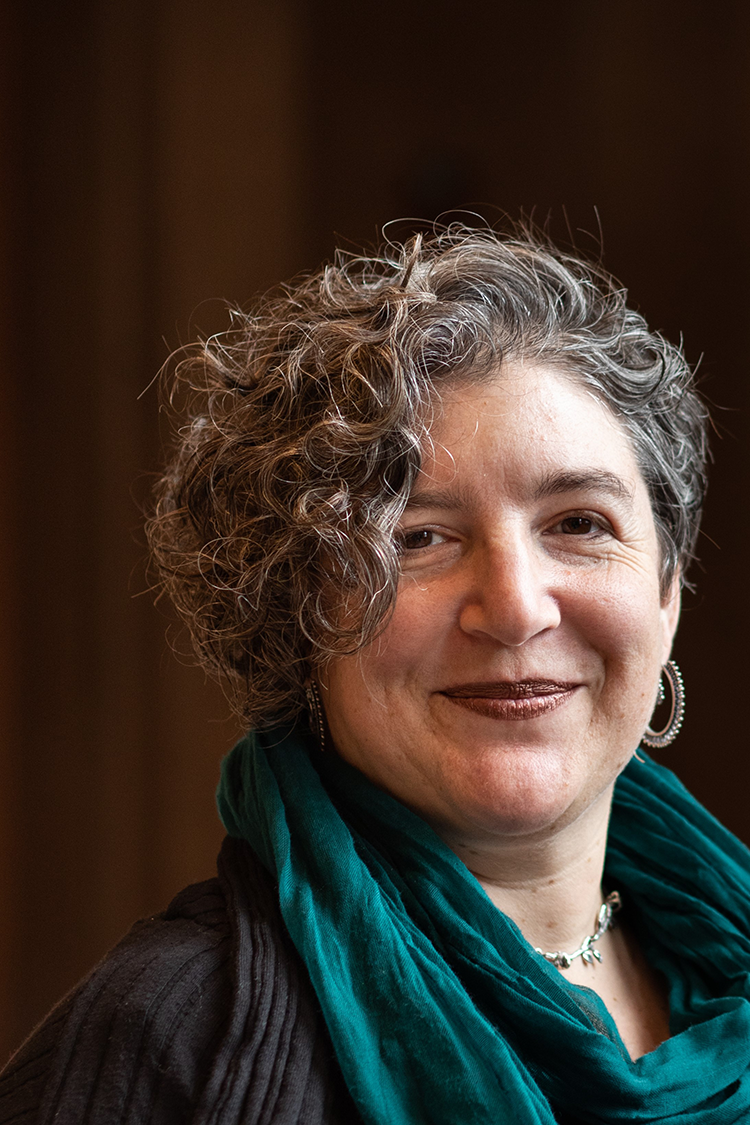 One of the main disappointments so far, Cahn points out, is the fact that the path to land acquisition via the Land Bank has become neither more efficient nor transparent, especially for residents looking to acquire lots for open space or gardens. Instead of bringing together the City's four land-holding agencies — the Philadelphia Housing Authority, Philadelphia Redevelopment Authority, Philadelphia Housing Development Corporation and Department of Public Property — as was intended, the Land Bank effectively created a fifth, says Cahn, leaving residents who've been tending and stewarding lots — many for decades or generations — to deal with even more convoluted bureaucracy and red tape.
The Land Bank law codified, for the first time, the significant influence Philadelphia Councilmembers have traditionally had over projects in their districts."

— Amy Laura Cahn,

director of the Environmental Justice Clinic at Vermont Law School
The Land Bank also highlights the issue of councilmanic prerogative, which gives councilmembers final say over land use in their districts. "The Land Bank law codified, for the first time, the significant influence Philadelphia Councilmembers have traditionally had over projects in their districts," says Cahn. While there have been influences where councilmanic prerogative has proved beneficial to communities, it also exacerbates an inherent tension in the agency's mission to provide pathways for a range of sustainable and equitable land uses. "On a parcel-by-parcel basis, gardens and farms have not won out in balancing Land Bank priorities," says Cahn. "Gardeners and farmers in Philly tend to be Black and Brown residents, as well as from immigrant and refugee communities — often responding to historic disinvestment. This goes back decades and decades and adds to the power imbalance," she adds.
The Land Bank serves as a natural partner as City Councilmembers push to increase affordable and mixed-income housing, a top priority particularly in districts with high rates of land vacancy. But, in many neighborhoods, residents who've been living on blocks pockmarked by vacant land have taken matters into their own hands, cleaning up overgrown, trash-filled lots and transforming them into places where community members can come together — and they'd like to see the Land Bank work for them, too.
According to the Land Bank's 2019 draft Strategic Plan, about 20% of Philadelphia's roughly 42,000 vacant lots and properties are publicly owned. The remaining 80%, many of which have been essentially abandoned, are in private hands, and more than 70% of those are saddled with back taxes and liens. The Land Bank's ability to actually acquire those properties is limited by the agency's annual budget and the amount of coordination and staff time the process can take.
Jenny Greenberg is the executive director of the nonprofit Neighborhood Gardens Trust (NGT). The land trust, which helps facilitate land exchange between organizations, community groups, individuals and the City of Philadelphia in order to secure ownership of and access to community-managed green spaces, currently oversees 50 gardens. Greenberg says that many of the issues with the Land Bank come down to funding. Without much in the way of funds to acquire properties, she says, it's limited in capacity. Handing land over to nonprofits like NGT for nominal fees is a huge public benefit, she says, but it doesn't provide a stable model to operate.
NGT has had success working with the Land Bank, Greenberg notes. Since 2015 the organization has been able to work with the agency to preserve 15 gardens encompassing 44 parcels of land, some of which were long-term tax delinquent properties that the Land Bank cleared. But, she says, the process could be easier to navigate for community groups and gardeners trying to get leases: "On a good day it's a slow and complicated process."
Another function of the Land Bank is to allow the City to intervene at sheriff's sales to intercept privately-owned parcels and help put them to use in service of community interests. For gardeners, this is particularly important, since many have been cultivating and caring for spaces made up of multiple parcels, creating a real challenge when it comes to sorting out a patchwork of ownership. While NGT serves as an important resource and advocate, some gardens, like the Iglesias Gardens, are interested in pursuing ownership or lease agreements through their own nonprofit entities, but navigating the complicated systems can be extremely time-consuming.
Noelle Warford is the executive director of Urban Tree Connection (UTC), a West Philadelphia-based nonprofit that oversees six gardens and green spaces in the Haddington neighborhood. She says the Land Bank hasn't been proactive in working with existing gardens to transfer publicly-owned land or to identify and intercept parcels that have long been tended and cultivated by communities that go up for sheriff's sale or are flagged for other uses.
"A lot of people who have lost their gardens or feel their gardens are threatened do not feel like the Land Bank is looking out for them or working in their interest," Warford said.
One of the largest gardens overseen by UTC is Memorial Garden, established as a memorial to local families who lost their children to gun violence in the 1990s. In the last two years, Memorial Garden went through a redesign as part of the University of Pennsylvania's Urban Health Lab's Nature and Well-Being Project. The process involved extensive community input, facilitated in part by the Pennsylvania Horticultural Society. Among the community-identified goals (many tied to safety and reducing gun violence) were: creating flat, open play space for kids; improving visibility and lighting; walking paths; and planting new trees.
But as the redesign kickoff party was approaching in the spring of 2022, Warford was shocked to learn that eight of the City-owned parcels making up the heart of the garden had been approved by the Land Bank for inclusion in an RFP for housing development. After bringing the issue to the attention of Councilmember Curtis Jones and the Land Bank, the item was revisited at the Land Bank Board's May meeting.
"We were confused and disappointed to learn that the Philadelphia Land Bank conveyed eight parcels of an established and maintained garden for development and were left wondering where was the due diligence to uphold your commitment to community gardens," Warford testified at the May 10 meeting of the Philadelphia Land Bank Board of Directors.
After hearing several people testify in support of UTC's position, the Board settled the matter by splitting the difference and omitting four of the eight parcels from the RFP. Warford says that for the community, the realization that this kind of transaction had happened without any notice was especially jarring, especially given her efforts to go through appropriate channels to secure lease agreements. "It feels like the loss of the garden happened overnight, but this housing development project is part of a city-wide initiative that many residents and community members don't know about," she said. "There's definitely something wrong with the notification process. It feels like the very, very bare minimum."
Political pressure is one avenue that shows promise. Councilmember Kendra Brooks recently launched the "Restore Community Land" campaign, as a solution to U.S. Bank liened properties in existing community gardens going to sheriff's sale, which Grid report in February. But the campaign has larger implications than protecting the 1,000 parcels that Brooks is urging the City to buy back to protect green space and affordable housing.
"Ensuring that Philadelphians have a real voice in how land is used, sold and developed is paramount to equitably building wealth, expanding low-income housing, and upholding racial justice in Philadelphia," Brooks said in a statement for Grid. "This is especially important in Black and brown communities that have been plagued by decades of disinvestment, gentrification and racist housing policies."
One encouraging aspect of Brooks' plan is that it looks at uses across the U.S. Bank properties holistically — identifying areas that are already in productive use. The process as it exists now tends to boil down to disagreements about best parcel use — too often pitting affordable and mixed-income housing projects against green space. Both Iglesias Gardens and UTC would welcome more affordable housing in their neighborhoods, but they'd prefer it not come at the expense of spaces that the community has invested in. They'd also like housing prices to be based on neighborhood's income levels, noting that "affordable" by citywide averages doesn't equate to affordable for most West Kensington or Haddington residents.
While the U.S. Bank-owned liens are only a small part of the picture, the approach of pre-emptively identifying long-tended parcels and strategically planning around them is a model that could serve as an example. "I've seen firsthand what it looks like when we sell our neighborhoods out to the highest bidder and I can tell you that it's working-class people, Black people, elderly people, that end up paying the cost by being pushed out and priced out every time," Brooks said. "When it comes to development and housing, it's time that the City worked in partnership with communities instead of in spite of them."