In 2019 then 23-year-old Cashmir Woodward was dissatisfied with the home healthcare sector job she started just out of high school and was certain it would not be her long-term career. So when a friend asked her to join PowerCorpsPHL, she decided to make a move.
"I was kind of wanting a different scene," she explains, "so I decided to give it a shot."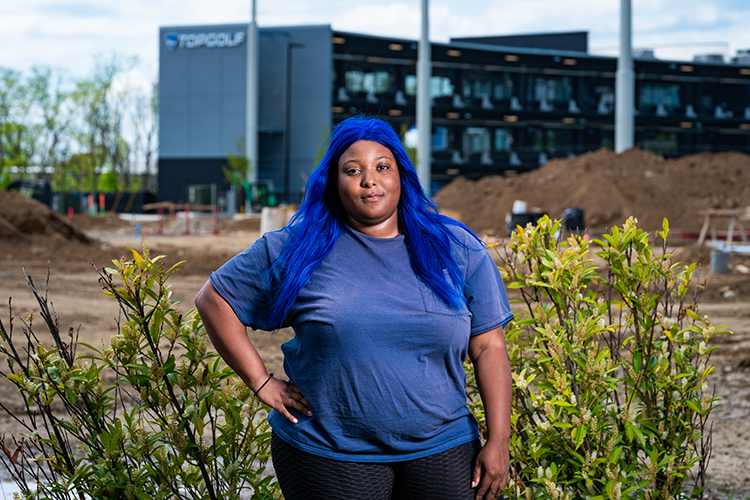 A workforce development program that provides career-connected education and paid work experiences for 18- to 30-year-olds, PowerCorpsPHL helps individuals forge careers in municipal government operations or infrastructure-based industries. The program is led by the nonprofit EducationWorks in partnership with the national AmeriCorps program and the City of Philadelphia.
Participants in PowerCorpsPHL join as corps members at what the organization calls the "foundations" level. For six months, they work in teams on a variety of projects with City departments such as green stormwater infrastructure (GSI) maintenance with the Philadelphia Water Department and land management with Philadelphia Parks & Recreation.
"For my interview with PowerCorps, they wanted to see if I'd like the work," Woodward recalls. "At 14 I worked for a landscaping company, so I didn't mind digging and I don't mind getting dirty."
With that mindset, Woodward had no issue joining the GSI crew to maintain the many pieces of green infrastructure around Philadelphia, such as rain gardens, bioswales and tree trenches. Anticipating much worse flooding as a result of climate change and confronting Philadelphia's aging and inadequate combined sewer system in much of the city, Philadelphia launched Green City, Clean Waters in 2011 as a 25-year plan to reduce both the amount of stormwater runoff into surrounding waterways and combined sewer overflows as a result of stormwater surges from intense storms.
[Green stormwater infrastructure] made me want to be a part of something bigger than just me."

— Cashmir Woodward,

PowerCorpsPHL alum
After six months on the GSI maintenance crew, Woodward moved into PowerCorpsPHL's second phase, which places corps members who have successfully completed the foundations program into fellowships or post-secondary education support and "industry academies." Members can also be placed as assistant crew leaders for future six-month foundations teams.
An example of an industry academy is PowerCorpsPHL's Bright Solar Futures Fellowship. In partnership with the Philadelphia Energy Authority, the solar installation firm Solar States and the Energy Coordinating Agency, this academy provides corps members with a 17-week training course and a 10-week internship to prepare corps members to enter careers in the solar and electrical industries.
But for Woodward, her experience working with the Water Department was what she needed to focus her career path.
"When I really saw what GSI was about, I was so intrigued that it opened up something new for me," she says. "It made me want to be a part of something bigger than just me."
PowerCorpsPHL support staff was able to help place Woodward in an internship with the Philadelphia-based civil engineering firm Rodriguez Consulting. Founder Lou Rodriguez was a former Water Department employee and served as the City's first GSI program manager. After founding his consulting firm, Rodiguez made sure to pay it forward and provide mentorship and internship opportunities for young people participating in the PowerCorpsPHL program.
Today, Woodward has landed a full-time civil service position in the Water Department's land survey division. Her experience maintaining GSI infrastructure as a corps member as well as her exposure to blueprints and surveying were the perfect combination of experience and expertise that made her a competitive candidate when she applied for the job.
"When I worked at Rodriguez, I started to see what they do with surveys and I was in love with all the different gadgets, the machine robots," she says. "But getting this field survey job was a perfect fit because I'm really not a person to sit behind a desk all day."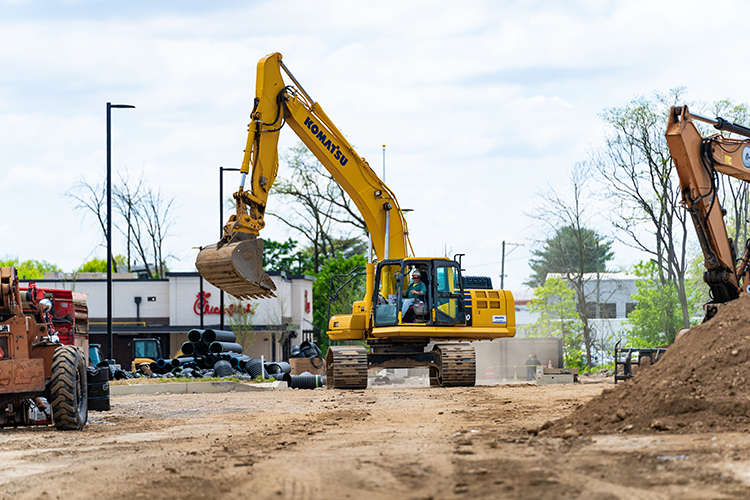 When asked what advice she would have for a young person considering a career in sustainability and infrastructure, Woodward had no shortage of tips and vision.
"As a corps member, take advantage of all PowerCorpsPHL offers you, especially the infrastructure program," she suggests, adding that the program is a great connector to good jobs.
"But whatever job you have in infrastructure, just know your trade is much bigger than you," she continues. "Infrastructure is something everyone needs in life for travel on roads and bridges, clean drinking water from clean rivers and lakes — so I want everyone to give it a chance, but especially the female members. We need more of us in the field."