Alisa Shargorodsky, the founder of ECHO Systems, hears it time and time again when she tells someone she works in the waste industry: "Oh, are you guys into recycling?"
They're not.
"We're not here to advocate for recycling," she'll say. "We are building infrastructure for radical reuse."
ECHO Systems envisions a world where food service establishments and grocers can have easy access to reusables.
"We help the grocery store implement principles in-house," Shargorodsky says.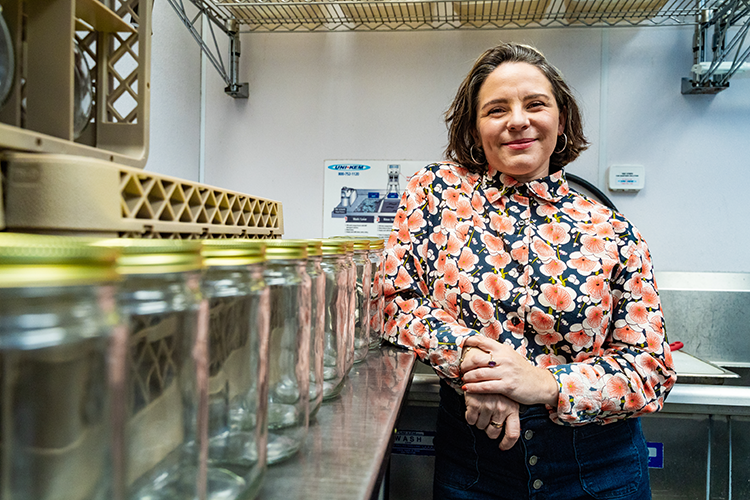 She points to her company's long-standing partnership with Weavers Way Co-op, a relationship in which ECHO recently moved from consultant to service provider.
It began on Earth Day 2021 with a Weaver's Way product that has sold well throughout the pandemic: soup.
"The co-op sold 20,000 of these 32-ounce soups during the pandemic," Shargorodsky explains.
The single-use plastic container was a hot target for the reusable program.
Standing in the soup aisle at Weavers Way, customers now have the option of a one-time use container or a reusable choice.
"The reusable container has a $2 deposit attached to it," Shargorodsky explains. "When they go to check out they pay the $2 rate and when they bring that unit back, they get $2 [credit] either tied to their next purchase, or they can just get their money back."
She says that 47% of customers return the reusable container, and if they don't bring it back, they have already paid for it. According to data collected by ECHO from May through August, customers have chosen reusables 1,100 times.
"We're diverting that material completely from the waste stream, meaning that the recycling doesn't go into the recycling bin," Shargorodsky says.
Tiffin, a local Indian restaurant chain, has adopted a slightly different reusable takeout model, independent of ECHO.
"If you make people pay upfront, then they feel like they're invested in that and they're more likely to bring their containers back, rather than giving something away for free and then charging them later, which is like the model that Tiffin is currently doing," Shargorodsky explains. "They give away containers to anybody who wants it and then if they don't bring them back in six weeks, they charge them."
By charging upfront, ECHO Systems avoids the customer management work.
"You don't need to send out reminder emails and things like that," she says. "I just think we're all getting bombarded with enough email."
According to Shargorodsky, a disposable unit with a takeback program doesn't work for a number of different reasons. One, because that single-use material is not intended for long-term use. If you repeatedly apply high heat and a commercial dishwashing process to a single-use container, polymer will start to degrade and become a health hazard.
Weavers Way currently notes to customers that recent supply-chain shortages have meant that glass jars are often hard to get ahold of, so when customers return containers to the store, they can help fill in these supply-chain gaps. While the program's implementation was initially delayed because of concerns raised about reusable containers spreading COVID-19, it was again cleared to roll out after epidemiologists determined that such containers did not pose a risk to public health.  ECHO Systems cleans all of the  glass soup containers in a commercial facility.
According to Shargorodsky, reusing containers in this way is better than other options, such as using compostable containers.
"Composting is better than just regular things like supporting the fossil fuel economy, like Solo cups … but it's not necessarily the best thing. The best thing is completely keeping [containers] out of the waste stream
altogether."