I met up with my friend Robin Irizarry at the third base gate of Citizens Bank Park. We made it through security and strolled the first level. Like a lot of fans at the game, we were looking for something to eat. Unlike presumably everyone else, we were also looking for birds.
I had been waiting years for this game. No, I hadn't been waiting for the disappointingly sub-.500 Phillies to play the perennially sub-.500 Marlins. Rather, I had been waiting to go to the ballpark with Robin to see nighthawks catch bugs around the lights.
Nighthawks, as their name implies, fly at dusk and dawn. They nest on gravel surfaces, and it turns out, flat urban roofs often suit them well.
We walked back and forth beneath the deck, trying to do our birding in view of the field while the Phillies were at bat.
Robin had once texted me from an evening game as he watched nighthawks hunt above the stadium. These long-winged birds with white elbow patches are favorites of mine, and the thought that I could see them at a ballgame amazed me.
I had made a mental note to keep an eye out next time I was at a night game, but a night game took a while to come to fruition. As an extremely casual fan with kids, I usually only make it to a few afternoon games each season: weekend family trips or "businessperson's specials" with the office.
As 2020 spring training opened, I declared that this would be the year I'd go to a Phillies night game and see some nighthawks. A novel coronavirus had other plans, of course.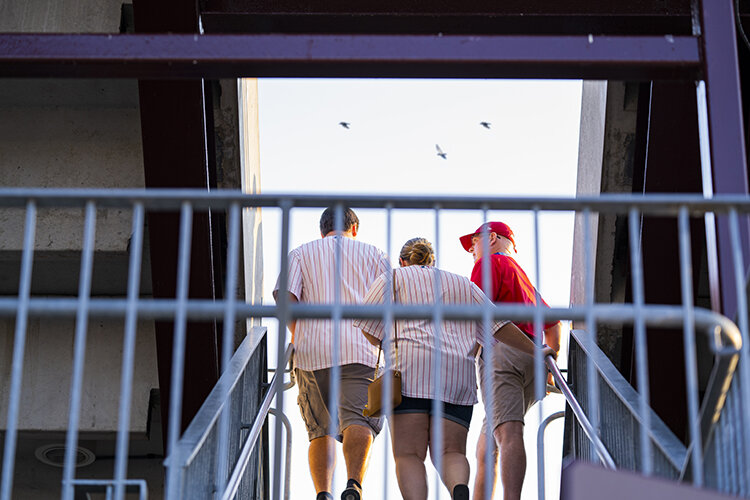 This spring I repeated my pledge.
As Robin and I talked about nighthawks, we kept an eye on other bird species as well. Robin had spotted a mockingbird just outside the gate, and we had no trouble seeing house sparrows and pigeons flying out over the field before ducking into cover.
Our list grew slowly with a mourning dove briefly flying into view. We paused our stroll for the national anthem and then made our way up to the cheap seats. True, I have never been a big spender for baseball tickets, but on this trip we wanted especially good views of the lights towering above the stadium. Only the upper decks would do.
As we waited for dusk, we kept an eye out for any birds we could find. We walked back and forth beneath the deck, trying to do our birding in view of the field while the Phillies were at bat. Then looking out toward the Delaware River while the Marlins hit.
Starlings flew up into the lights, as did some crows. We could just view a bald eagle's nest near the shipping cranes along the river, and Robin thought he saw a peregrine falcon slip into the Linc, but we couldn't get a good enough look to count it.
We were not the first birders to keep a list of birds seen at the ballpark. Forty species have been documented there on the citizen science app eBird. Over the years Robin had seen 21 species at the park. One of the crows called, revealing itself to be a fish crow (Philly's two most common crow species are hard to distinguish by physical appearance but do have distinctive calls), raising his total to 22.
We took our seats in the fourth inning as the sun slipped into the horizon, setting the clouds aglow. Birds were not the only flying animals in attendance. A mud dauber wasp flew by, as did a dragonfly and a large, ungainly June beetle. The Phillies and Marlins traded runs as we tilted our binoculars up to the lights. So far, no nighthawks, but we could see more and more flying insects—presumably moths, beetles and aquatic insects like caddisflies drawn in from the river.
We could also see a wall of black clouds collecting enmasse over Center City and West Philadelphia.
Phillies ace Aaron Nola was likely hoping for a downpour as the Marlins started adding runs in the top of the fifth. After Neftalí Féliz came to relieve him, lightning bolts flashed through the clouds and thunder cracked over the field. So did the Marlins' bats, bringing their total to eight by the time the sky truly opened up.
The night was a washout in more ways than one. We figured the nighthawks weren't going to show up. As the ground crew raced onto the field with the tarp, we knew the game, if continued, would stretch way past our bedtimes. The Phillies were down by three, and we didn't expect a comeback.
In any nature outing, as in any trip to the ballpark, the joys of the experience can easily eclipse disappointment. We watched birds fly beneath a rich, glowing sunset. We enjoyed our crappy, overpriced dinner eaten in good company. We cheered (and booed) with thousands of other fans. We'll happily do it again.
The season is long, and there are many more night games. Maybe at one of those we'll see nighthawks in the lights above while down below, the Phillies walk off the field as winners.