When Jerome Shabazz started Overbrook Environmental Education Center (OEEC) in 2002, he set about transforming a former EPA brownfield site into a community space where the neighborhood could connect with nature. Today, it's a verdant oasis on Lancaster Avenue's commercial corridor.
"It's the intersection of environment, public health and community," Shabazz says.
But OEEC doesn't just provide green space. It features an orchard and high tunnel to grow produce. Installed on the grounds are green stormwater innovations like porous pavement, flow-through planters and a bioretention basin to capture rainwater. Through its environmental monitoring work, the center is tracking the health impacts of air quality, water quality and climate in the neighborhood, too.
"When we talk about the issue, we ask ourselves, 'Why should you care?' And, most importantly, 'What can you do about it?' " he says. "Somebody has to deal with this. These environmental conditions have this pesky way of sticking around, and, so, if we don't deal with [them] today, we're only leaving for another generation to have to manage."
The environmental center is a microcosm of what a Philadelphia with well-funded environmental initiatives could be—a vision of innovation, abundance and resilience grounded in community. And right now, city lawmakers, advocates and activists are working to create a future where that's the reality.
The Green New Deal is a sweeping set of regulations designed to improve environmental health and drastically reduce carbon emissions through renewable energy investment while providing economic support for the training and jobs to make it happen.
The nationwide initiative is championed by legislators like Representative Alexandria Ocasio-Cortez (D-NY) and Senator Ed Markey (D-MA) as the country's last, best hope for avoiding environmental and economic collapse, but generally lacks bipartisan support in Congress. While they wait for federal legislation, some cities and states across the U.S. have taken the initiative to develop their own plans for stimulating the economy, addressing societal inequities, cutting carbon emissions and improving the environment.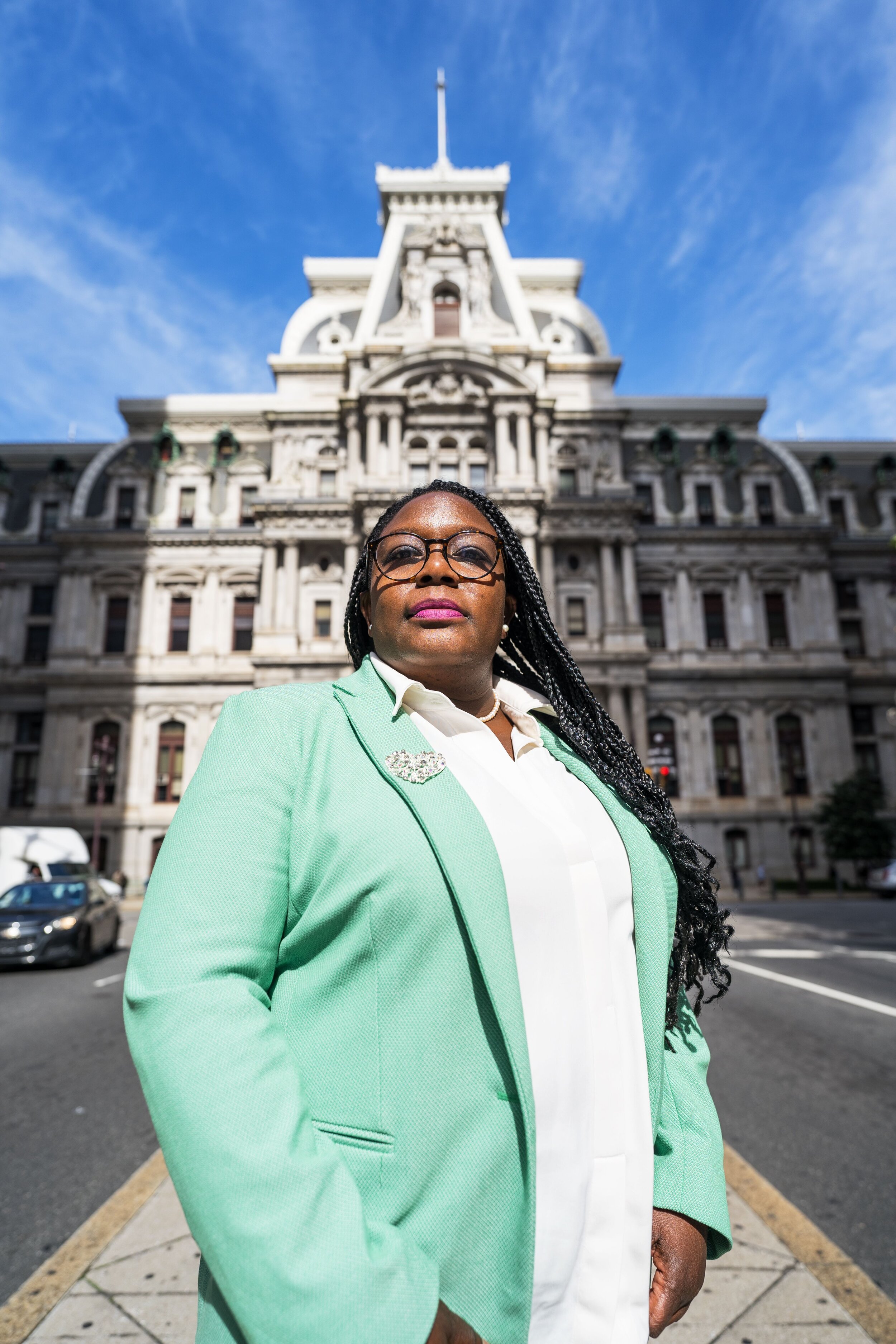 New York City, for example, has funded a job-creation initiative to retrofit inefficient buildings, the city's largest source of pollution, while Los Angeles recently updated its Sustainable City pLAn to include creating union jobs in clean energy and taking steps to improve air quality. In Baltimore, lawmakers instituted a mandate that would make half of the city's energy come from renewable sources by 2030.
Looking to cities that have instituted their own municipal-level Green New Deal initiatives for inspiration, Philly politicians hope to put plans into place soon.
"We are building the structure to create a Green New Deal that's community-led and community-driven, not something that's top-down," says Philadelphia City Councilmember Kendra Brooks.
In honor of Earth Day in April of 2020, City Councilmember Katherine Gilmore Richardson, Chair of the Committee on the Environment, hosted a virtual roundtable with her colleagues and environmental advocates throughout the city. That meeting was so successful that Councilmember Gilmore Richardson asked the groups to join a new Civilian Advisory Environmental Committee, a seven-subcommittee body with 60 stakeholder organizations developing recommendations around air quality, energy, the green economy, green space, transportation, waste and water.
OEEC is one of those stakeholders. "When this commission starts to bring in regular people … I think that's going to be really, really exciting," Shabazz says, "because there's a lot of experiential learning that gets overlooked in a process like this."
Shabazz believes that getting everyday citizens—not just experts—on the advisory committee is what will help City Council shape an environmental policy that will improve the lives of the most vulnerable Philadelphians.
Brooks agrees.
"We're going to the different entities and figur[ing] out, 'What does it look like?' And, 'How can we [include] people who are traditionally underrepresented, that should have a voice?" she explains. "We're learning, we're strategizing and we're moving toward something."
Brooks, along with Pennsylvania State Senator-elect Nikil Saval and a crew of organizers, headed to Baltimore in August to tour community gardens, land trusts, composting facilities and a food co-op that's part of the Black Yield Institute, a Black-led food sovereignty initiative.
"Going to Baltimore gave me some hope, and following up with our local folks [at the Sustainable Business Network] gave me some hope," the councilmember says. "I realized that people are siloed in this work, so we definitely need to find ways to bring it all together."
What would a Green New Deal look like for Philly?  
Although it would take a lot of work, advocates have been pushing for years to make the Green New Deal a reality through policy change and increased funding. Rather than a sweeping resolution, progress around climate and environment on a local level in Philadelphia would happen piece by piece, as the city's legislative process involves changes and updates to specific city codes.
Some of the reforms they've been pushing for include:  
Expanding SEPTA service in predominantly working-class Black and Brown neighborhoods and making Regional Rail more affordable.

Ensuring that our public schools are clean, safe places for students, teachers and staff.

Community composting—an idea that's already being piloted by the city's Office of Sustainability and Parks & Recreation—to get food scraps out of the waste stream and build healthy soils in urban farms and gardens.

Reinvesting in the kind of sanitation equipment and labor the city needs to keep the city clean and sort recycling appropriately.

Affordable housing initiatives that would build and update public housing for unhoused and low-income people and help homeowners pay for much-needed repairs to the city's existing stock.

A community land bank that functions to turn the city's empty lots into community-controlled green spaces to increase access to fresh food, support public safety, improve residents' mental and physical health and capture stormwater runoff.

Changes to the city's zoning code that would make it difficult to site industrial operations in the city's historically marginalized neighborhoods.
Since the 2019 election brought in a crew of progressive councilmembers, City Councilmember Katherine Gilmore Richardson has led the Committee on the Environment. It includes members of the body's progressive wing, like public-schools champion Helen Gym, as well as Brooks and Jamie Gauthier.
"It's important to recognize how all this got started," says Gilmore Richardson. She worked on environmental issues for former Councilmember Blondell Reynolds Brown, who spent eight years chairing the environment committee.
Gilmore Richardson notes that the city has made significant strides in greening, including Mayor Jim Kenney's creation of the Committee on the Environment when he was a councilmember.
The city currently requires energy benchmarking for building projects; has instituted a solar rebate program (currently on hold due to pandemic-related budget cuts); launched the first solar career and technical education program at Frankford High School in 2020; and runs the Green City, Clean Waters program, which aims to create healthy waterways and beautify neighborhoods via stormwater management and increased green space.
Philly also has the Office of Sustainability at its disposal—established by former Mayor Michael Nutter in 2008. It's charged with carrying out Greenworks Philadelphia, the city's comprehensive sustainability plan, which shares many priorities with a city-scale Green New Deal.
The city isn't starting from scratch, but there's still a long way to go—and the time to prepare for extreme climate events is running out.
"Now that we have all of these things in place," Gilmore Richardson says, "what do we do moving forward, and what is our overarching goal and vision to get some of this stuff done?"
"We are building the structure to create a Green New Deal that's locally-led and community-driven, not something that's top-down."

—Kendra Brooks, Philadelphia City Councilmember
Environmental justice is part of the deal 
For Philadelphia, the Green New Deal is not just about creating a greener Philadelphia with a stronger economy to improve our present and save our future.
The work must be centered around environmental justice—doing as much as possible to remedy decades of discrimination, marginalization and inequity that has made residents of the city's historically Black and Brown neighborhoods the most vulnerable.
Advocates and activists also emphasize that in order for this legislation to be pushed through—and to have the maximum positive effect if and when it is—citizens need a better understanding of how environmental problems can be solved, whether at the block, neighborhood or citywide level.
That comes from education and outreach—something Brooks made a point to include in her campaign.
"I'm coming from being an organizer, so I'm always thinking about the political education that it takes for people to be not just engaged, but engaged and informed," Brooks explains. "Because that's how we change policy. That's how I got here. I was activated by an issue, then I was engaged because I was committed to not allowing that issue to overtake my community."
COVID-19 presents challenges while underscoring the need for a greener city 
Passing Green New Deal legislation piece by piece and getting the support needed to implement positive change would be the challenge of a career even under normal circumstances. Even with Joe Biden's upcoming presidency—as we shift away from a White House that says climate change isn't real and an EPA that rolls back regulations on air and water quality—the work will still be challenging with a Republican-controlled Pennsylvania General Assembly.
Throw the COVID-19 pandemic into the mix, and all the problems get amplified—defunded, unprotected sanitation crews struggle to handle an increase in residential waste; powerful storms submerge Eastwick, a neighborhood already living with the consequences of a long history of environmental racism; and summer temperatures reaching 20 degrees Fahrenheit higher in the city's poorest neighborhoods than in wealthier ones.
Despite this dire outlook, it's possible to shift priorities with the budget we have, not the budget we want, legislators and activists say. Before the pandemic, there was money in state and city budgets—it just wasn't going toward environmental initiatives. And what gets funded in Philly often depends on what trickles down from state and federal coffers.
"We just gave out a $1.6 billion subsidy to the petrochemical industry at the state level," says Lena Smith, campaign manager for clean water advocacy in the Philadelphia office of PennFuture, an environmental advocacy organization. "Where are we investing that shows what our values are? When we talk about lack of funding, it's not that there's a lack of funding. It's just a mismanaged priority."
In the time of COVID-19, budgets that prioritize industry over environment and law enforcement over public health mean our governments are less prepared than they could be to act quickly in the public's interest. And the city's most vulnerable residents—those living in the places with the poorest air quality and least access to affordable healthcare—are the ones suffering the greatest hardships and losses due to the pandemic.
Securing the funds for Green New Deal initiatives in a pandemic whose impact on underserved communities has been exacerbated by the long-term effects of environmental racism is a bitterly ironic challenge, says Ebony Griffin, a lawyer with the Public Interest Law Center, who works on environmental justice issues.
"[COVID-19] has taught a lot of people how big of an issue environmental injustice is, and how it's having such a tremendous impact on communities of color, particularly Black communities, where people are dying at alarming rates," Griffin says. "Because we're in the middle of COVID, and the response [to that] has to be so big, it doesn't leave a lot of money to focus on the things that are causing the underlying health issues in the first place."
Since so many factors—the effects of future lockdowns due to a winter s  urge in cases, lower-than-usual tax revenues—are up in the air, Griffin says, advocates and lawmakers are planning for a range of possibilities.
"I think we have a two-pronged approach. Perfect world–type legislation that probably costs a whole lot of money to implement, that we're probably not going to get, but at least we have something to look toward," she says. "And then, what would make some change for the least amount of money?"
She adds that she is excited to see what progressive Philadelphia leadership can make possible in conjunction with a Biden presidency, while acknowledging that national Democratic leadership is not a cure-all.
"I think that those who understand and appreciate the magnitude of climate change understand that any successful response to it needs to happen on a global scale. So while Biden's presidency is important as we move toward clean energy, that alone is not enough to stop the wave," Griffin says, although she is hopeful Biden will make science-based policy decisions.
Brooks, meanwhile, points out that neglecting climate change problems in the short term while every year brings hotter summers, weirder winters and stronger storms will cost more overall than if we choose to deal with these problems.
"The argument is always, 'Is it cost effective?' But if we think about the long-term savings of investing in a Green New Deal, that'll take that off the table," says Brooks. "It still boils down to who has the will to try something new, to push up against the status quo for the good of the next generation. And that's what this is about."
This story was updated to more accurately reflect the genesis of the Civilian Advisory Environmental Committee.