As Philadelphia enters its second lockdown due to increased cases of COVID-19, local business owners are buckling down for hard times under the expectation that most Philadelphians will remain inside unless on essential trips until Jan. 1.
Rebecca Aronow, founder of the event company House Cat, is worried about the impacts of the second shutdown on creatives and small business owners but is hoping their event the Feminist Flea Market & Craft Fair will help provide some additional income for marginalized creatives—like BIPOC, women, trans, non-binary and gender non-conforming folx.
In October 2019 the flea market brought in almost 2,000 attendees. Philadelphians and tourists roamed Bok in South Philadelphia, and could purchase crafts, jewelry, art prints, culinary goods and more from vendors. Though the pandemic in March forced Aronow to cancel the fifth Feminist Flea Market, they're moving forward with a virtual event Thanksgiving weekend.
Seventy-five plus vendors will be selling vintage clothing, beauty items, ceramics, teas and more. Suggested entry fees and raffles will support local community fridges in the city. To get a better idea of the event and what it will entail Grid spoke with Aronow about Feminist Flea, its mission, and how COVID-19 has impacted its vendors.
This interview has been edited for length, clarity and style.
What are the origins of the Feminist Flea Market—how did it come to be?
I went to Pennsylvania State University. My freshman year, I started booking shows. The first show I ever booked was a benefit show, and it was all non-men bands and art from various people. There was a flea market outside with donated clothes where the proceeds went to the local rape crisis center. When I moved to Philly in 2017, I sort of wanted to expand on that idea.
I was working at Bonfire — a subsidiary of The Bowery Presents that runs a bunch of venues in the city, one of which is Underground Arts. I had this idea to have a feminist flea market. I pitched the idea to my boss, and he OK'd it and was like, "Yeah, sure. Do what you want!" I ran with it.
Due to the pandemic and the recent second lockdown in Philly, the flea market has gone virtual. How was this decision made? How did your team prepare and organize this virtual marketplace?
We were supposed to have our market at the end of March. We had to make the call early on in the pandemic to cancel or postpone. To me, once we canceled that first event, there was never an option of doing an in-person event until we were out of this wave — a lot of people have mentioned the "first or second wave of COVID," I don't think we've ever exited the first wave.
Since March, I've been thinking and I've been talking to a lot of vendors and friends about different ways to make the market work online, that isn't just another place to scroll. Something that feels more community-oriented, something that feels like you're somewhat interacting with others.
In September, I finally made the call to move forward and try to plan a holiday market. As an individual planning the market, I wanted to commit to putting in all this energy to something right now, while I'm dealing with living life in a pandemic. I am privileged enough to have a roof over my head and be able to have access to everything I need. I felt that I had the time and most of the energy to do it — and I'm glad I did.
How does the virtual marketplace work?
It's at the Feminist Flea website. The online marketplace is open November 28-29. You'll go to the website and all of the vendors are on the front page. You can also sort by category and subcategories.
There's a raffle, too. Our vendors donated items to this raffle and I created raffle bundles, which contain three to six items per bundle and it's $3 to enter with unlimited entries. All of the proceeds from raffle are going to be split between four selected community fridges that we're donating to.
A week after the market, we're offering curbside pickup at Underground Arts on December 5, which is a part of the appeal of a flea market where you can walk in the room, get all of your gifts at once with no hassle, and you're all done. I wanted to try to recreate that. With the curbside pickup, people can order from a bunch of different vendors without paying a bunch of different shipping fees and waiting for all these packages to come. They can just buy the stuff and go off to Underground Arts and get it all at once.
What is the mission of the market? What makes it different?
I really like the idea of giving a platform and highlighting marginalized folks. People who are marginalized by gender specifically, like women, and trans, non-binary, gender non-conforming people, while also prioritizing people at the intersections of those marginalized identities, such as Black, Indigenous, and other people of color.
I'm giving people a platform where they can sell their work and meet other vendors. It's been really nice to be able to create a community out of this where people can find other artists who they like and can collaborate with.
Paralleling that is the abolitionist, social justice piece, which is at every market we host. We raise money with the communities for various organizations and this year it's Philadelphia community fridges.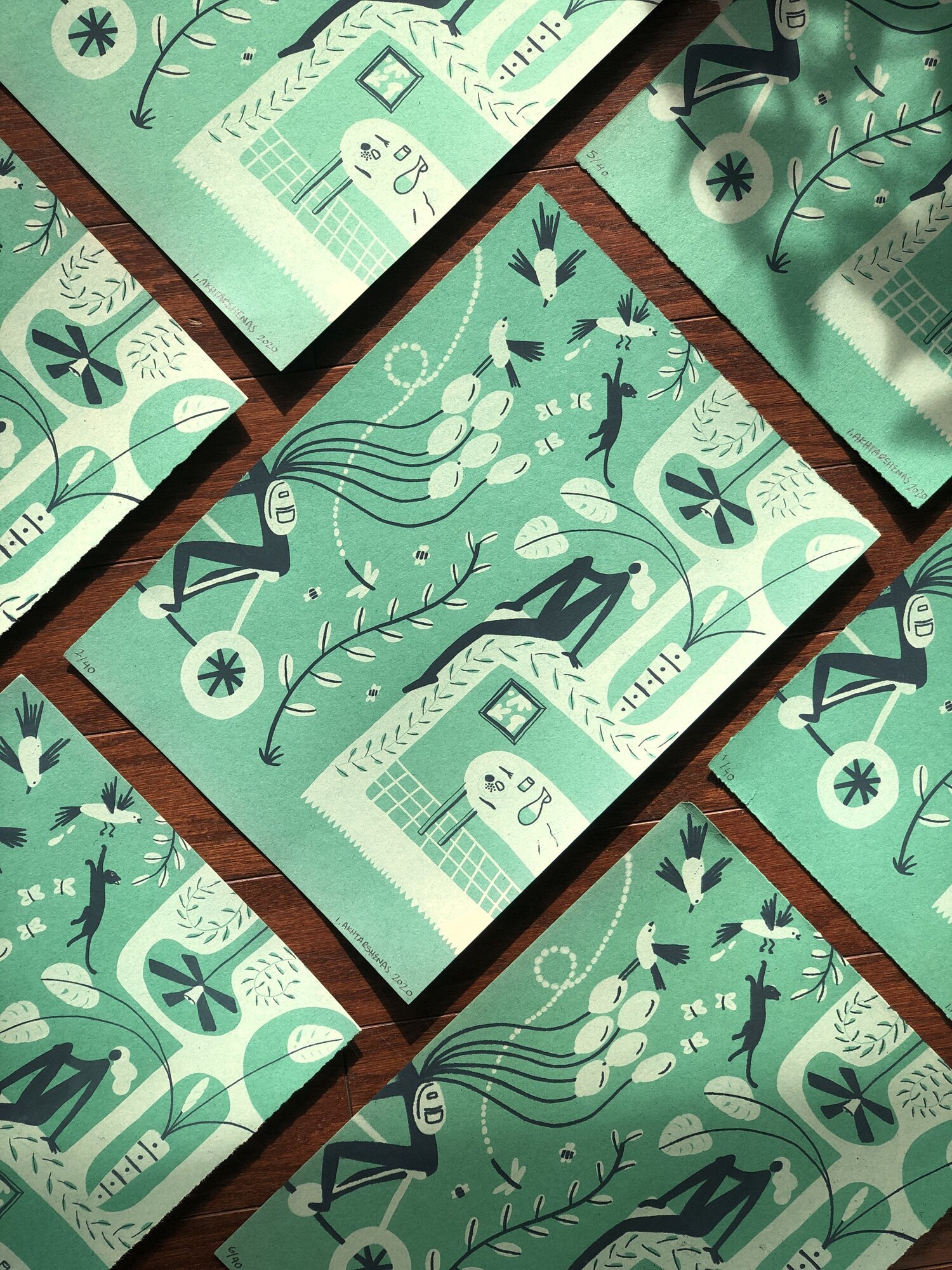 Why is the presence of Feminist Flea necessary and essential for marginalized creatives?
A lot of it is access. There's access for the people shopping and then access for the vendors.
I think a lot of shoppers want to support small businesses, they want to support independent artists, they want to support Black businesses, but they just don't know where to go. But for vendors, too, it's expensive to have a website, it's expensive to have a store or a brick and mortar. This is a space where you can sell your work and not have all the upkeep cost. Having a collective space that is more accessible, more affordable, and allows customers to find them easier, is really important.
This pandemic has caused a rally of support for small businesses, especially those of marginalized communities. Why is this so important?
It's always been important to support small businesses, but especially so right now.
I think — I hope — people have realized the government's not coming to save us. Normal people and small businesses are really bearing the brunt of this pandemic, without help from anyone.
It's really up to the community to care for each other. That's largely what Feminist Flea is: community taking care of community. Whether buying your holiday gifts or normal purchases, you know you're buying them from local people and artists versus Amazon. As we've all seen, only one stimulus check came from the government and it's been eight-plus months since. Community care is needed now more than ever.
Tell us about the variety of vendors you're featuring — where are they from? What are their crafts? What are some cool items vendors are offering this year?
The vendors are mostly local from Philly; there's a few that are from surrounding states, or those who are from Philly who recently moved away. The marketplace will feature apothecary items, beauty products, zines, ceramics — there's so much.
One of our recurring vendors is Octopods, which are little crocheted octopi. Raven Dakota is another vendor I love. Raven makes genderfluid apparel and accessories. They preserve flowers and put them in accessories; for example, they'll have a clutch that's clear and has pressed flowers within. Sabbatical Beauty is also there, which is a Korean beauty line with a bunch of fun products. There's also Oma Herbal Teas. They have a small, local farm and use all of these local products to make their herbal teas.
What events and special perks can customers enjoy, despite it being virtual?
On the pickup date, there's going to be a vegan pop-up kitchen. V Marks The Shop helped curate it with us and it has so much good food from a few vegan vendors in the city, like Chambi's, Jennifer Zavala, Naturally Sweet Desserts, and Lil Yenta's. There will be pupusas, tamales and chorizo mac and cheese. There will be some drinks from Triple Bottom Brewing and specialty cocktails brewed by the Underground Arts bartenders.
The flea market is supporting four local community fridges by donating 100% of entry fees. Why is your team donating to these organizations this year? Why are they an essential part of the community?
There's been a shifted focus on mutual aid in Philly which has been exciting to see.
A lot of people aren't familiar with the nonprofit industrial complex and how important community care is. I definitely was guilty of prioritizing and donating to nonprofits. I just absentmindedly chose a registered nonprofit. Now, I really, really want to be intentional about focusing more on community care and mutual aid work.
I wanted to highlight how important community care is, how accessible it can be if done right, and highlight all the people who are spending extra time in their day to make this happen for the Philly community. The community fridges are such a beautiful example of what community care can look like.