The imp of irony plotted an odd course between painter Jane Golden and Philadelphia. If Golden hadn't gotten a grim diagnosis years ago, the city could have missed out on lots of healing.
Since her arrival here decades ago, Golden, 67, executive director of Mural Arts Philadelphia, has brought wholeness to many neighborhoods with museum-quality murals, but it probably wouldn't have happened if the Imp hadn't dealt Golden a wild twist.
A native of Margate, New Jersey, Golden grew up with art.
"My mother was a wonderful painter," says Golden, who double-majored in fine arts and political science at Stanford University. She studied Mexican muralists like Diego Rivera (1886-1957), husband of Frida Kahlo (1907-1954), whose gigantic murals packed a social and political punch.
After graduating, Golden moved to Los Angeles.
"It was the center of the mural universe," she says. She began painting murals and recruiting young people on probation to help her.
Then came the unexpected: She was diagnosed with lupus, an autoimmune illness that can damage major organs.
"I was told I wouldn't live very long. It was life-changing," recalls Golden. "It gave me empathy and made me connect with people. After fighting the diagnosis for months, I came to Philadelphia to be with my family."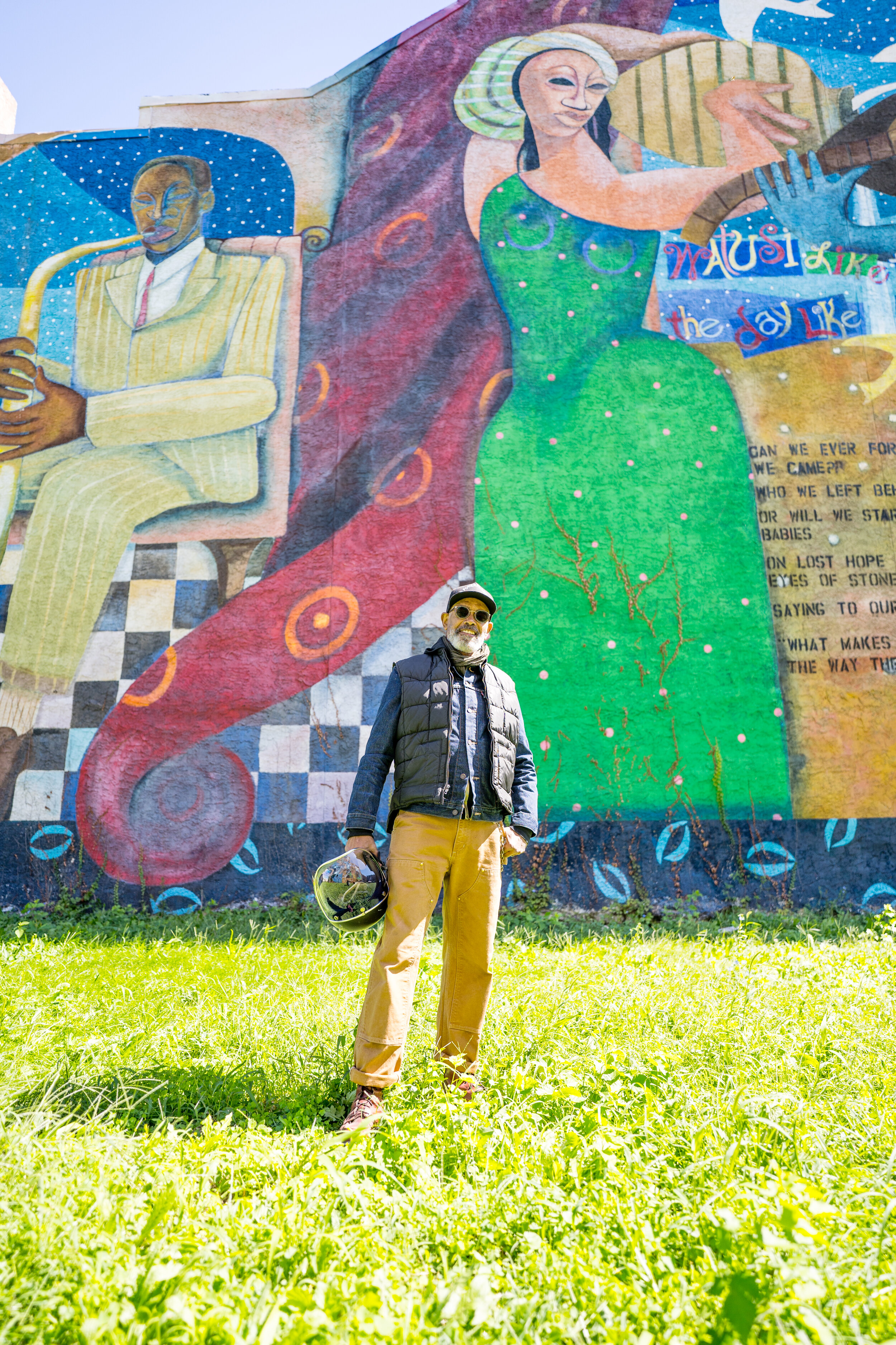 In 1984, when Golden felt better, she landed a position with then-mayor W. Wilson Goode's Anti-Graffiti Network. The job threw Golden in with a slew of graffiti artists.
"They were interested in art," she says. "Many of them had raw talent." She persuaded them to paint murals with her, earn money and sign an agreement not to paint graffiti. Over time, Golden's program morphed into the Mural Arts Program (now Mural Arts Philadelphia).
"Philadelphia has become the mural capital of the world," says  Phyl Francis, 72, a tour guide, noting that Mural Arts has painted more than 4,000 murals. "People come from all over to see them."
The murals crackle with color and characters, and they also express values. In the 1990s, Golden asked renowned L.A. muralist Kent Twitchell, one of her mentors, to do a mural of Julius Erving, aka Dr. J, for $2,000, at a time when Twitchell commanded $50,000 per mural. He agreed to Golden's offer, provided he could paint the former 76ers star in a suit, not his team uniform.
"Twitchell wanted people, especially youngsters, who view the mural [at 1234 Ridge Avenue], to see Dr. J not only as an athlete but a businessman and community leader," says tour guide and painter Caroll Drazen, 76. "Teens on my tours smile when they see his image," she says. It's three stories tall and shows him with "the biggest right hand in the known world," Drazen jokes.
Parris Stancell, 70, of Mount Airy, a longtime painter with Mural Arts, also does murals with young people in mind.
"I paint for the children, for the youngest in the community," says Stancell, known for many murals, including "The Healing Power of Music," 916 N. 17th Street, done in partnership with WXPN (88.5 FM). "They're the ones who enjoy the colors, the design, the stylized figures," says Stancell, who loved to draw as a child and took classes at South Philly's Fleisher Art Memorial as a teen. "The children have something beautiful to look at, and it livens up their days."
Stancell attests to the healing power of murals.
"I paint for the children, for the youngest in the
community. They're the ones who enjoy the colors, the design, the stylized figures."

–Parris Stancell, mural artist
"One time, during the crack epidemic, I was in West Philly painting a mural commissioned by the community, a church and the DEA: 'The Three Graces: Community, Tragedy, Spirituality' [at 52nd and Master streets]. A guy came by. He was kind of high and had a [liquor] bottle in his hand. He looked at the mural, which has three arches: under the first one is a community scene, the middle arch shows a woman in a state of debauchery and the third one shows a pastor in a church. When the man saw the pastor, he got down on his knees, right there on the street, and started praying," Stancell says. "That man got the message [of redemption].  As a mural painter, you know that you're affecting people, whether they realize it or not."
Then again, some murals are just fun. "The Famous Franks," by  David McShane, 52, stretches along two walls of the northeast corner of 13th and Pine streets. That site, Dirty Franks Bar, has no sign, but people know the spot by the mural. It includes Benjamin Franklin, Aretha Franklin, Frankenstein's monster, Pope Francis, a frankfurter and other well-known Franks.
One of Philly's newest murals, "Crown," by Russell Craig, 39, is on both sides of the city's coat of arms on the front window of the Municipal Services Building. It honors Black Lives Matter protesters. "It's a modernized version of Eugène Delacroix's 'Liberty Leading the People,' " says Phyl Francis. Protesters' upraised fists suggest the points of a crown. Craig learned mural-making during his incarceration for drug possession in the Pennsylvania State Correctional Institution at Graterford. Mural Arts' Restorative Justice Guild Program offers returning citizens and young adults on probation a paid apprenticeship that lets them build job skills and reconnect with their communities.
In another push toward the city's wholeness, Mural Arts has partnered with Philadelphia's Department of Behavioral Health and Intellectual disAbility Services for the Porch Light program. In the program, people with mental illness or intellectual disabilities work to create murals as a healing activity.
Mural Arts Philadelphia has also stepped up during the COVID-19 pandemic with "Homeschool with Mural Arts," 10- to 30-minute art tutorials for parents and children. It has also created brightly colored murals with public health messaging for hand-washing stations that provide access to clean water and soap.
"My biggest challenge is funding," says Golden. "The city provides 30% of our budget, and we have to come up with the rest."
Still, she remains undismayed.
"It's a moral imperative for us to do this healing work—and do it well."
To donate to Philadelphia Mural Arts or learn more about its public, private and virtual tours, visit muralarts.org/public-tours or call 215-925-3633. Walking tours are $24 per person, run about 90 minutes and have up to 10 guests. These walking tours require face masks and reservations and will continue through November.