Closing the Gap is a four-part series by Grid highlighting education nonprofits working to make sure Philly's literacy gap doesn't get bigger during the Covid-19 pandemic. This is the third installation. Click on the following links to read the previous pieces on Mighty Writers and ATTRACT.
Since 2009, Alejandro Gibes de Gac has been on a mission to close the literacy gap between home and school. So he founded Springboard Collaborative to provide educational opportunities for kids while they're home.
Gibes de Gac recognizes that low-income parents have been left in the dark on educating their children because schools struggle to introduce them to the process. The pandemic has created a sense of urgency for the nonprofit leader.
"The only way to prevent the pandemic from widening the achievement gap [for] a whole generation of kids is to equip families and support learning," Gibes de Gac says. "There's no going around low-income parents—we need to work with them."
To prevent this gap from widening, Gibes de Gac says, Springboard Collaborative is working in three phases: relief, recovery and reform.
The relief phase started immediately after schools closed. Basic needs like food and support for teachers took precedence over education. Springboard Collaborative sprang into action, and went directly to teachers and families to offer them tools that could help them teach children from home, Gibes de Gac says.
Springboard typically works through the school district to get to students' families, but in order to create a more direct line of contact, they started partnering with organizations like the American Federation of Teachers and the Parent Teacher Association.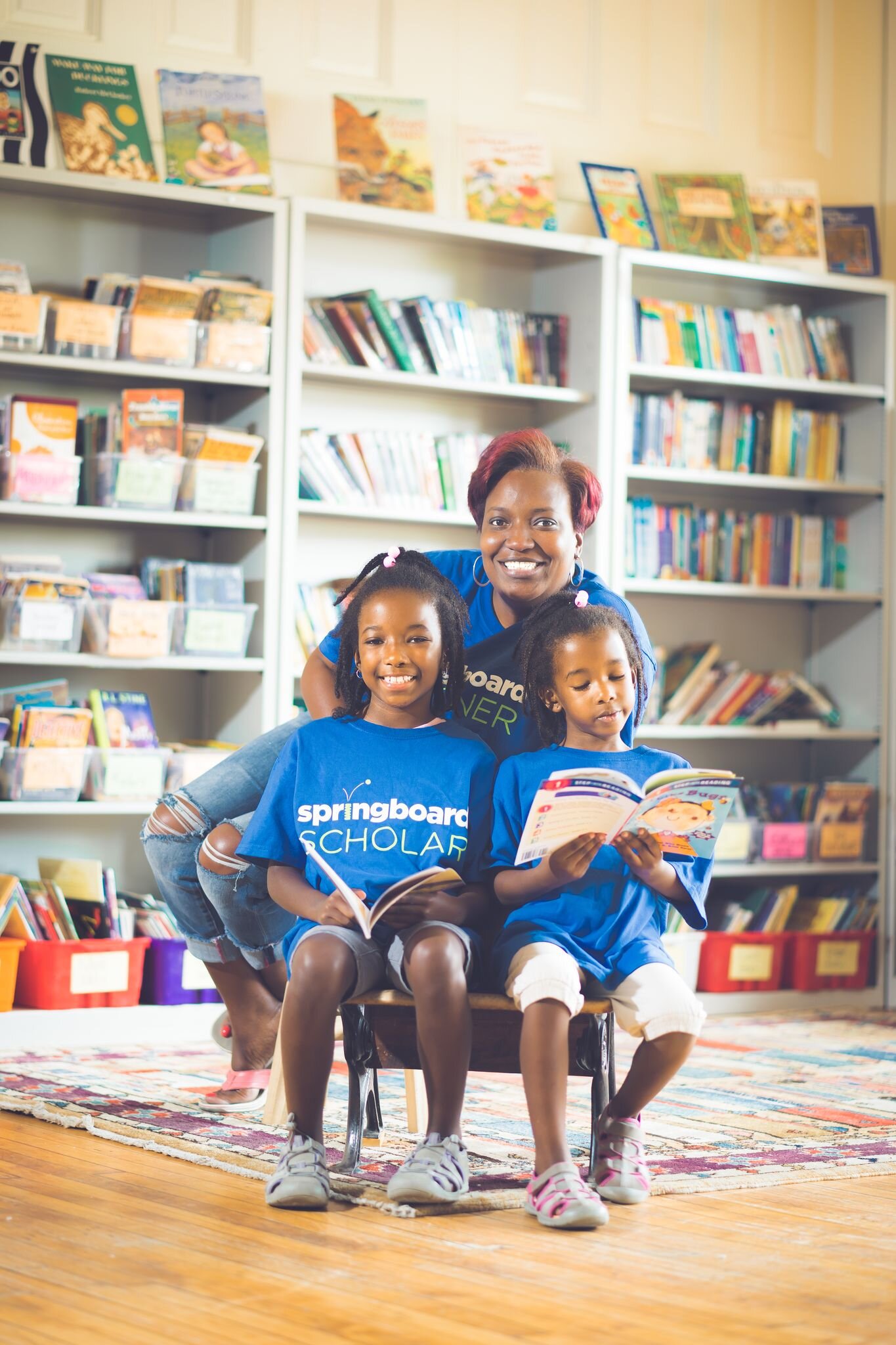 These organizations spread the word to both teachers and families about Springboard Connect, a web app that provides daily reading tips and guidance for how to educate at home.
The app also caters to families who may not have internet access because it's designed to send daily guidance as a text message as well.
Right now, Springboard is currently in the recovery phase, meaning they've built the virtual equivalent of their in-person program, which consists of cycles that last between five and 10 weeks where teachers and parents team up in order to help kids reach a learning goal.
For a program like this, building relationships between teachers and parents is crucial.
"In a simpler world we built this relationship through in-person home visits between the teacher and the family," Gibes de Gac says. "The way we're working around that is pretty much having a virtual team-building huddle."
Gibes de Gac recognizes that virtual learning does threaten a deeper connection between teachers and families. However, he's hopeful of how easily things can be done virtually.
He also points out that during a pandemic, a Zoom call can be something you look forward to.
"It's logistically easier to make it happen, it's easier for a teacher to pick up the phone or to hop on the computer," Gibes de Gac says. "People are also starved for human interaction so we're hoping these Zoom calls can serve as the social event of the day so that the teacher and the family can all be able to get together and have this kind of warm experience."
Finally, Springboard hopes to push to reform a system in desperate need of change.
"The pandemic brought schools to a grinding halt, but now we have a once-in-a-lifetime opportunity to reinvent a broken system," Gibes de Gac says. "Never has the importance of parents' role in supporting learning been more apparent than it is right now."