It started with a blank wall that needed a pigeon… or a rubber duck. Tattoo artist and muralist Evan Lovett could see the wall from the window of the Philadelphia Tattoo Collective where he worked in Kensington, just below the Berks El stop.
"I got really sick of staring at it, since every time I see a blank wall I just imagine what could be on it," Lovett said. "And the shape of this wall just perfectly fit a pigeon, or a big rubber duck, but I wanted to make a pigeon."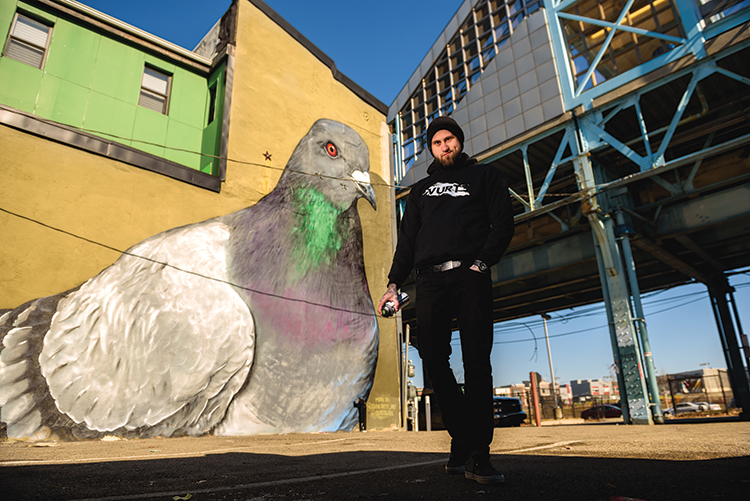 The building's owner was initially reluctant about having a mural painted. Lovett offered to do it for free: "[The owner] was like, 'What are you thinking of putting up there?' I was like, 'I kind of want to do a big pigeon.' He took a moment and said, 'I love pigeons.' I just happened to nail the one thing he liked."
It took a week to plan and an afternoon to paint. On June 20, 2016, Lovett and a friend rented a lift and used house paint salvaged from the dump along with a few cans of spray paint. "We began at noon and were done by 5." The pigeon, dubbed the "Prince of Front Street," took his place on the wall, and VURT's Local Critter series was born.
Visual Urban Renewal and Transformation, a nonprofit group of public artists, paints other subjects as well; for example, a cat-themed Fishtown mural and a series depicting local workers, but Lovett focuses on the city's critters. A menagerie of other painted critters have since joined the pigeon on Philadelphia walls, including "Fawn Jawn," a pair of deer painted in East Falls; "Token Squirrel," depicting a squirrel holding a SEPTA token, near Norris Square Park; and the "Bickering Birds," a pair of house sparrows in Queen Village. Lovett sees the critter murals as a break from the advertising images that bombard us every day, and as a tool to get people to notice overlooked wild neighbors.
"If we paint a mural of a particular bird," Lovett said, "and it raises your awareness that, hey, they live here, you might start seeing it everywhere."
Murals don't just educate; they can help revive a neighborhood. In Port Richmond, Natalie Shaak sought the perfect mural to highlight a playground revitalization project next to her house.
"Initially when I bought my house I thought, 'Wow, there's a really blank blue wall next to a playground. It would be a great place for a mural,'" Shaak said. The Webb Street Playground, bounded on three sides by Webb, Thompson and East Sergeant streets, had seen better days. The equipment was falling apart, nighttime drug users left needles behind, and customers from the Wawa across the street tossed empty cups and other litter, according to Shaak. It was "not very welcoming, not very exciting, not very clean, but a prime location with a lot of potential."
Shaak approached VURT and they agreed on a pretzel-eating raccoon for the wall. Lovett drafted a mockup of the "Pretzel Bandit," and Shaak added it to her GoFundMe campaign for the playground. With the raccoon image as a hook, and with support from the Olde Richmond Civic Association (ORCA), Shaak was able to raise nearly $4,000 for new trash cans and other beautification measures, as well as the mural. Neighbors have begun to organize for more extensive equipment rehab. ORCA got the Philadelphia Streets Department to empty the trash more frequently, and the 26th Police District is paying closer attention as well.
"This project is an example of what can happen when people in a neighborhood come together," Shaak said.
Murals tend to inspire more murals, Lovett has found: "We meet really interesting people who say, 'We like what you're doing, it is helping the community,' and it sparks a conversation." A recent deer mural in Manayunk led to the plans this spring for one honoring the peregrine falcons that nest in St. John the Baptist Catholic Church.
Lovett reports mostly positive feedback, though it can be hard to please everybody. While he was working on the "Prince of Front Street," a passerby lowered his car window to complain that the pigeon should have been an eagle.
"A couple weeks later we were down Front Street a little bit more painting a big eagle with an American-flag background," said Lovett, "and a guy yells, 'Another eagle?'"
At least it started a conversation.