A local project commemorates the loss
of a beloved home in Mantua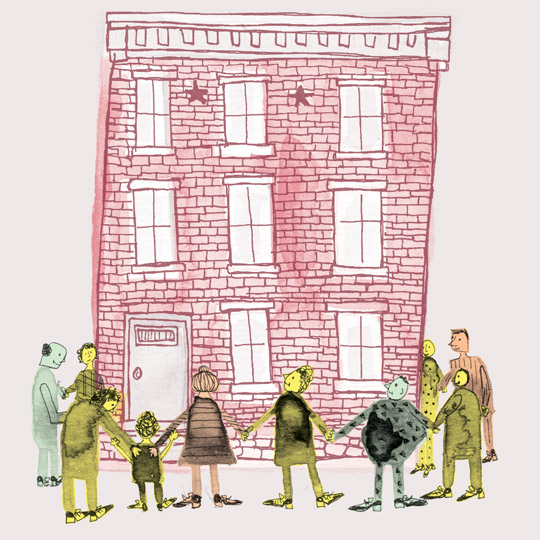 Illustration by Kathleen White
If you're like me and you live in Philadelphia, chances are you did not build your own home. So, what you call "your" kitchen or "your" bedroom was actually someone else's kitchen and bedroom before you moved in. Imagine flipping through a complete stranger's photo album filled with cherished pictures of Thanksgiving dinners and shoveling out the car in front of the house, but the house they're in front of is now yours. And the Thanksgiving dinner was going on in what is now "your" dining room.
I think about this a lot: the recycling of our homes and the gradual accumulation of personal histories they have silently sheltered over generations. This simple premise is the basis of a project I've been involved in called Funeral for a Home.
As director of Temple Contemporary at Tyler School of Art, I began working on this project over a year ago with artists Billy and Steven Dufala, public historian Patrick Grossi and Temple Contemporary's Assistant Director Sarah Biemiller. We shared a singular purpose—to find a house imminently scheduled for demolition and arrange its funeral, the same way we do for our loved ones.
When we started house-hunting last summer, I was naively optimistic that we would be spoiled for choice. The math fueled my delusion. Between 1895 and 1920, Philadelphia was enjoying an unprecedented housing boom. In a city once globally recognized for its industry, the housing industry was one of its largest. Over this 25-year span, Philadelphia was building, on average, 10 row homes a day. In the wake of this market and Philadelphia's subsequent depopulation, the city, like many of its lapsed industrial rivals, simply has more houses than people to fill them. With a current vacancy count of over 40,000 homes, many in sad states of neglect and abandonment, our "City of Homes" has become its own burden.
Despite this, it took months of pounding the pavement and steady research before we found the right home. Its address was 3711 Melon Street, and it stood in the proud African-American neighborhood of Mantua. To be honest, the remarkable thing about this modest two-story row home was just how unremarkable it was. When we found it, it was just a small house on a quiet block that—like hundreds, if not thousands, of other houses across the United States—was scheduled to be demolished. Another crumbling Philadelphia row home slated for demo is sadly not a news story. But I think what made this project worth talking about is the emotional and historic value this house served. Our "home going" celebration May 31 this summer commemorated the lives this home touched over its nearly 150 year lifespan and provided a window into Mantua's potential for resident-initiated redevelopment.
To commemorate the life of 3711 Melon Street, Temple Contemporary published a book that chronicles the history of Mantua and situates the overarching intentions of Funeral for a Home within a national context of urban neighborhood preservation. The book traces the genealogy of the Philadelphia row home from its European roots to the ubiquitous vernacular architectural style that now saturates our city. Along with 3711 Melon's obituary, the book also documents Mantua's funeral service for the home. These multiple perspectives have been lovingly designed together as a humble and lasting tribute to the places we call home.
When our project historian Patrick Grossi asked lifetime Mantua community activist Rev. Dr. Andrew Jenkins how he felt about the devastating loss of houses in his neighborhood, he simply replied, "I've run out of tears." The poet and funeral director Thomas Lynch once wrote, "Mourning is romance in reverse." And what I think he means by this is that you can't grieve for something unless you have loved it first. Part of Funeral for a Home's strength comes from the fact that so many of us do love the places we call home. I know this is true for 3711 Melon Street.
Robert Blackson is the director of Temple Contemporary at Tyler School of Art. Funeral for a Home is now a fully illustrated, hardback publication including essays by Patrick Grossi, Bernard Herman, Andrew Hurley, Thomas Lynch, and Sue Bell Yank. It is available from Temple Contemporary for $15. Call 215-777-9138 or email Robert.blackson@temple.edu to order. To learn more about the Funeral for a Home project, visit funeralforahome.org.