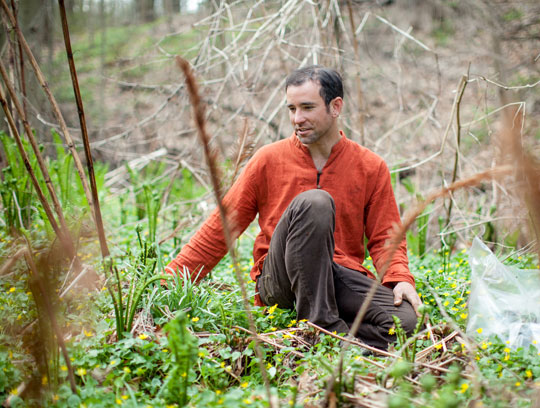 Heckler's recent Jan. 14 podcast featured David Siller, local forager, pictured aboveIf you've ever wanted to learn more about the farmer who pruned your peaches and cultivated your kale, now you can. Since October, Chester County USDA-certified organic vegetable farmer Dan Heckler has hosted Jack's Farm Radio, a weekly podcast in which he interviews organic farmers, sustainability advocates, local chefs and old friends as a way to connect food producers to the consumers.
"I work in the field alone and listen to podcasts practically all day long," Heckler says. "I thought, 'I can do this.'"
The podcast takes its name from Heckler's own farm, which refers to the "Jack of all trades" phrase. Episodes have featured discussions on foraging by David Siller, sustainable farming practices and family reminiscences of childhood farm life. Guests have included "a true pioneer in the urban farming movement," Greensgrow's Mary Seton Corboy, and Jon Entine of the Genetic Literacy Project, who spoke about genetically modified seeds.
Jack's Farm Radio subscribership has grown since October, signaling an interest on the backstories of food producers. Heckler, who operates his farm with his wife, Deb, is spending the winter stockpiling content before the growing season forces him to trade his microphone for a hoe: "You can't get farmers to talk to you from April until October."
Jack's Farm Radio is available from iTunes, Stitcher and jacksfarmradio.com.
Story by Michael Fichman, photo by Emily Wren.