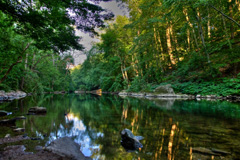 The Wissahickon Gorge of Wissahickon Creek Park is great for hiking, biking, and fishing. | Photo Credit: Friends of Wissahickon (http://www.fow.org/)Summer weather and extra daylight mean one thing: time to get outside. And what better place to do it than our own Schuylkill River! While perhaps best known for their bike and running paths, the Schuylkill River and 9,200 acres of Fairmount Park have so much more to offer.
Grab some popcorn and a movie. The Schuylkill Banks Center is hosting "Movie Nights" every Thursday by the Walnut Street Bridge. The family-friendly films include flicks like "King Kong" (June 28), "Footloose" (July 12), and "Moneyball" (August 23). Arrive early and get free snacks or win a raffle item donated by Philadelphia Runner.
Take a Saturday Hike. Fairmount Park boasts more than 200 miles of picturesque walking trails. The park network includes places like Pennypack Creek Park and Wissahickon Valley Park, both well-known for their variety in trail lengths and difficulty, as well as their scenic waterside views. Grab your sneakers, some water and get lost for an afternoon!
Hit the water. The Schuylkill Banks Center is also offering kayak tours throughout the summer. A basic tour includes equipment rental, a half hour of instruction and a professionally guided tour of the river. For something extra special, try a moonlight tour that launches at 8 p.m.
Do something wild. Ever wonder what dragons and drums are doing on the river? Dragon Boat Racing is one of the fastest-growing water sports in the area, and even just watching is fun. Watch a race this summer, or try it out by joining a local club team.
Picnic in the Park. Whether you're looking for a new lunchtime spot or an outdoor location for an afternoon party, Fairmount Park has plenty of options to offer—like Belmont Grove, a picnic area open to the public. Just be sure to get a permit if your party is more than 70 people.
For more information, upcoming events, permits and trails, visit the Schuylkill Banks and Fairmount Park websites.