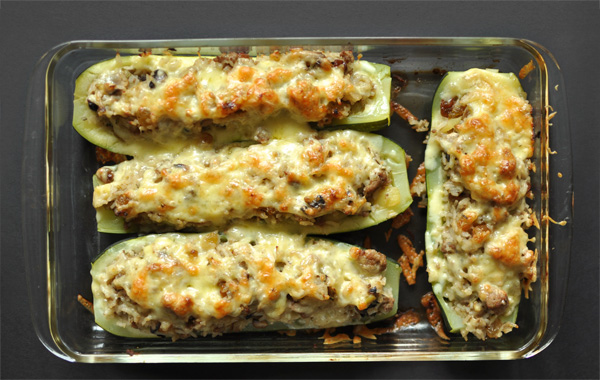 story by Marisa McClellanWhether you love or hate summer squash, July and August are impossible to live through without having it cross your dinner plate. Happily, I adore it all, whether it's the classic green zucchini, the more unconventional yellow crookneck or the tender, flying saucer-shaped pattypan.
Still, during the height of the season, I eventually get bored with buttered and salted steamed squash. To help deal with the onslaught, I've developed a roster of recipes that highlight the best of this summer bounty.
The yellow squash dip is something I first tried when staying with friends in Virginia. I couldn't imagine cooking squash that long would produce something edible. I was proven wrong and now make this delicious spread every year. The stuffed zucchini is a classic from my childhood that hasn't lost its appeal. And if you think pattypan squash isn't interesting, slicing it into rounds and grilling it will change your mind.
MARISA MCCLELLAN is a food writer, canning teacher and dedicated farmers market shopper who lives in Center City. Find more of her food (all cooked in her 80-square-foot kitchen) at her blog, foodinjars.com.
Stuffed Zucchini
2 lbs overs
ized zucchini
1 Tbsp olive oil
1 cup chopped onion
2 garlic cloves, smashed
1 cup chopped mushrooms
1 Tbsp minced fresh rosemary
1/2 lb ground turkey
1 1/2 cups cooked rice
1/2 cup gold raisins
Salt and pepper to taste
1/2 cup grated cheese
Preheat oven to 400° F.
Wash zucchini and trim ends. Slice in half and scrape out the seedy center, leaving a channel at least an inch wide and deep. Set aside the zucchini scrapings for later.
Place zucchini boats in a large baking dish. Pour half an inch of water in the pan and cover tightly with aluminum foil. Place pan in oven and cook for approximately 30 minutes, until the zucchini is fork-tender.
While the zucchini cooks, heat a large skillet over medium-high heat. Add olive oil, onions and garlic. Cook until the onions begin to brown. Add mushrooms, rosemary and the saved zucchini scrapings. Cook 3 to 4 minutes, stirring regularly, until reduced.
Push vegetables to one side of the pan and place ground turkey in the empty half. Cook, using your spatula to help break the meat into crumbles. Stir into vegetables.
Once turkey is cooked, add rice and raisins. Stir to combine. Taste and add salt and pepper.
Remove zucchini halves from oven and drain. Pack hot filling into hollows, piling it as high as you can. Top with shredded cheese.
Return stuffed zucchini to oven and cook until cheese has melted.
Serve immediately.
Grilled Pattypan Rounds
3 lbs pattypan squash
cup peanut oil
4 garlic cloves, pressed
1 Tbsp chopped fresh oregano
1 tsp salt
1/4 tsp freshly ground black pepper
pinch of red chili flakes
Preheat an outdoor grill or indoor grill pan.
Slice pattypan squash into slabs approximately one-inch-thick and place into a large roasting pan.
Whisk remaining ingredients together and drizzle over squash. Use your hands to ensure complete coverage.
Place pattypan slices on grill. Cook 2 to 3 minutes per side, until they're nicely browned and softened. Serve hot or at room temperature.
Yellow Squash Dip
3 lbs yellow squash, cut into 1/2 inch cubes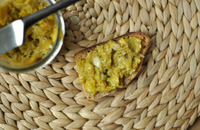 3 Tbsp olive oil
1 Tbsp butter
5 garlic cloves, gently smashed
5-6 springs of thyme
1 tsp sea salt
1/4 tsp freshly ground black pepper
Place a large, heavy skillet over medium heat. Add the olive oil and butter, and allow to melt together. Roughly chop the smashed garlic and add it to the pan. Add the squash cubes. Cook for 15 to 20 minutes, until the squash has begun to soften. Strip the thyme leaves off their stems and add to the pot.
Reduce the heat to low and continue to cook, stirring often. The goal is to cook the liquid out of the squash to intensify the flavors. A little browning is okay, but make sure to stir every few minutes to prevent burning. The finished product should resemble melted cheese.
Total cooking time will be between and hour and an hour and a half.
Once cooked, the spread will last up to one week in the fridge. Serve on toasted baguette rounds or crackers.