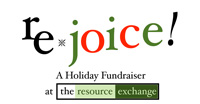 The Resource Exchange, the plucky upstart nonprofit (profiled in October's GRID) focused on diverting valuable materials from the waste stream and making them available to artists, designers, builders and craftspeople, is hosting a holiday open house and fundraiser December 3. Thanks to a grant from PPL Energy Plus, the organization moved from the leaky warehouse they were occupying in the Navy Yard to their new space in Port Richmond in August. (And the move came not a moment too soon–they moved in just before Hurricane Irene hit.)
The December 3 open house is a chance for people to check out their new digs and support the organization, which is still working hard on staffing their facility and acquiring a truck, two items essential for their success. The Resource Exchange (RE) was recently highlighted on NBC10, but without a staff, they're still only able to be open by appointment.
So this is your chance to check out the eclectic materials they have and maybe score a few gifts that lighten your environmental footprint this holiday season. There will be ready-made gifts designed from items found at RE, as well as plenty of salvaged materials for the holiday crafter to turn into something special. (Seriously, it's hard to oversell the sheer quantity of highly unique reclaimed stuff they have.) Other highlights will include local, seasonal beverages, holiday treats, and a silent auction with some truly unique items. All proceeds will support RE.
Stop by and RE-claim your holidays!
Saturday, December 3
10 a.m. to 6 p.m.
The Resource Exchange
2829 Cedar St. (entrance on Cambria Street)