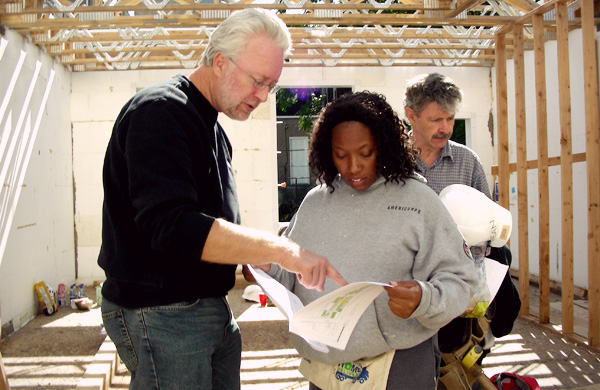 story by Shaun BradyWest Philadelphia's Parkside Historic District is known for its architectural diversity. The streets feature Victorian homes, turn-of-the-century Flemish-style structures, and buildings inspired by intricate Dutch and German designs. But now there's a new architecture in town. In September 2009, the 4200 block of W. Stiles Street made history with the opening of some of Philadelphia's first green-designed, low-income housing.
The seven LEED-certified rowhomes (to be joined later by a pair across the street) incorporate insulated concrete form foundations and walls, bamboo flooring, solar-light pipes, cement board siding, ultra-high efficiency heating systems, and other sustainable design elements.
The project was undertaken by Habitat for Humanity Philadelphia, whose interest in sustainable design was prompted by "the long-term durability and affordability to operate and maintain [that] it provides for homeowners," says Jon Musselman, Habitat's director of project planning. "We also hoped that going into the LEED program would attract partners who would want to invest in a project that pushed the envelope a little bit."
Through the Collaborative, Habitat Philadelphia was connected with a team of architects from the firm of Wallace Roberts & Todd (WRT), who designed the homes in response to the concerns of both Habitat and the East Parkside Residents' Association. The local community, explains Maarten Pesch, the lead WRT volunteer architect on the project, had three main concerns they wanted this project to address: Restoring an uninterrupted streetwall to remedy the number of vacant lots on the street; rebuilding facades in brick to maintain the character of the neighborhood; and improving the sustainability of the area.
The number one obstacle in building these homes, as with any sustainable building project, was upfront costs. But despite the expense and difficulties in the planning and construction period, which spanned roughly five years, Pesch says that ultimately the green approach will pay off for residents.
"For people living in these homes, their utility bills will be significantly reduced," he says. "Also, when you build with sustainable materials and put sustainable mechanical systems in, the air quality will automatically be better, which is especially important in urban environments."
Working with Habitat also provided its own unique challenges. "Habitat typically selects construction methods and materials that are volunteer friendly," Pesch says. While swinging hammers and putting up siding is easily teachable, some aspects of sustainable building require specialized skills. "So, there was an interesting dance between what works for Habitat, what works for the residents, what works for the volunteers, and what would be the right method and systems to approach the project in a sustainable way."