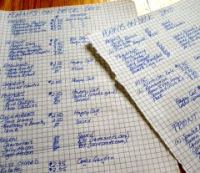 This post originally appeared at Plants on Deck, a local blog about urban gardening.
And checking it twice. It's hard to believe with recent weather woes but there are reasons for optimism:The sun is shining and the 40-degree temps are rapidly melting the blackened snow heaps still dotting Philly's streets.
After reviewing a few previous posts, POD hunkered down with with a stack of seed catalogs and began dreaming. To save on shipping cost and distance, only two purveyors made this year's cut. The winners were Cook's Garden(Warminster, PA) and Happy Cat Organics (Elverson, PA). As wonderful as Territorial Seed Company and Baker Creek Heirloom Seeds are, one is located in Oregon and the other in California and Missouri. Although D. Landreth (New Freedom, PA) had the coolest catalog, they didn't offer the seaweed/fish fertilizer I vowed to try on this year's garden.
Of course, there are enough seeds here for a multi-acre garden, but we won't think about that.