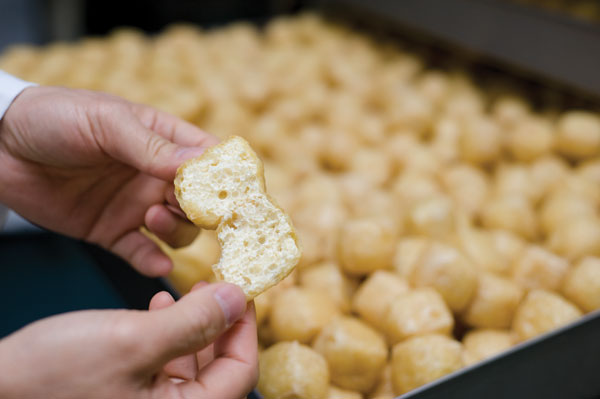 A Chinatown company churns out tofu
Manufacturing is a centuries-old tradition in Philadelphia, but over the last 50 years, countless factories have left the city. In 1990, Yatsun Wen, a Chinese immigrant, started manufacturing tofu by hand in Chinatown. Now, 20 years later, his company Nature's Soy has distribution up and down the East Coast, and as far west as Chicago.
In the early days of Nature's Soy, Wen and his wife made 500 to 600 pounds of tofu daily using a simple recipe—just soy, water and calcium sulfate. His tofu gained a strong foothold in the community, so he bought out several competitors, doubling his sales volume. "It was hard manual labor," says Wen, recalling the daily grind of mashing raw beans, moving steaming hot barrels and making deliveries—plus the additional hours making soy milk. The 18-hour days of manual labor were over in 1998 when Wen purchased a 17,000 square foot factory in north Chinatown with state-of-the-art stainless steel manufacturing equipment and warehouse space. Approximately three dozen employees keep everything running smoothly.
Nature's Soy produces organic and conventional tofu, from silken to extra firm, in addition to soy milk, soy puffs and fried tofu. Their two dozen products can be found locally at Almanac Market, Essene, Mariposa and Weaver's Way, among other markets. Check their website for a more complete listing.
Nature's Soy, 713 N. 10th St., 215-765-8889 – www.naturesoy.com