It's not only the beginning of a new year, but the dawn of a decade. Time for fresh starts, kept promises and discarding all the stuff from the aughties that Americans would do better without (Hummers, commercially-made sausages wrapped in chocolate chip pancakes, Nickelback, Ed Hardy t-shirts, bottled water, to name a few.) Grid asked some notable Philadelphians about their sustainability resolutions for the coming year. We hope they will inspire you to make a few of your own. And yes, promising to eat at Iron Chef Jose Garces' upcoming farm-to-table restaurant does count.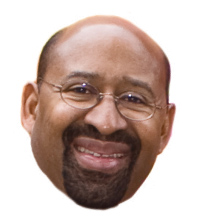 Mayor Michael Nutter
When I took office, Philadelphia residents recycled just 7.5 percent of their solid waste. In 2009, we got close to 15 percent. In 2010, my goal is to push Philadelphia's recycling diversion rate above 20 percent. To that end, my resolution is to get as many Philadelphians as possible to sign up for Philadelphia Recycling Rewards and enjoy incentives to recycle. Residents can sign up at phillyrecyclingpays.com."
Senator Robert Casey
Legislation plays a major part in setting environmental priorities, but I make sure to follow through on my individual responsibility to conserve, too. My eco-resolutions are mostly centered on technology this year. My office system is moving to a virtual file server that shares a physical machine with other servers to use less energy; our filing system is already 95 percent paperless and we use 100 percent recycled content paper products. Our new computers will utilize an energy efficient power profile that shuts off monitors and hard drives when they're not in use.
Iron Chef Jose Garces
My green resolution for 2010 is a big one: I'm planning to open a new restaurant whose focus will be on 'farm-to-table' foods, with the dual mission of bringing my guests excellent local, sustainable products and also offering them opportunities to learn more about how and where their food is produced. I'd like to think of it as my contribution to an ongoing conversation between myself and my guests about what we can do to take better care of our planet and ourselves at the same time.
Ralph Archibold: Philly's Best-Known Ben Franklin Impersonator
With an interest in invention and innovation, I will use the new energy-efficient light bulbs to conserve electricity. This will cut down on electricity use and I applaud any efforts to make our planet more eco-friendly.
Sean Hoots:
Hoots & Hellmouth
In 2010 we resolve to deepen our commitment to sustainable, local-minded living. As our touring plans come into shape, we aim to increase the connections we make with each of the communities we visit. The farms, co-ops and locally-owned businesses we find along the way will help lessen our impact as we travel.
Katherine Gajewski: Philadelphia's Director of Sustainability
My personal green resolution is to cut my home energy bills in half from what they were last year—I want to see how low I can go by just making simple and affordable changes. I'm a renter, so making improvements is tricky. Luckily, I have a great landlord who agreed to pay for an electronic thermostat. Projects in the works include replacing the weather stripping around the doors and windows and making an insulating cover for my fireplace, which is lovely but allows a lot of cold air into my living room!
Jennifer Carroll:
Chef de Cuisine, 10 Arts Bistro & Lounge; Top Chef: Las Vegas
This year my resolution is to uphold 10 Arts' emphasis on sourcing its ingredients from local and regional farmers. Buying fresh, sustainable, local ingredients not only contributes great flavor to our dishes, but it also helps reduce the global warming-causing emissions that result from food transportation.