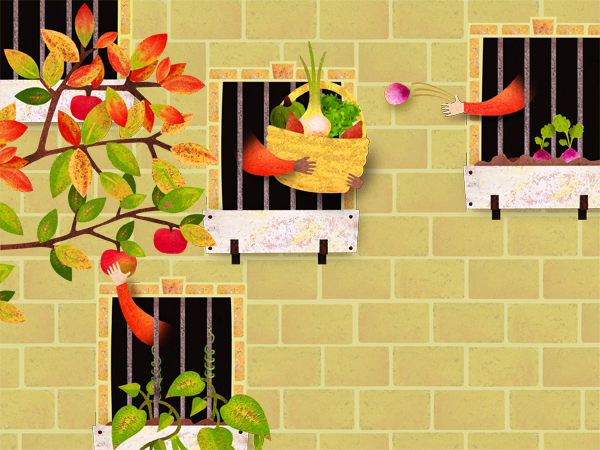 Prisoners and community gardeners help feed Philadelphia's hungry
by Natalie Hope McDonald
Adjacent to a soccer field in fairmount park, in view of what's left of the Delaware River's wetlands, the Philadelphia Prison System operates eight correctional facilities for men and women along State Road.
On the inside, inmates wearing prison-issue orange jumpsuits are getting dirty—literally. Shifts of 15 to 20 men in the morning (and an equal number of women by afternoon) are watering tomato plants and Swiss chard. They're pruning apple and fig trees, and consulting textbooks about how to properly care for hazelnuts.
It's all part of an innovative education program begun by the Pennsylvania Horticultural Society (PHS) called City Harvest that has provided thousands of pounds of free, fresh produce to local food banks, community cupboards and pantries in some of Philadelphia's neediest neighborhoods. Produce that's plucked from the soil early in the morning at the prison garden—and 41 other participating gardens throughout the city—ends up in grocery bags at local pantries that same day.
The prison garden partners with Self-Help and Resource Exchange (SHARE), a program in which people can exchange volunteer time for heavily discounted food. It's a model of how sustainable agriculture can change the lives of not only those who receive it, but also those who harvest it.
Teaching Prisoners to Garden
"We have a spread that includes a large market-style garden with 24 raised beds that are about 12 to 16 feet long," explains Sharat Somashekara, city garden coordinator for PHS. Somashekara spends much of his time teaching inmates how to plant, tend and harvest gardens from spring until fall, with winter sessions focused on classroom-style instruction on both gardening and life skills.
Out of the more than 9,000 inmates at the facility, Somashekara works with approximately 250, a relatively small population on which he hopes to have the most positive impact.
During the height of summer, the prison garden yields vegetables, small fruits, nuts and flowers. "Throughout the season we grow 40 different types of vegetables," says Somashekara, who recently worked with inmates to build a solar-heated hoop house for propagating in colder temperatures. "In the winter we're limited, for the most part, to seasonally appropriate crops: Asian greens, lettuce, radishes, turnips and beets." The garden also has at least 20 trees that grow pears, apples, persimmon and nectarines.
Somashekara estimates that the garden will produce up to 4,000 pounds of food by the end of the season, all of which is donated to food pantries in Northeast Philadelphia. The inmates plant, tend and harvest food that, in some cases, ends up at pantries in their old neighborhoods where their own families go to obtain food.
"We deal with a lot of addicts, a lot of people with substance abuse and alcohol-related issues," says Somashekara. "Many of the inmates have committed a series of small crimes and slip up and end up in county jail for a period of time."
For some of the non-violent offenders who join the program, gardening is a means of escape, at least while they're inside the prison walls. For others, it's a doorway to a whole new world.
"Some people have never stuck a seed in the ground or have never been on a patch of grass before," says Somashekara. "Everyone comes into the program with different levels of experience and needs. We don't really call it a job-training program, but we teach job-readiness skills, like learning how to work in a group, showing up on time, how to communicate with a supervisor and co-workers."
Everyone who enters this unique program learns basics about gardening and where food comes from, and goes through a crash course in agriculture, nutrition and organic farming. There's also an ongoing curriculum focused on life skills and basic math.
"We're trying to expose a lot of people to emerging industries related to not just farming and food production," explains Somashekara, "but industries related to home weatherization and energy-efficient green building." Guest speakers regularly visit to discuss a range of topics related not only to gardening and nutrition, but also community college opportunities, credit counseling and substance abuse recovery.
It's definitely not just about the food, says Somashekara: "We just had a class on building rain barrels. We're also going to have someone from Penn State come in to do a composting workshop."
The program also builds on whatever job skills inmates may have had before being incarcerated. "Some people have worked in the food industry and on landscaping crews," says Somashekara. "Some people gain something more professional out if it. They learn how to apply their skills to maybe become a foreman.
"[T]his is an opportunity to do community service," he continues. "They realize self-worth, that they have value. And they realize their minds are valuable and that something they're doing in prison is having a positive impact."
The prison's greenhouse, a major fixture on the site, is at the heart of the City Harvest program. It's used to generate seedlings for gardeners across Philly, seedlings that are used to grow food that ends up feeding hundreds of families through local pantries each week.
Making Fresh Food Accessible
During a food demonstration recently at Spring Garden Towers, a senior housing center on the border of the city's Fairmount section, Robin Rifkin of the Health Promotion Council shared new recipes with eager elderly residents that coincided with that day's fresh delivery of cabbage and other vegetables from nearby Spring Gardens. For the past year, the residents have been receiving weekly food harvested from the community garden through City Harvest.
Rifkin creates flavorful, healthy recipes based on local harvests. If cupboards are receiving a shipment of squash from the garden at Benjamin Rush State Park on the edge of the city, she'll demonstrate how to make soup or an entrée.
Up until three years ago, the only food available at cupboards came in the form of cans and boxes. Now, "rather than working with canned food, we're working with fresh food," Rifkin says. Each year the group organizes at least 80 food demonstrations that address culinary-related questions from June through the end of November. To date, the Health Promotion Council has reached almost 3,000 people throughout Philadelphia.
"People are surprised by how good things taste," she says. "A lot of people have never tried these vegetables. And in a lot of neighborhoods, you can't buy these vegetables."
For older folks, the lessons come easy, like how to make Southwest cabbage salad or fresh chutney. Many of them, she says, were raised on farms in the South. "They know how to cook and buy vegetables," says Rifkin, unlike younger generations who may have been raised on fast food.
But cooking experience isn't the only thing standing between many low-income families and a healthy diet incorporating fresh produce. Rifkin explains that many low-income individuals can't afford store prices for fresh fruits and vegetables, making fast food a cheaper, more convenient option.
On a recent shopping trip for a cooking demo, when she found that two beets cost $2.99, Rifkin was reminded yet again about the difficulties facing people with low incomes who seek nutritious food, and the importance of the food pantries. "The average person on food stamps is living on $35 per week on food," says Rifkin. For them, these prices aren't even an option.
The Importance of City Harvest

Since March, City Harvest has distributed more than 14,000 pounds of locally-grown organic food to these pantries, says Eileen Gallagher, citywide project manager for PHS's Philadelphia Green. More than 52,000 pounds of food has been donated since the program launched four years ago.
Steveanna Wynn, executive director of SHARE, says that the goal of City Harvest is not only to feed people, but also to strengthen community ties and build a sense of pride. Unfortunately, times are tough on both counts.
"It's worse than I've ever seen it," she laments. "The economy has really impacted folks who were able to make it, who were able to keep it together." She says among families where one or more parent has lost a job or whose hours have been slashed, "the impact has been almost catastrophic."
At food cupboards and pantries serving Philadelphia alone, Wynn says anywhere between five and 10 new people show up every week: "These are people who have never gone to cupboards for food before."
To put it into perspective, in 2003, SHARE served 53,370 households in Philadelphia. As of last year, that number more than doubled to 120,000. During the course of just one year, Wynn says SHARE provides food to more than 500 food cupboards in Philadelphia County alone, which is why the City Harvest program is so important.