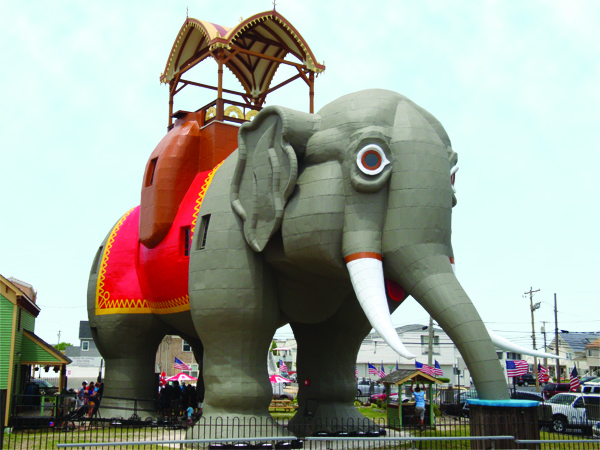 Dig your toes in the sand at the Jersey shore
Picture waves crashing, the smell of salt in the air and vitamin D nourishing your skin. Pack your beach bag for a day trip down the shore.
Where to go:
The Beach. Margate's sunny shores are free on Thursdays. We recommend Huntington or Washington Avenues. margate-nj.com
Margate Farmers' Market. Taste the local flavor with farmers, bakers, coffee purveyors and more on Thursdays in August from 9 a.m.–1 p.m. Traveling with kids? They even have childcare and entertainment while you shop. 9700 Amherst Ave. in the Steve and Cookie's parking lot steveandcookies.com
Pamela's Health & Harmony. No needto worry if you forget your chemical-free SPF sunscreen lotion. Pamela's selection of natural and organic products will keep you living well on vacation. 8508 Ventnor Ave., 609-822-8828 pamelashealth.com
I ❤ Lucy… the Elephant. Lucy the Elephant is an historic attraction that no tourist should miss—and at six stories tall, you really can't. $6 for adults, $3 for children 3-12, free for children under 2, 9200 Atlantic Ave., 609-823-6473 lucytheelephant.org
Dune Restaurant. Started by a restaurant veteran of Philadelphia, this BYOB specializes in seafood. You'll taste the freshness of the local cuisine at this exceptional eatery. 9510 Ventnor Ave., 609-487-7450 dunerestaurant.com
Cleo's Fish Palace. The variety of fresh fish is always changing at Cleo's. You can dine outside or take a fish home to cook yourself. 7307 Ventnor Ave., 609-822-5858 cleosfish.com
Getting there:
Take the Walt Whitman Bridge to Route 42. Follow signs for the AC Expressway. Stay on Expressway for about 36 miles ($3 toll) and exit at 7S. Then, take exit 36 to Northfield/Margate. Turn right on Tilton Rd. and follow signs for Margate Bridge. Cross the bridge ($1.50 one-way).
Ride NJ Transit's AC Line from 30th Street Station to Atlantic City ($8 adult one-way, $3.50 child/senior/disabled one-way). Yes, you can bring your bike and go the five miles to Margate or take the #505 bus ($1.35 one-way).
If you are an ambitious cyclist, then take the trip in the cleanest, greenest and least expensive way possible. For the best route, visit bicyclecoalition.org.