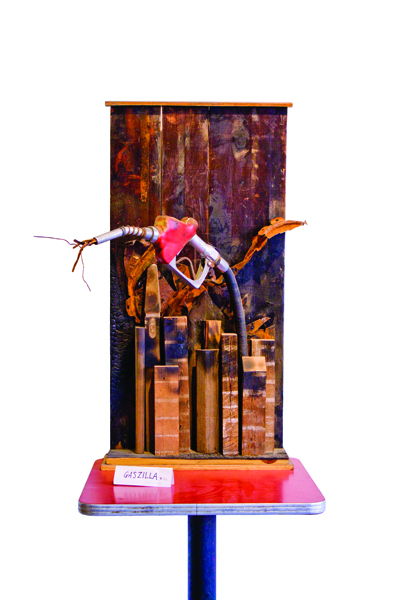 Trashing South Street
For an entire year, Burnell Yow! went out every trash night, rummaged through people's garbage and made a collage of what he found. Fifty-Two Collages in Fifty-Two Weeks is the result of that effort, and it's hanging up in a brand new gallery space on South Street.
Yow! and his wife, Betsy Alexander, are both members of the Dumpster Divers, a group of 45 artists that get together once a month and talk trash. Recently, through a project called Art on South, a few lucky artist collectives have been allowed to take over vacant storefronts to use as their own galleries. 734 South Street has been dubbed "Diver Central," and has become their temporary home. The space is theirs, rent-free, until someone decides to buy or rent the property for commercial use.
The large space exhibits art from roughly 16 members, all made from found or discarded items. Next to a sitting area stands Hugo Hsu's Empty Nest, a circular sculpture made entirely from welded butter knives. Newer member David Gerbstadt has placed a rack of repurposed clothing for sale towards the back of the gallery. Artist Alden W. Cole stripped and refinished old headboards he found in the trash, using them to create a handsome and functional desk.
Everywhere you look, there's something that could have ended up in a landfill, but instead has inspired the Divers to repurpose it into a room full of colorful and inventive art that is as accessible as it is inspiring. "This isn't the kind of place where if you break it, you buy it," Yow! laughs, "If you break it," "we'll probably just glue it back together."