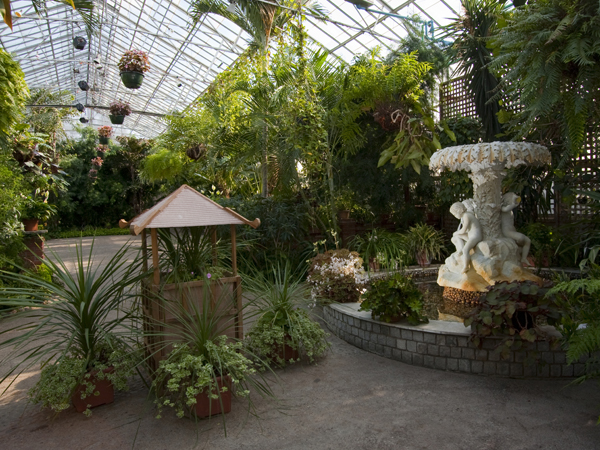 A guide to get you psyched for spring in Philly
by Reesha Grosso
The best treatment for your Seasonal Affective Disorder is increased solar exposure, so leave those pajamas behind! Acclimate yourself to springtime's greenery, partake in a bit of sunshine and prepare yourself for the inevitable onslaught of insects with this whirlwind tour of Philadelphia's indoor and outdoor treasures, all committed to education and preservation. While most are free, all have options under $10 and are accessible by public transportation.
Fairmount Park's Horticulture Center
The Horticulture Center is the refreshing antidote to your grey city existence. The greenhouse was built in 1976 for the Bicentennial and is lush with tropical plants, statues and fountains all year round. In the visitor center, you can learn about the surrounding park's attractions, including a butterfly garden, reflecting pond, pinetum (an arboretum of evergreens) and the 27-acre Centennial Arboretum. Just behind the Horticulture Center, minimalist sculptor Martin Puryear's Pavilion in the Trees offers a cedar, oak and redwood walkway leading to a 24-foot high domed platform where you can sit among the treetops.
Continue on to Shofuso, a model of a traditional Japanese home, including an ornamental garden and teahouse, that is open May through October. The house was built in Japan for exhibition at the Museum of Modern Art in 1954 and was moved to Philadelphia in 1958. Local masters demonstrate tea ceremonies one Sunday each month—reservations are required! Don't miss the free Cherry Blossom Festival on Sunday April 5 featuring live music, dance, food, and hanami, the Japanese tradition of enjoying the short-lived cherry blossoms.
100 N. Horticultural Dr., grounds 8 a.m–5 p.m., visitor center and greenhouse 9 a.m–3 p.m., free fairmountpark.org. Shofuso, May–Oct., Tue.–Sun., 9 a.m.-4 p.m., adults $6, seniors $3, children under six free, 215-878-5097 shofuso.com
Get there: Take the 38 bus to Belmont Ave. & Montgomery Dr., then walk five minutes north on Montgomery and through the iron gates.
Philadelphia's Insectarium
The summertime equivalent of a polar bear swim, the Insectarium holds a shocking number of bugs—just hold your nose and jump in. Thousands of familiar and exotic arthropods infest the largest insect museum in America, located in the Northeast. Depending on your comfort level, there are live insects to hold and mounted insects to inspect up close. A kitchen installation packed with hundreds of cockroaches, a live termite colony, glow-in-the-dark scorpions and a functional indoor/outdoor beehive are rendered innocuous by plexiglass barriers. Lots of just-for-kids activities, including games, puzzles and a manmade spider web, will keep even squeamish little ones thrilled.
8046 Frankford Ave., Mon.–Sat., 10 a.m.–4 p.m., $7, kids under two free, 215-335-9500 myinsectarium.com
Get there: Take the Market-Frankford line to the Bridge-Pratt stop. Transfer to the 66 bus on Frankford Ave. and ride it to the Welsh Rd. stop.
John Heinz National Wildlife Refuge
Grab your bike, binoculars, canoe and fishing license and meet me at the Wildlife Refuge. Established in 1972 to preserve Pennsylvania's largest remaining freshwater tidal wetland, the Refuge is home to hundreds of species of birds and plants, as well as deer, turtles, frogs, muskrat, fish and snakes. The sustainably-built Cusano Environmental Education Center is a stellar (or should I say solar) example of environmentally-sensitive design. The Center also provides a resource library and exhibits on the Tinicum Marsh, watersheds and the importance of preservation.
8601 Lindbergh Blvd., grounds are open 8 a.m.–sunset, CEEC is open 8:30 a.m.-4 p.m., free, 215-365-3118 fws.gov/northeast/heinz
Get there: Take the 37 or 108 bus to 84th St. & Lindbergh Blvd., then walk to 86th St.