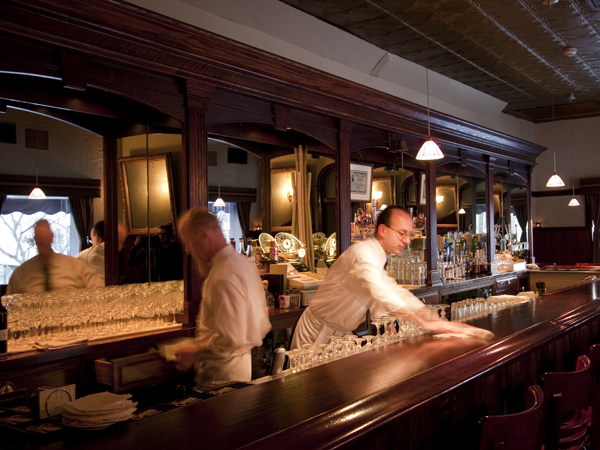 Southwark offers a connection to local food
by Will Dean and Ashley Jerome
When you walk in the front door of Southwark, it feels a little like you're going back in time, which makes sense. Southwark got its name from an 18th century district of the city and it fits because preserving history, including a tangible connection to the land, is important to owners Sheri and Kip Waide.
"Our personal philosophy of how we always ate at home was local," says Sheri, who runs the kitchen, while Kip does the drinks. "And when we first opened we did a small amount, but as the years have gone on we've progressed to do a lot more."
Even in the winter, nine of their 14 dinner dishes come from local sources. Local delicacies like chickens from Meadow Run in Lancaster, mushrooms from Oley Valley Mushrooms and goat cheese from Shellbark Hollow Farm are featured. Sheri tries to run it like a closed-loop system, where Southwark's waste oil becomes fuel for Meadow Run's equipment, and egg cartons and produce boxes are returned for reuse.
Like much of the produce, Southwark's connections to local farms grew organically over time. They met farmers at markets and learned about their offerings firsthand in their own kitchen. "When we opened the restaurant, we continued to buy from them personally and also as the restaurant," says Sheri. "Daryl Rineer—we get beef and eggs from him—we met him at the Passyunk farmer's market."
That kind of traditional city-folk-to-farmer relationship fits in well with the décor of the front bar. Slow ceiling fans with big, rattan blades hang off the pressed tin ceiling and match the restored, dark mahogany bar.
The crowds there are usually large, loyal and friendly. As we try to decide between the duck and the calves liver (I know, what a hard life it is), a guy at the bar with stretched earlobes insists the calves liver was not to be missed.
Homemade capellini, using local flour, accompanies earthly, slightly chewy wild oyster and shiitake mushrooms from Oley Valley, and the yolk of a poached egg from Rineer Family Farms draws all the flavors together. The recommended calves liver has a silky outer texture with a grainy feel on the inside, while the robust sweetness of the caraway spaetzle added a honey-sweet finish and the Madeira helps make the whole dish taste like fall.
For dessert we're super excited to see pawpaw ice cream on the menu. Pawpaws, in addition to having an adorable name, are the only fruit native to our area and look like small bananas, but taste sweeter. The ice cream mixes coffee, caramel and vanilla flavors, and makes us wonder where in Philly the pawpaw trees grow.
Hunting down something like the pawpaw shows that the Buy Fresh, Buy Local idea is more than just a sticker to Sheri. "We're doing what we say we do—this is what I believe in. Why would I say I believe in this and go and give you something else?"
Southwark, 701 S. 4th St., 215-238-1888 southwarkrestaurant.com