Have an event that will fit well on our calendar?

Tools of the Trades Conference: Day Three
March 24 @ 9:00 am

-

3:00 pm

$25 – $50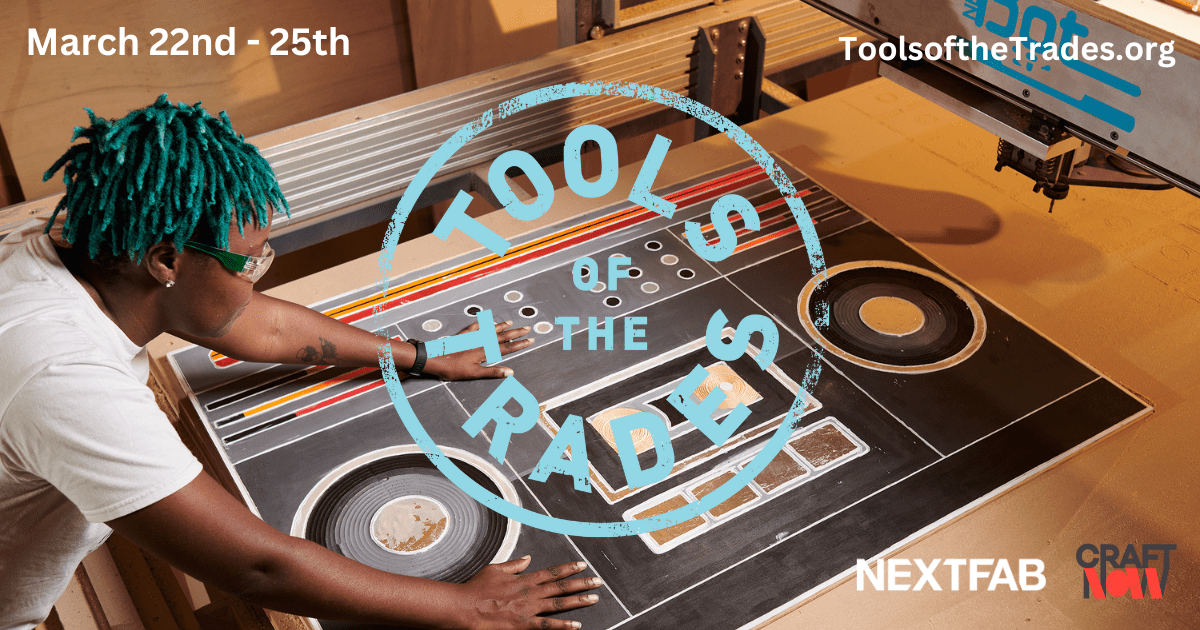 Our second annual Tools of the Trades hybrid conference focuses on connecting artisans and makers to business resources in Philadelphia and beyond. This four-day event provides a concentrated period for creative learning to help craft-focused businesses accelerate growth and find success however they choose to define them. This conference delivers a variety of programming and materials – lectures, resource directories, and a collaborative event – to address the needs voiced by our creatives running small businesses. The conference strives to emphasize approachability, affordability, and a supportive environment where everyone can come together and no question goes unanswered.
Tickets to the four-day interactive conference will give attendees access to:
20+ expert presenters drawing from their lived experience as makers and artists to break intimidating topics down into practical steps
14 interactive webinars and digital panel discussions with dedicated time and space to engage with presenters and audience members
Virtual and in-person networking with a community of like-minded makers and crafters actively working in the field
An invitation to promote your products, practice or small business in our Post-Event Directory shared among registrants and in CraftNOW and NextFab media
Our Digital Tool Kit with discounts at suppliers and organizations, recommended resources from speakers, and registration links for one-on-one office hours
All recordings of the sessions are made available only for ticket holders on the days that follow the conference.
Day Three Schedule:
9:00am – Don't DIY Everything: Emily Zilber, Curator and Consultant and and Erika Tapp Duran, Temple University's Small Business Development Center
As a maker, you are often expected to wear multiple hats in order to manage a successful business. At what point do you decide to outsource or hire someone to help you? In this discussion, we'll talk about analyzing your personal work style, contracting out parts of your business, hiring practices, and at what point it makes the most sense for you. Emily Zilber is a curator and author with recent projects including the publication "Threads of Power" (Bard Graduate Center, 2022) and the exhibition "Forces of Nature: Renwick Invitational 2020." Zilber also maintains an independent consulting and coaching practice and is adjunct faculty at Tyler School of Art and Architecture. Erika Tapp Duran provides consulting services to pre-venture and start-up businesses as well as teaching the Center's business planning courses. She came to Temple with a decade of experience in community and economic development in Philadelphia.
10:30 am – Trademarks and Copyrights: Protecting Your Work, Why and Why Not: Ken Metzner, Philadelphia Volunteer Lawyers for the Arts
Your work is your value, so what are you doing to make sure you are properly protected when it comes to trademarks, copyrights, and other legal issues? In this discussion, we'll talk with Ken Metzner, the Executive Director of PVLA (Philadelphia Volunteer Lawyers for the Arts), and a lawyer with over 25 years of experience in the arts. Questions to answer include what are intellectual property rights and who owns those rights, what are the differences between trademarks and copyrights and how does someone access PVLA services?
12:00 pm – Making Materials Matter: Cody Hughes, Untitled_Co and Katie Leibrand, Artist
How do you trust the buying decision of purchasing materials, and do you learn to prototype new products or materials without going bankrupt? And how do you stay confident in your material choices? By the end of the talk, attendees will have the tools to understand how to approach material choice for their business in a thoughtful way to craft their own stories.
2:00 pm – Getting into Galleries, Retail Stores, and Wholesale Markets: Margaux DelCollo, TWEE and Sara McCorriston, Paradigm Gallery + Studio
How do you get your work and products into galleries, retail stores, or wholesale markets? Regardless of where you are in this discussion, we are hoping to provide a tangible action plan on how to approach big-name stores and galleries. Hear the success stories and lessons learned by TWEE, which has been featured on the Today Show as well as in the pages of Elle, Real Simple, Vanity Fair, Vogue, and the Wall Street Journal, and can be found in over 300 independent stores and national retailers, such as Anthropologie, Barnes & Noble, Bergdorf Goodman, Crate and Barrel, Neiman Marcus and Nordstrom.
Sara McCorriston, the co-owner of Paradigm Gallery + Studio and director of Paradigm Art Advisory, has helped curate exhibitions in Philadelphia and for art fairs around the US. As an art advisor, she manages private and public commissioned artwork, from murals to hotel collections to outdoor sculpture, and works with artists to create meaningful collaborations between creators and clients.
Details
Date:

March 24

Time:

9:00 am - 3:00 pm

Cost:

$25 – $50

Website: