In 2007 the City of Philadelphia launched the Electric Vehicle Parking Space program, in which EV owners could apply for permission to put a charging post at the curb in front of their house. The parking space by the charging post would be for electric vehicles only. Since few people own electric vehicles, the homeowner effectively gained a private street parking spot, which did not go over well with neighbors.
"Philadelphia has more cars than parking spaces, so to take any spaces off the street, people resent it," says Rob Graff, a transportation electrification consultant who served on Philadelphia's Electric Vehicle Policy Task Force. Although only 68 people ever set up the charging posts, the complaints led the City to suspend the program in 2017 and then wind it down based on recommendations in a report by the task force. Since then, the City has not introduced any other programming to help EV owners without dedicated parking spaces charge their cars.
Without easy access to charging, EV owners have been forced to get creative.
A couple blocks away someone has a Level 2 charger installed. They pull it across the sidewalk."
— Alevtina Verbovetskaya,
Nissan Leaf owner
Alevtina Verbovetskaya charges her 2018 Nissan Leaf at the grocery store, but she has noticed more-creative rigs near her house in Fishtown. "A couple blocks away someone has a Level 2 charger installed. They pull it across the sidewalk," she says. "There is a Tesla nearby with some kind of weird extension cord thing happening over their backyard fence in an alley."
Verbovetskaya's family makes do with half-hour charging sessions at the supermarket. They bought the car in 2021 mainly to drive their toddler around but don't end up driving a lot of miles. "It works for us because a majority of our trips are under 10 miles roundtrip and we've only gone about 3,000 miles in our first year of ownership."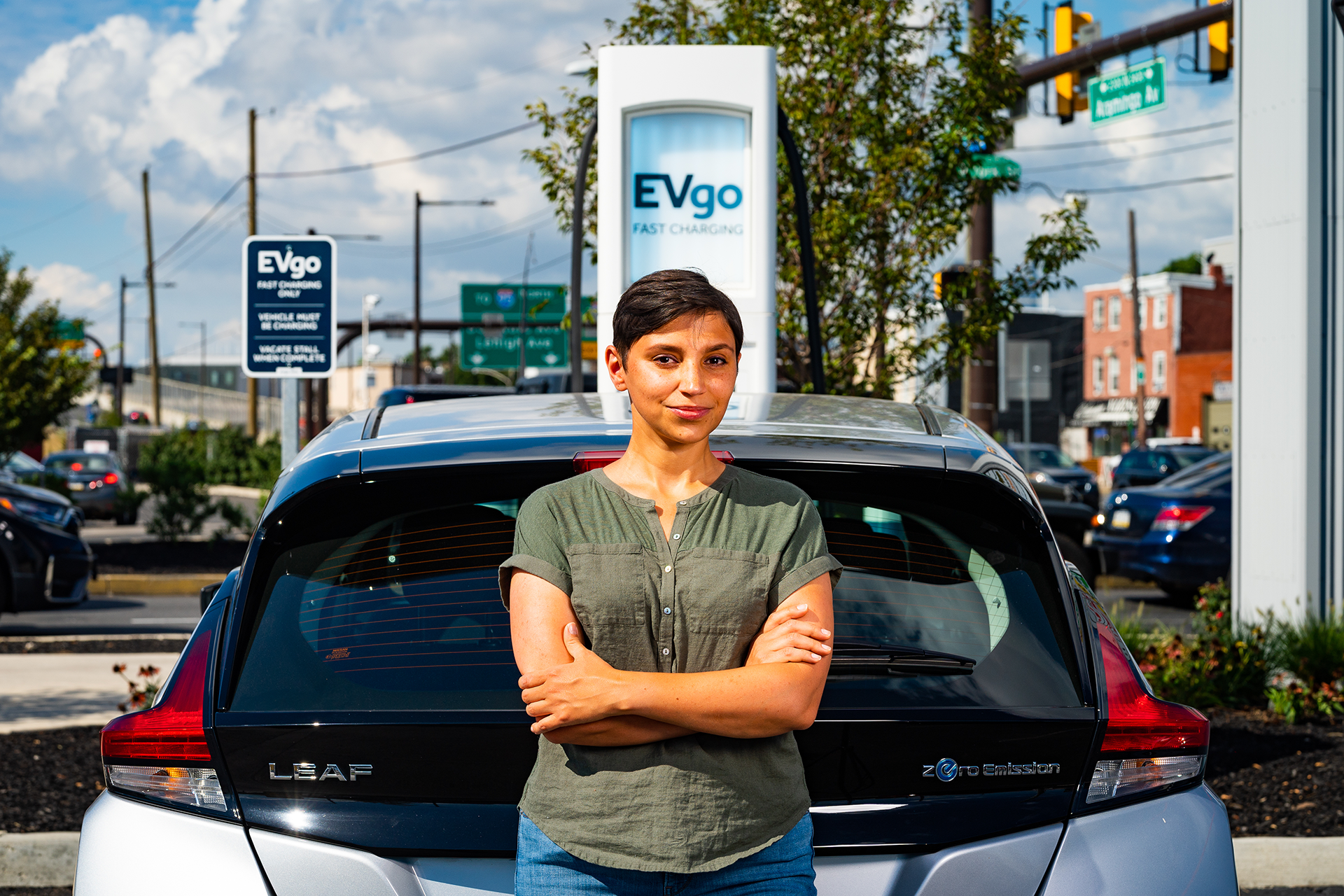 Ed Edge bought his Chevrolet Bolt in February 2022 when his Toyota Prius died. Edge isn't able to charge his car at home and so tends to plug it in while he works out at the Planet Fitness at Quartermaster Plaza in South Philadelphia. "For normal people the range is really advantageous. This one gets about 330 kilometers per charge, so you might need to charge it once a week or once every two weeks." Edge's work has him on the road more than normal, which means he often has to charge at highway rest stops. "It takes a little more planning if you're going on long trips."
Meredith Nutting, who lives in Fishtown and who bought a plug-in hybrid Subaru Crosstrek in 2020, doesn't think Philadelphia is ready for widespread EV ownership. "I live on a very narrow street and the plug on my car is on the street side, so there's no way I could even pretend to plug it into my house and run a cord across." Nutting charges her car either while grocery shopping or when she parks it in a nearby apartment building garage that has chargers. "Unless you have a garage or the City goes big on charging ports, having a purely electric car just isn't realistic for folks that want to lessen their carbon footprint — not to mention gas expense — but have to drive," she says.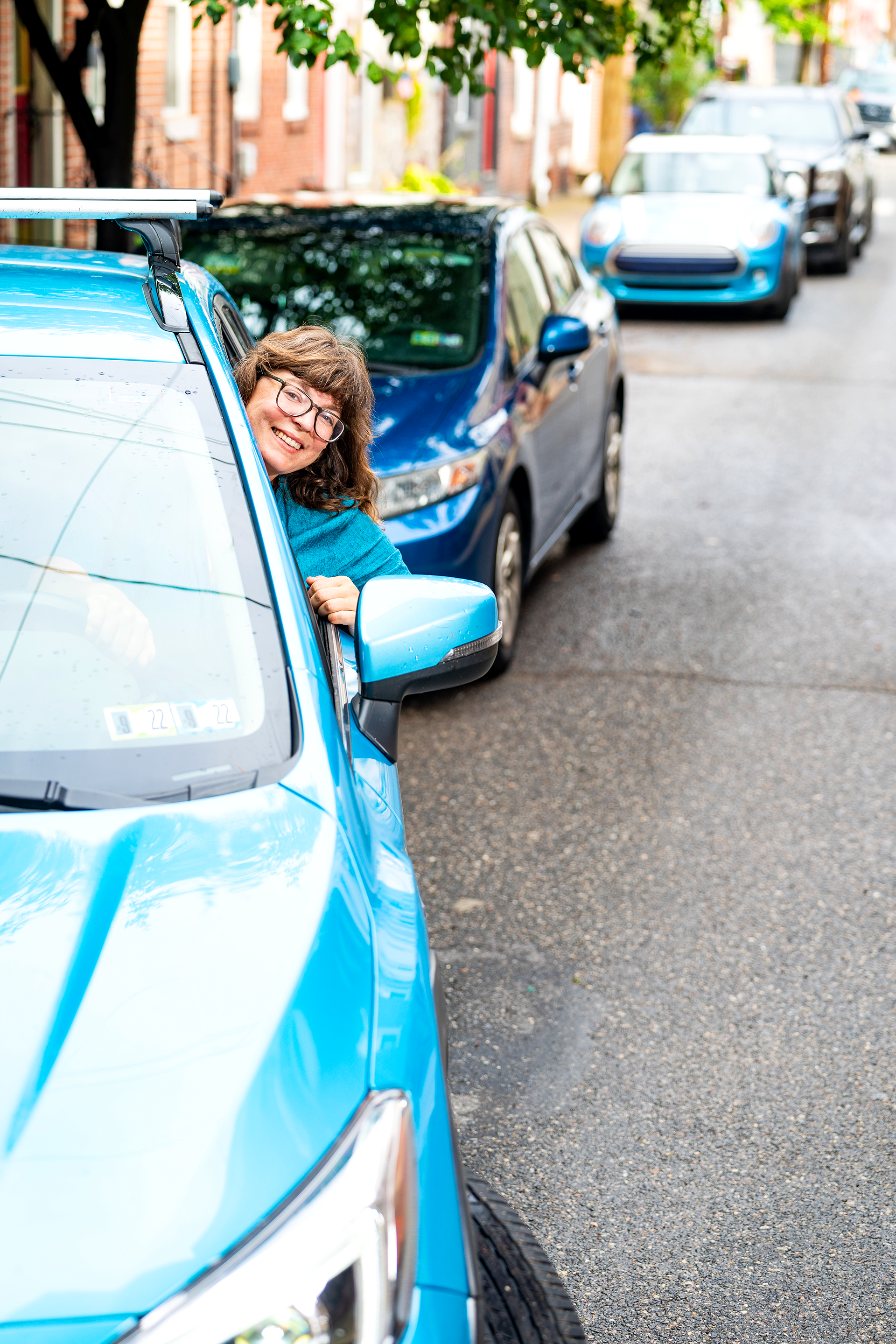 Edge, Verbovetskaya, Nutting and the other Philadelphia electric vehicle owners who park on the street are finding solutions to one of the trickiest challenges for the growth of the electric vehicle industry. "Of all the issues of charging private vehicles, how to charge people who don't have a dedicated place to park is huge," says transportation electrification consultant Graff. Although part of the issue has to do with electrical infrastructure and setting up chargers, "it's a real challenge because it's really a parking problem," he says.
In the meantime, emissions from vehicles driving on city streets are rising. Currently transportation accounts for 26% of Philadelphia's emissions, according to the City's 2019 Greenhouse Gas Inventory, and a little less than half of that comes from cars, trucks, buses and other vehicles driving on our streets (the bigger chunk of transportation emissions comes from air travel out of Philadelphia International Airport). These on-road emissions increased 9% between 2006 and 2019. Replacing fossil-fuel-powered vehicles with electric vehicles would bring those emissions down, especially if they use electricity from renewable sources.
Nonetheless, the City plans to do nothing to expand EV charging infrastructure. "There's certainly a greenhouse gas reduction benefit, but not a Vision Zero benefit, not a congestion benefit," says Christine Knapp, interviewed before she stepped down as the director of the Office of Sustainability.
"Cities aren't gas stations," Knapp says, "and so why would a city with limited funding and many problems to address prioritize those limited dollars for private vehicle charging?" The 2018 Electric Vehicle Policy Task Force report found that a third of Philadelphia households lack a car, and that EV owners have household incomes on average more than three times the Philadelphia average of $38,770, underscoring that wealthy residents would benefit most from public dollars spent on charging infrastructure.
The City's plan to reduce vehicle emissions is focused mostly on electrifying City-owned vehicles and promoting other modes of transportation: walking, cycling and public transit.
Aside from being more egalitarian and having much lower upfront costs than driving an EV, public transit and human-powered transportation produce less greenhouse gas emissions than electric vehicles. Cars require a lot of energy to manufacture, including what goes into mining and processing the lithium, steel, glass and plastic. Walking and cycling, in particular, skip the emissions that go into producing a two-ton vehicle, however it ends up being fueled. Public transit in Philadelphia is already largely electric (regional rail, trolleys, subway-surface lines and some bus routes), and given SEPTA's plans to replace many of its diesel-powered buses with battery-powered ones, it will be more so in the future (though SEPTA does produce some of its electricity by burning fossil gas at its controversial Nicetown power plant).
Fundamentally, the City's plans for sustainable transportation assume that Philadelphians don't need privately-owned cars, even though two thirds of the city's households have decided that they do.
"It is a well-intentioned but naïve philosophy, and so anti-populist and elitist," says David Masur, the executive director of PennEnvironment, of the City's approach. "We're all working towards this societal utopia where you can walk and ride your bike everywhere, and you can catch a bus any time you want. But we are so far from that."
To the extent that the City does play a role in increasing the number of charging stations available to private vehicle owners, they will be in commercial parking lots and garages, Knapp says, though there is currently no program to incentivize chargers for general use.
Although electric vehicle buyers have tended to be relatively wealthy so far, Masur points out that this will likely change as automobile manufacturers produce more of them and at lower price points. General Motors, for example, has pledged to produce only electric passenger vehicles by 2035, and the Bolt has joined Nissan's Leaf with a price tag under $30,000.
In 2020 about a million light-duty (as opposed to commercial trucks and buses) electric vehicles were on the road in the United States, according to the International Energy Agency, up from about 600,000 in 2017, when City Council suspended the Electric Vehicle Parking Space program. Philly electric vehicles are also multiplying. In 2021, 1,477 EVs were registered in the city, according to PennDOT registration reports, up from 272 in 2017. These numbers are only expected to climb.
As they do, Philly drivers will increasingly need access to chargers. In the foreseeable future of a country leaving internal combustion cars behind, many Philadelphia drivers could face the prospect of either being stranded with a gasoline-powered dinosaur or having nowhere to charge their electric car.
In the meantime, other cities are piloting solutions that, at scale, could solve the problem of charging EVs in neighborhoods dominated by street parking. For example, New York City is partnering with electric utility Con Edison to install 100 curbside chargers for public use. Seattle City Light has launched a service to install public chargers on light posts at the request of nearby EV owners.
Graff pointed out that these public charging stations can face problems with vandalism or theft, targeted by people who cut off cables to sell the copper wiring to scrapyards, as has happened in Los Angeles and Fresno, California. In Europe "bring your own cable" systems have solved this problem, though "for whatever reason that system hasn't launched in the U.S.," Graff says.
As Philadelphians swap gasoline for electricity to power their cars, the capacity of the power grid has to grow to accommodate the extra load. According to Brian Ahrens, a PECO spokesperson, the utility is using data from EV drivers as well as from the Delaware Valley Regional Planning Commission to forecast charging demand. "Over the next five years we're making about $6 billion in investments in the utility grid to ensure our infrastructure is reliable," Ahrens says.
In April PECO launched an incentive program for commercial and industrial customers that offers $2,000 rebates per port and $3,000 in Environmental Justice Areas, as defined by the Pennsylvania Department of Environmental Protection. "Providing equitable access to charging is going to be one of the next challenges we face as we electrify transit and move from early adopters to mass market adoption," Ahrens says.
So far, the public charging ports do not appear to be in lower-income neighborhoods. The U.S. Department of Energy's Alternative Fuels Data Center map of charging stations shows a dense cluster of chargers across Center City and University City. In North Philadelphia neighborhoods outside of the gentrifying river wards, there are a total of two. Likewise there are very few chargers in West Philadelphia outside of University City.
PennEnvironment opposed the repeal of the Electric Vehicle Parking Space program, according to Masur, who is frustrated that the City hasn't tried other models of incentivizing chargers for private EV owners. "People are going to keep buying cars. They need them to run errands, drop off kids," Masur says. "Of course we need clean infrastructure for cars in the meantime. The market is moving faster than policy. This is coming, whether you like it or not."