When the remnants of Hurricane Ida arrived in the Philadelphia region last month, it brought with it the kinds of chaos we used to just hear about: flooding, property destruction, mudslides and at least one dude back flipping into the sewage pit formerly known as I-676 in Center City.
"I definitely thought about the water quality," the jumper, Justyn Myers, told local writer Brian Hickey after his dive. "Could there have been [excrement] in there? There might have been."
And while some were marveling at folks like Myers making the most of the flood, others were under water, cleaning out their houses and businesses in West Philadelphia, Manayunk and the western edges of Center City. The city's on-street bike infrastructure was mostly left intact, but the trails so many of us have come to rely on as sources of physical exercise and mental relief, especially over the past 18 months, were a mess.
Days later, we saw maintenance updates to our infrastructure—I-676 was drained and motor vehicles were using it once again. But even after volunteer and official city cleanups, huge swaths of the Schuylkill River Trail in Philadelphia and Montgomery County were still closed indefinitely. It could be months before the trail is ready to use again.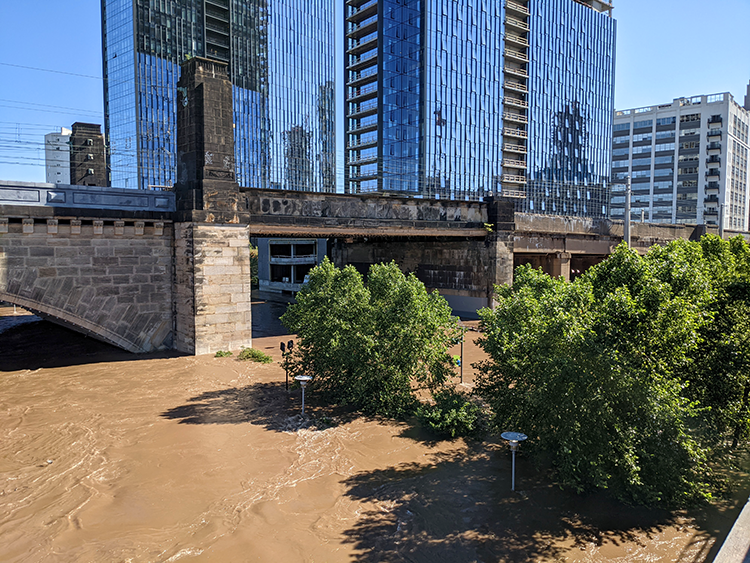 Not only is this a shining (if sewage-slathered) example of how transportation priorities are laid out in the region, it's also telling of how cities might continue reacting to climate change-fueled disasters. Even in the face of life-changing warming and extreme weather, spaces dedicated to motor vehicle transportation are given priority over all others, all the time, and encouraging carbon-free or carbon-light transportation remains a lengthy, drawn-out process where a handful of loud or influential voices can upend safe routes for families to travel to school and work without using a car.
Scientists agree that storms are getting more intense due to climate change. In late August, Hurricane Ida was a Category 1 storm in the Caribbean. By the time it made landfall in Louisiana, it had intensified into a Category 4, in part because of the 85-degree water in the Gulf of Mexico.
"The extra heat acted as fuel for the storm," noted Rebecca Hersher of NPR's "All Things Considered" in an August commentary. "Heat is energy, and hurricanes with more energy have faster wind speeds and larger storm surges."
After pulverising Louisiana coastal communities, Ida was no longer classified as an organized weather system. So it came as a shock to many residents of Pennsylvania, New Jersey and New York when we started getting emergency alerts on our phones instructing us to seek shelter immediately on the night of September 1. We woke up the next morning to devastation, including floods across I-676 and Main Street in Manayunk.
None of this came as a shock to scientists who study climate, nor our political leaders. "Extreme weather events like Ida are not isolated incidents," Philadelphia Mayor James Kenney said at a press conference in the wake of the storm. "They are another indication of the worsening climate crisis."
But the mayor did not offer a plan for Philadelphia to immediately begin combating climate change. Nor did the mayors of other affected areas.
But here's the thing: transportation is the biggest source of greenhouse gas emissions in the U.S., with 29% of all emissions coming from transportation. That's more than agriculture, commercial and residential combined.
According to the EPA, "The largest sources of transportation-related greenhouse gas emissions include passenger cars, medium- and heavy-duty trucks, and light-duty trucks … pickup trucks, and minivans. These sources account for over half of the emissions from the transportation sector."
Any political leader who believes global warming is real should be figuring out ways to get folks out of their cars and onto alternative, cleaner forms of transportation.
Unfortunately, the most obvious solutions to these problems are the ones the public won't like because it involves changing our habits. Even if collective behavioral changes will benefit society (and the planet), the discussion quickly devolves into a discussion about freedom.
But any leader committed to climate change should do everything they can to decrease motor vehicle usage in their catchment.
One place to begin is removing parking minimums requirements for new construction. Parking lots and on-street parking take up a massive amount of city space: there are 2.2 million spaces in Philadelphia for 1.6 million residents (3.7 spaces per household.) Parking minimums not only add to that total, they encourage residents to choose their cars over our expansive public transportation system, walkable neighborhoods and expanding protected bike and scooter lanes.
This isn't to say that everyone and their grandmother needs to get on bicycles now. But car culture is subsidized by taxpayers, and it just keeps getting worse. Despite making combating climate change a national priority, President Biden touted the $115 billion in his infrastructure bill proposal for fixing highways and roads across the country. The president even called for an increase in oil production in order to bring down prices—in August 2021.
These are not serious proposals from leaders who talk tough about climate change. They do not represent the interests of the millions of folks affected by flooding in the eastern United States or fires in the West.
Things aren't going to change until we start getting people out of their cars.