On a quiet street in East Germantown is a small farm blooming with red bok choy, turnips, Brussel sprouts and nasturtium, all grown organically. Located within the confines of Awbury Arboretum, this is one of Philly's "food forests," also known as forest gardens. Food forests are a modern name for an ancient practice—historically found in Asia, Africa and the Americas—that involves cultivating a variety of edible plants to mimic patterns found in nature.
This forest was started by Jasmine Thompson and her social enterprise, Philly Forests. Her goal with the organization is to help influence food choices in the city's Black and Brown communities and encourage more people of color to become stakeholders in the food system. She wants to grow food that not only nourishes consumers but also rebuilds and sustains the environment.
"There are so many people who care about food and its source," Thompson says. She sees the value of "facilitating the opportunity to have very meaningful and visceral relationships with the land."
The farm works as a three-pronged program that pushes sustainable farming, urban forestry and equitable food system initiatives.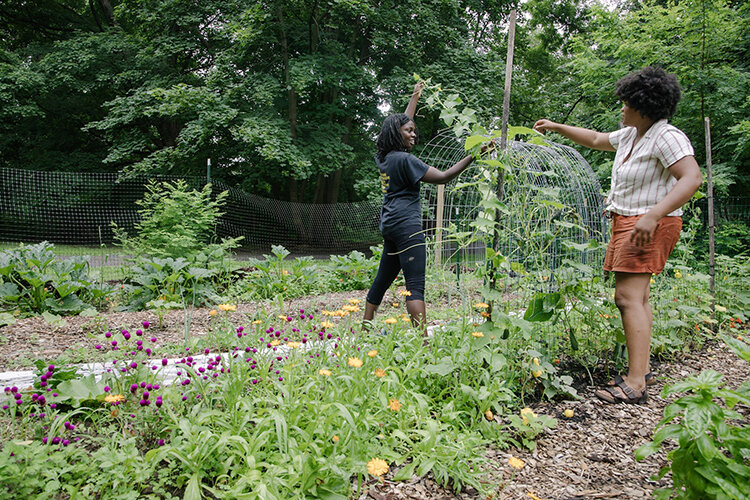 "In addition to farming sustainably, we also have an urban forestry edge to our mission, by using trees to combat environmental racism, [to] remedy the effects of environmental racism," Thompson says. They supply free trees to select zip codes throughout the city.
Bakari Clark joined Philly Forests with a strong interest in the reforestation effort.
"We're trying to create a more equitable distribution of trees within the city of Philadelphia," Clark says.
A Seed Planted
The inspiration behind Philly Forests began five years ago in northern California. While working in Crescent City, near the border with Oregon, Thompson was exposed to agricultural justice, which according to the Agricultural Justice Project, "seek[s] empowerment, justice and fairness for all who labor from farm to retail."
For two years the Philadelphia native worked for the Community Food Council of del Norte County and Adjacent Tribal Lands. The organization's mission is to build food forests on two native lands for the Yurok Tribe and the Tolowa Dee-ni' Nation. Throughout her experiences, she learned that societal barriers like food access can keep native groups away from sustainable food systems.
"I liked the food sovereignty facet of food system work," Thompson says. "Bridging people to nature, whether it's through food or through trees … is major."
Thompson moved back to Philly two years later, determined to bring the food forest movement back home. She says Black and Brown people suffer immensely from disconnection to healthy food systems.
"Historically, Black and Brown communities are not invested in. Therefore, the infrastructure for food systems was not invested in," Thompson says. "So we have a lot of corner stores, with high fat, high salt, sugary options—and we have fast food heavily centered in those areas as well, which just further disconnects people from food."
After volunteering at The Farm at Awbury Arboretum, Thompson decided it was the perfect place to have a food forest. In 2019 she began farming and later transitioned the project into a no-cost CSA. Thompson says the program held a conversational education aspect at the time. She spoke with a dozen neighborhood families about healthy food options.
Time was spent "talking about where food is purchased and the importance of voting with your dollar," Thompson says. "If you care about your food, you care about what goes into your body. You care about local food producers. You can vote for them by where you purchase that food."
One year later, the farm has converted to a traditional CSA, and adopted the reforestation program.
Trees for the Forest 
Philly Forests has a mission to plant 500 trees by 2026. Philadelphia's tree canopy covers approximately 20% of the city's land. However, most trees are clustered in wealthy neighborhoods, while low-income areas without trees experience poor air quality and scorching summer sun.
Clark is leading the reforestation at Philly Forests. She says the lack of tree canopy is troubling for several public health factors: rising temperatures, air quality and even crime. In addition, she says the lack of green space distribution is a contributing factor to environmental racism.
"That's just really what we're trying to tackle, environmental racism," Clark says, "through … creating more green spaces and activating green spaces."
Philly Forests aims to plant more than 30 trees in seven high-priority zip codes this summer. Pentecostal Bridegroom Temple in East Germantown applied for the tree program and received a willow last month.
Pastor Kevin M. Young of the church says he signed up for the program when he learned Thompson was a neighbor.
"I love trees," Young says. "Just a symbol of life. I love watching trees grow."
The church, like many, has been closed for more than a year due to the pandemic. Young says the church usually has plants surrounding the building, but since the pandemic, the number of plants has dwindled. He looks forward to being part of Thompson's program.
Additionally, Thompson says green space and tree canopy influenced her emotional well-being as a young adult.
"It has so many benefits on air quality," she says. "It affects the physiology of your body, which affects the cognition of your mind, which affects how you handle stress, which makes you … less impulsive and contributes to crime in that way."
Looking Ahead
After Thompson and Clark wrap up the 2021 summer season, the two have long-term plans for Philly Forests. They hope their program inspires other farmers in the city to launch similar programs and pledge reforestation goals.
"We have to be the change that we want to see," Clark says. "As long as we take action, I have faith in our future."