In the weeks and months leading up to any election, campaign signs begin to crowd lawns, medians, and planters, and all roads can seem like battleground interstates.
 The 2020 elections were no different in Philadelphia, with rival campaigns for Senate and House seats, PA Attorney General, PA Auditor General, and State Treasurer adding to the squat, quadratic masses of election campaign signs. Now, at the beginning of December, Philadelphia drivers might finally look back over their shoulders at empty berms and ask, Where did they all go?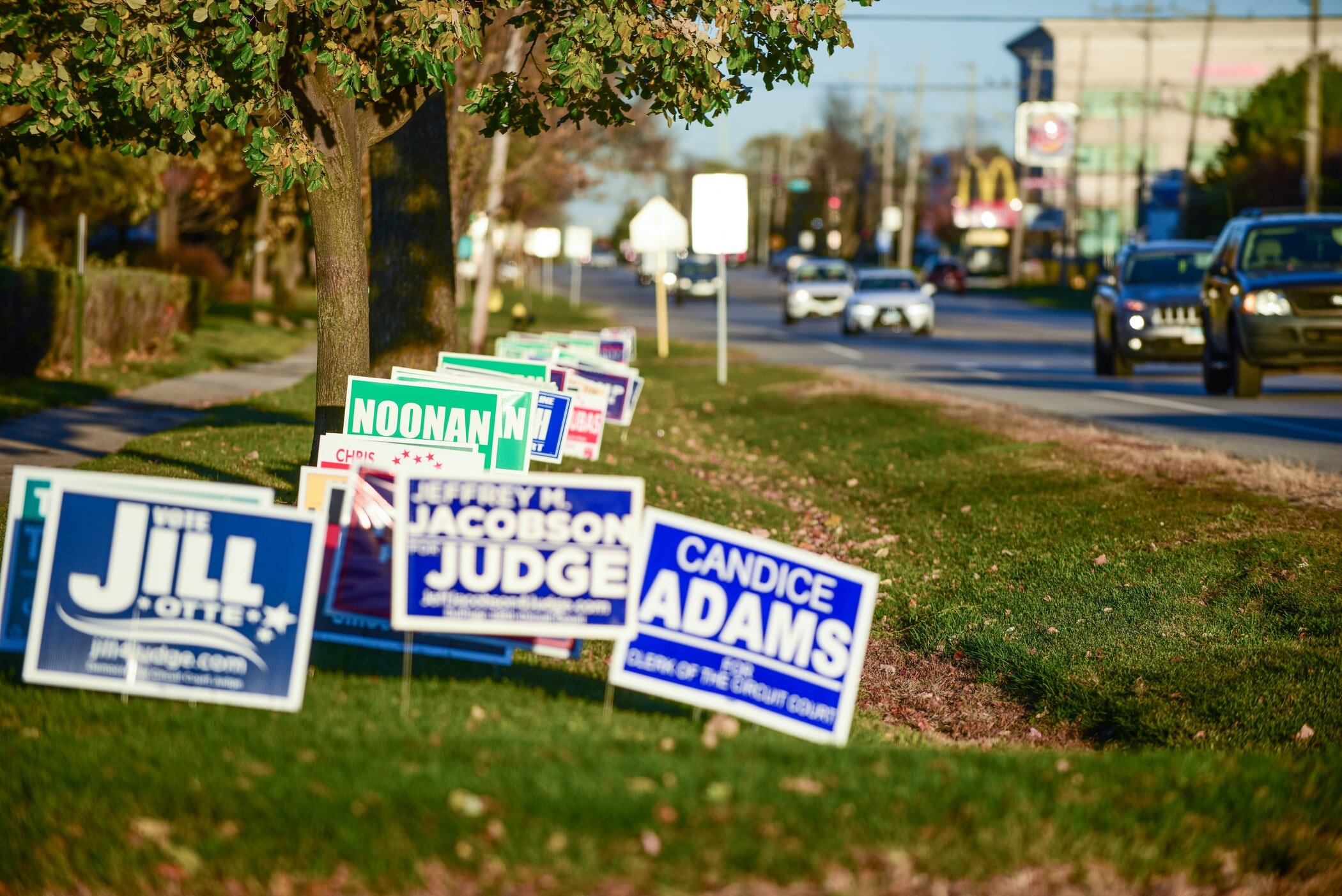 Private Grounds versus City Spaces
Philadelphia streets wind their ways past both private and public properties, and while roadside campaign signs can feel uniform in their ubiquity, responsibility for placing signs at each particular type of roadside is different: for private lawns, residents determine a driver's view out the windshield.
Christopher Sessa, a resident of the Philly suburbs, said he requested his sign from the local Democratic committee and, after it was delivered, decided to place it in his lawn.
"I personally think there were far more signs in the Philadelphia suburbs than I've seen before," he remarked in an email. "This election was very divisive, and many people saw it as urgent." The sign was carefully placed with several American flag signs.
In downtown Philadelphia, on the other hand, graying medians along Broad Street and Delaware Avenue sported a noticeably more chaotic efflorescence of "get-out-the-vote" and local, state, and federal election campaign signs.
Mike Doyle, a Democratic candidate in the 170th district, noted in an interview, "Generally for the northeast, and in our district, the boulevard is a really good place to put signs. [We targeted] mostly corners and intersections."
According to Doyle, his campaign ordered about 500 campaign signs this year; after cruising his district to collect signs in the aftermath, he said he had about seventy left to dispose of.
What Goes Up Must Come Down
Campaign signs on private property such as Sessa's can be left up indefinitely, but cleanup of signs placed along Philadelphia city streets are the responsibility of campaign members and volunteers.
"Our volunteers and staff disseminate the signage and then remove it a day or two after the election. I drove around after that and didn't see anything really around," confirmed Doyle.
For unloved campaign signs along state roads and highways, it's PennDOT maintenance department workers who will remove signs at locations undergoing work, locations they are notified about, or "locations that have many signs," according to Robyn Briggs, PennDOT Community Relations Coordinator for Philadelphia. After 10 days, the signs are disassembled from their metal stands, the plastic or paper sign is recycled "if it is recyclable," and the metal stakes are set aside for scrap metal pick up.
Recycling and Reusing Sign Waste
Separating out plastic signs, paper signs, and metal stands is crucial to the election campaign sign recycling process, noted Veronica Harris, Recycling Coordinator for Montgomery County and director of the county's Campaign Sign Recycling Program.
Typically, roadside election campaign signs are made from either plastic film or polypropylene (also known as coroplast). Don't be fooled, however—though polypropylene is a No. 5, recyclable plastic, neither it nor plastic film can be recycled in campaign sign form.
"Materials are sorted based on their shape and their weight," pointed out Harris. In the case of polypropylene, the sorting machines in recycling facilities are built to find food-shaped containers such as mayonnaise bottles.
"So if you try to put through a piece of plastic that is shaped and sized like cardboard, it will end up as a contaminant in the cardboard bale at the end of the process. And that," Harris stressed, "is why we have a separate collection for that material, even though it's a plastic that you would ordinarily put into your recycling bin if it were in the shape of a yogurt container."
In 2020, the Montgomery County Campaign Sign Recycling Program coordinated 13 municipal drop-off points where people of all stars and stripes could deposit leftover campaign signage. And according to Harris, each year the County contacts local parties to make them aware of the program and to encourage their candidates to do the same.
For a county that doesn't own its own recycling plant or collection vehicles, the program has certainly taken initiative. Harris was enthusiastic about residents' and municipalities' participation, as well as collaboration within county bodies and local inmates.
"The department that I work with to do this is a work-release program from the Montgomery County Correctional Facility," she said. "They send out a group from the correctional facility using their vehicle, which will go around and pick up the signs from the sites, and then they'll actually do the sorting into the different materials to get recycled."
According to a source at the Montgomery County Correctional Facility confirmed that two or three inmates drive collection routes and about ten inmates sort the signs as part of the community service program. Typically, the process takes about two days for a county of 830,000 residents.
 "It's sort of a small program that they kind of do as a public service. Just to try and keep some valuable material out of the landfill—that's the agenda, at the end of the day," said Harris.
Where does this square with recycling goals/platforms in 2021?
Looking to future election cycles, Harris was enthusiastic about potential collaborations with others already working to recycle and reuse election campaign signs, such as Tiny WPA, a community-led design improvement group.
Meanwhile, Robyn Briggs of PennDOT noted that the department was recently contacted by a Boy Scout troop who was interested in repurposing some of this year's collected signage, and up in the 170th, Mike Doyle is planning to donate a "a couple hundred" miscellaneous corrugated plastic signs to Tiny WPA.
Hopefully, these efforts are signs of the times.
***
For readers looking to recycle their plastic film campaign signs, these can be recycled year-round at many grocery stores including FreshGrocer, ShopRite, Target, Wal-Mart
, and PriceRite. 
Other businesses also accept these types of plastics—a quick look at plasticfilmrecycling.org will show you recycling drop-off points in your vicinity. Meanwhile, metal sign stands can be separated and scrapped for profit, with nearby scrapyard and current market price information available on websites such as iscrapapp.com.