Sandi Vincenti isn't sure where the toads came from, but they first appeared when she and her family began rehabilitating the vacant lot next to her home in 2010.
The lots at 1846-50 Sepviva Street in Fishtown have now become A Child's Inspiration: Wildlife Discovery Garden. A sign from the National Wildlife Federation hangs near the entrance, certifying it as "Wildlife Habitat" under the Garden for Wildlife program, which, in its own words, empowers people "to turn their own small pieces of Earth into thriving habitats for birds, bees, butterflies, and other wildlife."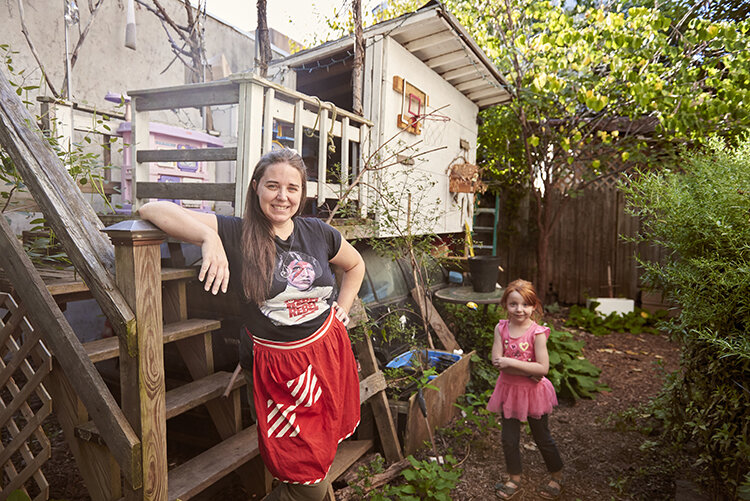 As Vincenti did for the toads.
"There are at least half a dozen that I've seen," she says; all are American toads. During my visit to the garden, we easily found one under a rock bordering a flower bed.
Toad colonization might make sense if these lots were bordered by a park, but they're surrounded by block after block of row homes, and they're just one block away from busy Frankford Avenue. Vincenti and her husband, Dan, moved to the area nine years ago from Abington.
"It felt like a natural transition away from the suburban sprawl," Vincenti says. "This house was much tinier than [what] we were looking for, but we loved the fact that it had the two lots next to it that, at the time, were overgrown but had so much potential."
Developing vacant lots into nature-education spaces made sense for Vincenti, who started her career in child and family programming at the Philadelphia Zoo and now is the director of early childhood education at the Schuylkill Center for Environmental Education.
In the lots, Vincenti has planted trees, including a redbud and a hop hornbeam from TreePhilly, and added native plants such as anise-scented hyssop and white aster. In 2016, then-Eagles linebacker Connor Barwin pitched in to plant a sweetbay magnolia.
Vincenti has also added water, including a small tank near the street that houses guppies beneath a layer of duckweed and a small garden pond toward the back with two rescued red-eared sliders (the little green turtles that are often illegally sold by street vendors to unwitting parents and then quickly outgrow their tanks).
The vacant lots, which are in the process of being preserved as community garden space, came with an abandoned blue Volkswagen Jetta, now topped by what looks like a white treehouse.
"Rather than drag it out, we decided to leave it in," says Vincenti, "and eventually we got the idea to build this observatory-playhouse-birdblind fort. Most of what we did in here was with recycled materials."
Native bees also benefit from new structures in the garden, though on a much smaller scale. Vincenti has obtained native bee nesting boxes from Crown Bees as well as the Honeybee Conservancy.
Housing for mason and leafcutter bees: one looks like a bird house with two wooden blocks drilled with rows of holes. Other bee housing features hinged panels that open to reveal the bee nests in tubes, protected by a pane of glass. One of these tubes is stuffed with little bits of leaves, the work of a leafcutter bee.
"There's so much love for the honey bees that we often neglect the native bees that tend to do way more for pollination," says Vincenti, who also points out a patch of bare soil used by mason bees to build their nests.
"We're happy to keep the garden a natural space for people to come in and learn about the environment," says Vincenti, but starting in 2015 she began offering programming in other places.
"Nature Heroes is our outreach program," says Vincenti. "It started out with just me doing it, and then more and more other artists and educators caught on and wanted to get involved."
The Discovery Garden is open to the public, says Vincenti, but she recommends that anyone interested in visiting or attending a Nature Heroes event start by visiting their Facebook pages. They offer programming at Penn Treaty Park as well as in gardens and green spaces in East Kensington.
"We want to activate kids to be excited about nature, to provide for nature in their own little spaces, whether that's a window box or if they have some space to call their own," she says.
Perhaps toads will show up there, too.