Someday the row of young elm trees will transform this sunbaked stretch of Delaware Avenue, but first they have to survive the next couple years. To the west is the Northeast Water Pollution Control Plant. To the east is a Sanitation Convenience Center (where you can drop off hard-to-dispose-of items like tires and mattresses) and acres of old industrial lots before you get to the Delaware River. The elm trees line the Delaware River Greenway's multiuse trail and, once mature, should shade it with beautiful arching boughs that provide a buffer from the trucks that roar by. The problem is that young elms are delicate. Lawn mowers and weed whackers can wound their trunks, leading to an untimely demise.
Riverfront North, the organization leading the Greenway effort in Northeast Philadelphia, has found a solution through a partnership with the Center for Employment Opportunities (CEO), a nonprofit that helps citizens returning from incarceration find success in the workforce. After a tutorial in tree care from Riverfront North's Stewardship Manager John Jensen, seven CEO participants got to work weeding a 5-foot perimeter around each tree and layering wood chips so that mowers will know where to avoid.
"It's nice. I like coming out here, getting dirty," says CEO participant Erica Williams, who grew up gardening with her grandmother. "I do want to get certified in landscaping." Williams is also considering a career in waste management as a next step.
Kevin Murray, who has been working with CEO for three weeks, says, "It's good work because you can see the outcome of your work, how beautiful stuff will look once you get finished."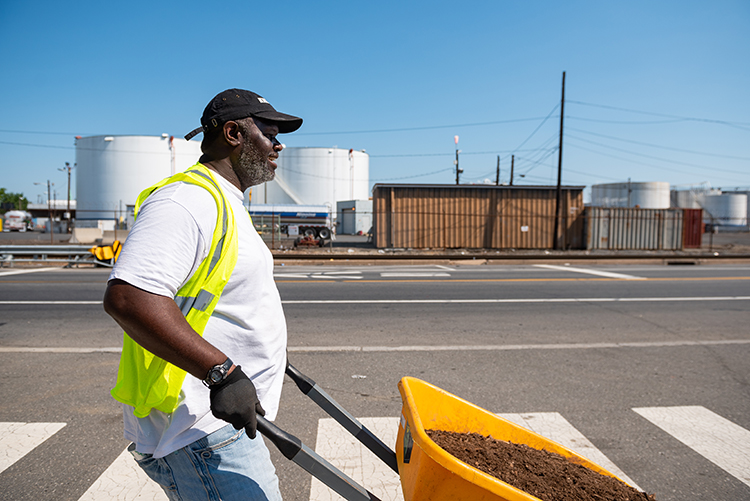 According to Jacqueline Weinberger, Philadelphia site director for employment opportunities at CEO, landscaping is a welcome break from the litter abatement that comprises the bulk of what CEO participants do.
"One of the best parts of our partnership [with] Riverfront North is it allows our participants to engage in something different," Weinberger says.
Knowing how to care for trees might be useful, but CEO's model focuses on developing the soft skills necessary for stable employment. "A lot of the things we are doing are transferable skills: being able to follow directions, being able to work with multiple supervisors," she says. CEO participants serve on transitional work crews for three to four months and then receive supportive services for a year after being placed in full-time employment. A 2004 evaluation of CEO's model found that recently incarcerated people who were randomly assigned to participate were less likely to be arrested, convicted or incarcerated than those in a control group. CEO, founded in New York in 1996, now operates in 21 sites in eight states; Philadelphia's site launched in 2015.
The CEO work crew inspired a passing cyclist, Syron Flippen, to stop and help with the tree work. "I think it's great. It makes the community look better. It gets people going; you get to see something beautiful."
Jensen explains that the CEO participants working week after week proved critical to recent trail construction at Pennypack on the Delaware, where Riverfront North converted an informal and unstable fisherman's path, blocked by fallen trees, into a wider, safer trail.
"It allowed us not only to clear the trail, but it allowed us to expand what we wanted to do with the trail. Not only can we clear this underutilized area and make it safe, we can lay a semi-permanent bed on it, we can flatten it so we can make it accessible to everyone," he says. "So now everyone can enjoy the beautiful views of the tidal mudflat wetlands, the oriole nests up in the trees, the migrating birds that are out there. Without CEO and their returning crews, we couldn't have done that."
Riverfront North, formed as the Delaware River City Corporation in 2004, focuses on the Delaware riverfront from Allegheny Avenue up to Glen Foerd on the Delaware at the mouth of Poquessing Creek, the northeast corner of Philadelphia. Based on a waterfront master plan, their rehabilitation work includes a series of riverfront parks such as Pulaski Park, Lardner's Point and Pennypack on the Delaware. The Greenway multiuse trail is projected to connect them all by 2022. The ultimate goal is to convert "once neglected post-industrial landscapes into usable community space," according to their website.
Abd'Allah Lateef needed little coaching on how to maintain the trees, having done similar work on previous Riverfront North projects. He says he appreciates the importance of environmental restoration work but is cultivating other plans after his 31-year incarceration. Lateef, who had been sentenced at age 17, was recently released thanks to a recent Supreme Court ruling that found juvenile life sentences to be cruel and unusual. Now, with the help of CEO, he is adapting to life on the outside and planning to help others do the same.Lateef is in the process of developing a nonprofit for returning citizens in Philadelphia to be called Life after Life. The organization will serve people like him, he says, who had been sentenced as juveniles to life in prison.